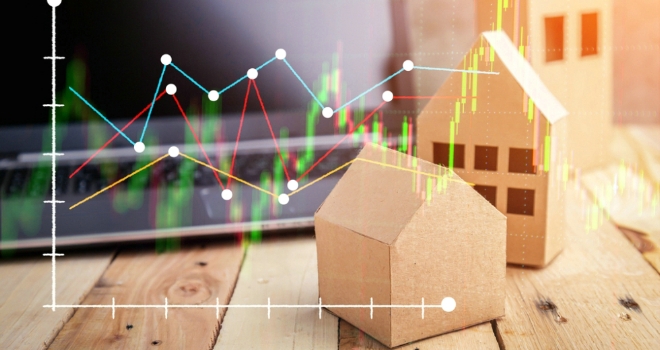 Another predictably bleak report from Land Registry has revealed that average house prices in the UK saw a 0.6% in the year to February. This is down from 1.7% in January and the lowest annual rate since September 2012.
According to the data, this downward trend has now made it north of the border as property prices in Scotland fell by 0.2% over the year, down from a rise of 2.4% in the year to January 2019. The average house price in England increased by 0.4% over the year to February, down from 1.4% in January.
House price growth in Wales increased by 4.1% over the 12 months, while Northern Ireland house prices increased by 5.5% over the year to Q4 2018.
By region, the lowest annual growth was in London where prices fell by 3.8% over the year, down from a decrease of 2.2% in January, followed by the South East where prices fell by 1.8%.
The North West showed the highest annual growth, with prices increasing by 4.0%, followed by the West Midlands at 2.9%.
As ever, the property industry was quick to react. Here's what they're saying:
Joshua Elash, director of property lender MT Finance, says: "Those regions where both demographics and higher yields support investors continue to perform well, which is a big positive. However, London is by far the biggest, and most important, market. It is here where the war of attrition that is Brexit is being most painfully felt. A reported price fall of 3.8 per cent over the year to February 2019, down from a fall of 2.2 per cent in January 2019, is massive. This represents billions of pounds of lost value over a four-week reporting cycle.
The market isn't just stagnating from a lack of transactional volume, it's bleeding value. Unless the Government wakes up and begins to think about encouraging and supporting a market intentionally subdued by regulatory and tax changes, and further dampened by Brexit uncertainty, it's only going to get worse.'
Jeremy Leaf, north London estate agent and a former RICS residential chairman, comments: "These figures show the property market has finally caught up with what we have been seeing on the ground for some time - in other words, a lot of caution and 'wait and see' until political uncertainty lifts a little at least.
Nevertheless, transaction numbers have proved more resilient than expected, demonstrating that although business is tough realistic buyers and sellers are still seeking value, particularly in this traditionally busy spring buying season for the market."
John Goodall, CEO of Landbay, says: "You don't need to be a housing analyst to see that falling prices in London are acting like an anchor, dragging overall house price growth down across the country.
While issues with affordability and supply remain, political and economic uncertainty linked to Brexit is more acute than ever. The reality is we could have a combination of a new Prime Minister, a general election, a Labour government, or a second EU referendum in the coming months.
This means that while transactions volumes continue to tick over, the truth is we aren't currently in a buyers nor a sellers market. Therefore it's understandable that many of those in a position to move are holding fire for now.
However there have been price rises in key areas outside of London, which backs up Landbay's experience that landlords are casting their net much wider than the M25 when it comes to searching for new properties."
Jeff Knight, Marketing Director for Foundation Home Loans, commented: "While the Brexit delay may not exactly unleash a bottleneck of potential buyers, it will certainly help confidence in the market and we can expect to see activity increase over the next few months – particularly out of London. Sellers will be keen to jump on an opportunity to upwardly revise their asking prices as we move towards the Summer months, but there's a limited window of time before this falters. So-called 'second steppers' are likely to continue regardless, but for first-time buyers still struggling with limited options, the rental market will remain the long-term choice."
Ray Rafiq Omar, CEO of Unmortgage, said: "The slowdown in house prices isn't surprising as uncertainty continues to dominate headlines. The market continues to lack any movement, not helped by the stamp duty increases a few years ago for high value homes, with many families choosing to improve rather than move as they can't move up the housing ladder. Government intervention has been the cause of this house price slowdown - so it remains in the government's hands to return to domestic policy issues, like housing and homeownership, sooner rather than later.
We have a clear supply and demand problem which needs to be addressed, causing high prices and limited home ownership in the younger generations - recent research suggests that first-time buyers now need to save for 10 years for a deposit. Worrying as that is, an unaddressed question is what sort of property will they be living in for those 10 years?
There's a real need to think outside the box to help those who are stuck renting and badly want to own their own home. The government needs to take greater steps in meeting housebuilding targets and creating some much needed movement within the market."
Colby Short, founder and CEO of GetAgent.co.uk, commented: "The latest statistics provide yet more evidence that the UK market has failed to get out of the blocks so far this year, with the economic drag of political uncertainty continuing to influence sentiment amongst both buyers and sellers.
However, we aren't seeing any drastic collapse in prices and while this price growth limbo is likely to persist over the coming months, things could certainly be worse, and will no doubt get better."
Alastair McKee, Managing Director of One77 Mortgages, said: "Not the most positive reading but perhaps not as significant as it might seem. While we're seeing the rate of price growth slow there is still a great deal of positivity across the UK market.
As we approach peak selling season, the continued affordability of mortgage products, a reduction in asking prices and a consistent level of stock entering the market should see more positive price growth trends blossom over the coming months. This will only be bolstered by today's inflation figures which show no movement and this additional interest rate security will only help fuel buyer demand."
Marc von Grundherr, Director of Benham and Reeves, had this to say: "The London market continues to take a bit of a kicking as a result of yet more Brexit based delays, but the best investments are often the most susceptible to more notable readjustments in times of hardship.
The current realignment of the London market is far more palatable than we've seen previously and as it stands, London homeowners are still sitting on a very sound piece of bricks and mortar when viewed in context with the wider UK market.
This current period of price growth respite in the capital provides far more opportunity than peril for those looking to buy and the stability of underlying market foundations that remain mean will ensure positive movement in the long-term."
Tom Mundy, COO and co-founder of Goodlord, comments: "Today's private rental growth statistics make for interesting reading. Given the sluggish state of property prices, it's not surprising that we've seen a modest increase in rental costs throughout 2019 so far, particularly in London. It's undoubtedly good for landlords, as well as positive for letting agents. With tenant fees soon to be abolished and new restrictions around evictions coming into force, we're likely to see growing renter confidence and an increased appetite to shop around for a better deal or a new property.
Savvy letting agents in tune with this generation of renters are likely to profit from that."