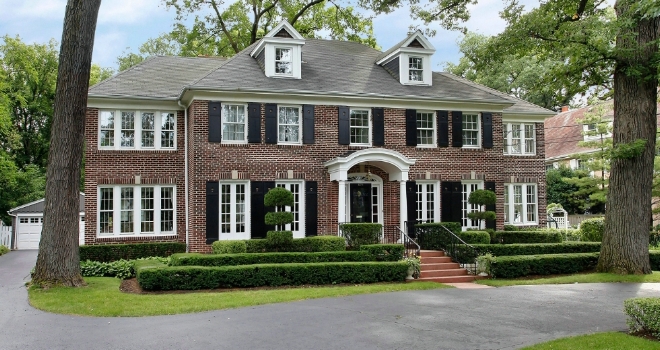 After the tree is up, the festive sweaters are on and all that's left are the gifts to be wrapped, getting cozy with a mug of mulled wine to watch a Christmas film is the best way to appreciate the most wonderful time of the year.
As a result, leading hybrid estate agenteMoov.co.uk has put together their annual list of the iconic homes playing a lead role in this season's favourite films and how they have performed price wise since their release date.

Snowman (1982)
Detached House in West Sussex
Current House Price: £858,500
Increase Since Release Date: 1020%

Topping the list is the animated classic set in West Sussex that tells the story of a snowman taking a young boy to the North Pole to meet Santa Claus. A four-bedroom detached home with a large garden where the snowman is built would have seen an impressive 1020% growth rate since the release date, putting the current property price to £858,500.

Die Hard (1989)
Los Angeles Penthouse
Current House Price: £3,924,103
Increase Since Release Date: 363%

In this action-packed Christmas film, Bruce Willis' luxury penthouse flat in Nakatomi Plaza has enjoyed the second highest increase in property value of all the Christmas houses on this list. Los Angeles experienced a 363% surge in property values since the film's release in February 1989, and could have cost £847,284. Today, this high-end apartment could go for around £3,924,103.

Bridget Jones' Diary (2001)
Flat in Borough, London
Current House Price: £724,683
Increase Since Release Date: 3%

Moving to London and starting the Hugh Grant theme, Bridget Jones' flat in Borough enjoyed a 214% growth rate since the film's release, and would cost £724,683 today.
About a Boy (2002)
Flats in Kentish Town & EC1 London
Current House Price: £962,000 & £2,006,292
Increase Since Release Date: 170% & 161%

This heartwarming film has two addresses in the capital - the first is Marcus and his mother's modest two-bedroom flat in Kentish Town has enjoyed a higher increase of 170%, jumping to £962,000. The other is Will's EC1 flat in Clerkenwell that has enjoyed a similar increase of 161%, up to £2,006,292, which is not surprising for prime central London.

Love Actually (2003)
Terraced House in Wandsworth, London
Current House Price: £1,122,000
Increase Since Release Date: 160%

Although Natalie's Wandsworth terraced house is in reality located in Herne Hill, the "dodgy" end of Wandsworth is where the Prime Minister goes to profess his love to his former assistant. The price of terraced houses has enjoyed a 160% increase in property values since 2003, jumping from £432,026 to £1,122,000.

The Holiday (2006)
Detached Cottage in Shere, Surrey
Current House Price: £768,500
Increase Since Release Date: 63%

Love and romance are in the air at Kate Winslet's charming cottage in the village of Shere in Surrey. It is the ideal cozy home to spend the holidays, and has a £768,500 price tag, up 63% from £472,697 when the film was released.

The Nativity! (2009)
Semi-Detached House in CV2, Coventry
Current House Price: £170,879
Increase Since Release Date: 48%

The battle of the year's Nativity play in Coventry is the main focus of this film, and is also set in a part of the country where property is significantly more affordable than the capital. A semi-detached house in Coventry's CV2 postcode has increased by 48% since 2008 from £115,456 to £170,879.

Home Alone (1990)
Chicago Mansion
Current House Price: £1,505,674
Increase Since Release Date: -4%

Going across the pond to the McAllister house Chicago, where a suburban mansion would have dropped by 4% since 1990 from £1,562,148 to £1,505,674. This could be a result of the damage that would have been done to the house while Kevin was protecting it from Harry and Marv, but is more likely a result of Chicago's stalling property market as a result of high crime levels.

How the Grinch Stole Christmas (2000)
Mountain Condo, Whoville
Current House Price: £1,248,000
Increase Since Release Date: 211%

Things are looking up for Whoville homeowners, where property values have jumped 211% in the Grinch's mountainous cave with a view looking over the city. Property values could have risen from £401,286 to £1,248,000, likely because of privacy and good walking trails outside the door.

The Claus farm in the North Pole is unlikely to hit the market anytime soon, as it has remained in the family since the first father Christmas built it generations ago. Some of the property's best features include eight fireplaces, 12 bedrooms, two kitchens, an on-site workshop and a barn.

Russell Quirk, founder and CEO of eMoov.co.uk, commented: "A home is an important part of the Christmas tradition because it is the place where friends and family join together to share meals and celebrate the season. Often, this also includes watching a Christmas film.

Therefore, it is only natural that we would look at the prices of these iconic Christmas homes that are played in many people's' homes throughout this festive season and how they have fared in terms of property value since their release."