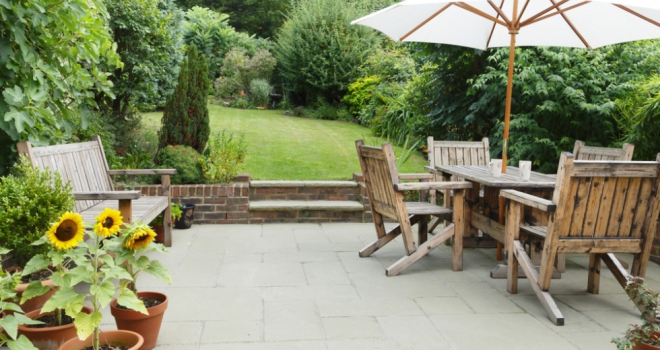 Benham and Reeves analysed property stock listed on the current market, revealing what percentage of homes in each borough of London come equipped with a garden, current demand for these properties based on the ratio that is already under offer or sold subject to contract, as well as the price premium they carry.
Garden availability
The good news is that the chances of finding a home with a garden within the capital are fairly good and, on average, 60% of all homes currently up for sale come with garden space.
This availability is, of course, far higher across London's peripheral boroughs, with Havering ranking top where 80% of all current homes for sale have a garden. Bexley also ranks high (79%), as does Waltham Forest (77%), Hillingdon (75%), Barking and Dagenham (75%) and Bromley (75%).
In contrast, homebuyers will find it harder to find a garden property in more central boroughs, with Westminster home to the lowest availability with just 34% of current listings boasting a garden.
While garden availability is fairly good, homebuyers may have to act fast to secure a property with a garden.
The research by Benham and Reeves shows that 56% of all garden properties have already been snapped up by homebuyers, again climbing as high as 80% in Bexley and 76% in Havering and Waltham Forest.
Homebuyers are less driven by the availability of a garden in Westminster (20%), Kensington and Chelsea (23%) and Tower Hamlets (32%), with these boroughs home to the lowest buyer demand for garden properties.
Garden house price premiums
Not only will you need to be quick to secure a London home with a garden, but you'll also need to pay a premium for the pleasure.
According to Benham and Reeves, garden homes command a premium 12%, that's almost £64,000 more in the London market compared to a property without a garden space.
In Kensington and Chelsea, however, this climbs to a huge £166,000, with garden house price premiums also topping £100,000 in Westminster, Camden and the City of London.
Marc von Grundherr, director of Benham and Reeves, commented: "It's perhaps a common misconception that London, central London in particular, is awash with apartment blocks that offer little more in the form of outdoor space than a balcony.
"The reality is that the London market has a lot to offer when it comes to properties boasting a great garden space and even in the more central boroughs, these homes account for one in five homes currently on the market.
"However, if the pandemic has left a legacy where our property preferences are concerned, it's the greater importance we place on this outdoor space and, as a result, homebuyer demand is high and this means you're likely to pay a hefty premium. We're finding that in many cases, properties with a great outdoor space are commanding significantly more than current market values and aren't even making it to the market before being snapped up.
"So while a garden may be preferable, there's also been a huge increase in demand for more affordable options, with smaller outdoor spaces such as balconies and winter gardens. This small slice of alfresco living is also proving very popular amongst tenants and while a property boasting a balcony space may play second fiddle to one with a garden, it's certainly no bad investment."