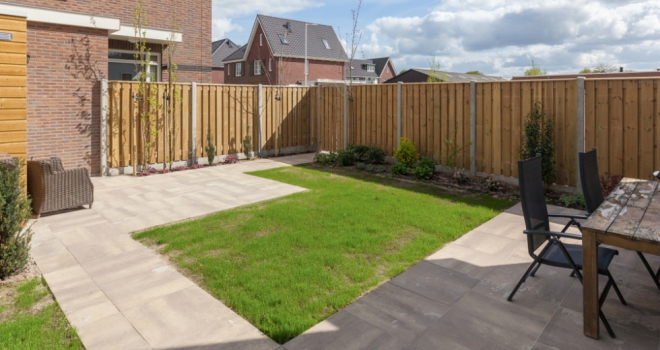 Back in 2018, research by property company Savills made little mention of gardens – it was all about the living space.
However, due to the events of the past two years and the subsequent 'race for space', kitchen-diners and en-suite bedrooms have been firmly overtaken by the desire for access to outdoor space.
A new first-time buyer survey by The Cumberland found that some respondents even admitted to working on the garden before they started on any other house project – confirmation indeed that creating somewhere where they could get away from everything and relax was a priority.
Former principal chairman of BBC Radio 4's Gardeners' Question Time, Eric Robson OBE, said it was no surprise that gardens were high on people's list of priorities.
He said that having access to an outdoor space of your own had a positive impact on mental health, which has been highlighted over the last eighteen months.
He adds: "We've seen this put into sharp focus by the pandemic and the lockdowns, that here is a bit of precious space for people who, if they didn't have a garden, would be hemmed in.
"It is increasingly acknowledged that gardens have great benefits for mental health, for keeping people on the straight and narrow at difficult times. I'm sure that is one of the reasons that the number has gone up.
"Gardening has had a reputation in the past of being for older people, rather a fuddy-duddy activity. Increasingly I was finding on Gardeners Question Time the age profile of the audience was shifting, more younger people were getting into gardening. People were getting into gardening at an earlier stage in their lives."
Chartered landscape architect and current Gardeners' Question Time panellist Bunny Guinness agrees.
She said: "It's all about having that space isn't it?
"The Brits have always been big on that but it's just gone massive now. They want more of it and they want to use it better. It's at the top of everybody's minds because we are spending so much more time there. We've always really tried to max out our kitchens and our living rooms and we are now expanding that out into the garden.
"It's just the best place to keep your sanity and it can be enjoyed by people of all ages. It improves the value of your house as well and we all love that."
Rebecca McAleavey, one of the respondents to the survey, said: "A garden was an essential point for us when we were looking to buy our new home. It gives us personal space to relax, and an area for our dogs to play."
Marcus Eyles, Horticultural Director for Dobbies Garden Centres, said: "Gardening and being in nature has many positive benefits for people of all ages – it impacts on our physical, emotional and mental health. The combination of the fresh air, physical exercise with productive results, and the opportunity to spend time in a space you have created means having a garden are important to more people than ever before, including first-time buyers.
"We have seen a real trend for the 'fifth room' – a blurring between the inside and outside, giving people who are spending more time at home, more space to enjoy. Not only that, but we are seeing an increase in people growing their own fruit and veg, as well as people wanting to use sustainable products, such as peat-free compost, to care for the environment and wildlife."
The survey also underlined how much first-time buyers enjoyed taking control of their own living space for the first time. The living room was the first interior design project tackled by 41% of respondents after they got their keys. Next in line was the main bedroom, with the kitchen and bathroom a little further down the list.
Buying that first home will always be a serious prospect – and it all starts with the responsibility of saving for a deposit.
Of those surveyed, 40% took less than a year to save what they needed, while 51% of respondents had help from family to get the deposit together.
A lucky 25% said they didn't need to cut back on their spending to get the cash together, though others minimised their holidays, nights out and takeaways to do so.
Jack Green, The Cumberland's area manager for mortgages, adds: "We're thrilled that so many people got involved with the survey - and the results really are an interesting read.
"It's great to find out that a third of those who took part in our survey thought buying their first home was easier than they had expected. Although it's no surprise that being in a chain and having initial offers rejected were two things first time buyers found challenging.
"Understandably, 25 per cent said their biggest source of support came from family, but we were delighted to discover that 38% said their mortgage advisor and lender were hugely helpful."