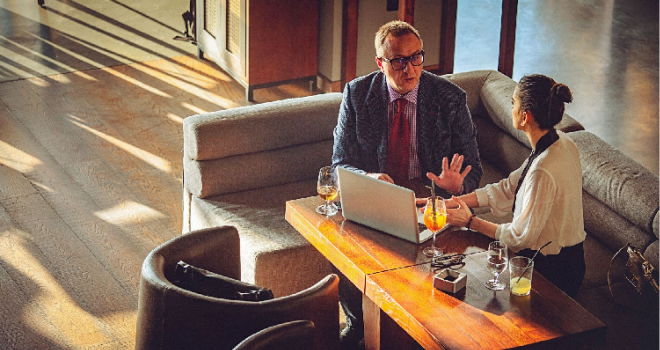 COVID-19 has shown us the value of working from home but has also made many of us miss the perks that come with having an office. I have been longing for the return of a more defined home/work split as well as the social side of office life.
And many of us are now in pursuit of the best of both worlds – and as part of that, we've realised that we want flexible and locally accessible workspaces (not just in city centres) that allow us to do work but also to enjoy a great coffee and a bit of social interaction too.
The issues many people have with returning to work in the office is not the space itself, but the lifestyle that comes along with it: long and often expensive commutes; having to factor in early morning school runs; leaving the office early for school pickups; the list goes on.
But working from home has not been ideal either, and even those who don't have children to care for are likely to have missed the facilities in their office as well as the ability to 'leave work' and switch off at the end of the day. Those going back to the office full time are likely to be the exception rather than the rule, with 'hybrid working' (some time spent in the office and some time spent working elsewhere) regarded as being the most prevalent regime. We recently published a new report about how COVID-19 has changed the way we live, socialise and work.
We talked to experts from across the real estate and hospitality industries, many of whom highlighted that success in the post-pandemic landscape would be determined by the ability of the industry to cater for new levels of demand in flexibility. This hybrid way of working is the ultimate expression of flexibility. But our experts saw the choice of work locations as being more diverse - not just home or work, but a 'third space' which offers the facilities and perks of the office within a five-mile journey from home. This surge in demand for flexible working environments on our doorsteps, or 'third spaces', is new. But is it really all that big of a deal?
The role of the third space in the prevalence of hybrid working could be a key factor in the scale of changes we see post-pandemic, Tom Hughes, partner at Withers told me.
He believes that how much these changes stick long-term depends on how profound the shift is in the patterns of people's working habits. More people spending more time closer to home is a fundamental macro-economic shift and creating successful flexible work environments on people's doorsteps will broaden this shift. The opportunity in this movement is not just enrichment of the community through more people being able to participate in a meaningful way in the areas around where they live. The spending power once directed in and around the central office will also be re-distributed, opening up opportunities for greater investment in overlooked and sometimes forgotten places.
Richard Pickering, Chief Strategy Officer, UK at Cushman & Wakefield told us that he believes that this dream might soon become a reality, and he predicts that we are going to see the development of new flexible spaces that provide us with working facilities closer to home. He feels these third spaces are perfect for those that don't want to commute to the office but find full-time remote working challenging or impractical. He hopes that these spaces could become so commonplace that they'll be available to almost everyone, within five miles of home.
The challenge is how to get it right. What do people want from the 'office on their doorstep'? A small town in Yorkshire, Hebden Bridge, has already put this change into motion, with the transformation of the Hebden Bridge Town Hall into a local business hub that provides thirty-four office units, meeting rooms and a café.
Graham Mynott, Executive Director of Hebden Bridge Community Association, told us during the production of our new 'future of the high street' report, about how popular this new hybrid working location has become. Since opening, the new business hub has been fully booked and management have even turned room hires into offices to meet demand. They also provide a hot-desking facility that they're trying to extend due to popularity.
These work and social spaces could be run independently, or even by the community. Each neighbourhood will have different needs for space and will be made up of a different blend of workers and industries that will each demand unique amenities and facilities. The drab vision of the traditional serviced office model of the 90s and early 00s is unlikely to appeal. Instead vibrant multi-use spaces that are bespoke to each high street and their hyper-local audience are predicted to win favour with previously fully office-based workers.
For landlords, this is an opportunity too. Creating flexible working spaces on the local high street could be the perfect way to utilise unused areas of buildings, something that Graham Soult, Retail Consultant and member of the High Streets Task Force was keen to talk about when we were researching for our new report. He agrees that the idea of everyone returning to two-hour commutes is unlikely because businesses have seen that remote working can be successful.
Graham feels there is certainly still a role for the central office but thinks we'll see co-working and flexible workspaces having more of a role to play in many places, including on our high streets. He felt that this could be a great way to use empty floors above retail units and another way to drive footfall to cafes and bars and bring more cash flow to the high street as a whole. People will head there to work but also buy a sandwich at lunch, go to the pub after work and spend money in the shops.
In this sense, the new hybrid working paradigm could be the answer that's needed, not just for 'fixing' the UK's broken high streets, but making them thrive. More people spending more time in and around the areas where they live means more demand for breadth and quality of products and services available on the doorstep. Our high streets could come to look quite different. This would seem to be a time of opportunity for investor landlords and occupiers willing to innovate to drive the most out of their real estate.
In Cornwall, intoBodmin, a cultural advocacy organisation has reopened Bodmin's old library as an accessible, vibrant performance and community space. When we spoke to Fin Irwin, intoBodmin CEO and Manager of the Old Library, about whether there was a role and demand for local co-working spaces after COVID-19, he had only one answer, 'yes!'.
Fin believes that local co-working spaces will be especially popular in rural areas, as the pandemic has shown that we don't need to live in cities to engage in city work. Over the past year, there has been a sharp rise in interest in sales enquiries for housing in Cornwall from people outside of the region. People have begun to realise that living an extended distance from the central office need not be a barrier to working productively.
There are different obstacles to creating successful flexible workspaces within more dispersed communities though. The models that might work in a bustling high street or market town centre can count on existing infrastructure and the draw of other local amenities.
In more rural communities this infrastructure and wider amenity appeal has to be created, but we might see a new species of country club styled 'community hubs', where workspace sits alongside a rural café, farm shop, essential retail and wellness/leisure facilities all under one roof. There is no 'mould' for this, and success will require a collective vision shared between investor, landowner and operator.
Full-time, city centre working may have had its heyday, but in many ways, the extent of the change following the pandemic could hinge on the success of local communities supporting hybrid working in their neighbourhoods. It is now time for those who are prepared to grasp the nettle of innovation to take the reins. The office on our doorstep could have a key role to play in shaping the future of our local neighbourhoods, communities and in particular, our high streets.