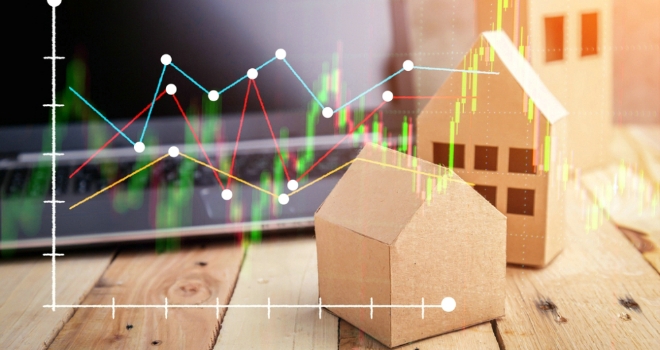 With spring just around the corner, any predictions of a slowdown in the UK property market any time soon have almost completely fizzled out.
Asking prices across England and Wales saw a further 1.1% rise in February, while prices in the South West and West Midlands jumped by a remarkable 1.8% and 1.9% respectively.
According to the latest market analysis from Home.co.uk, the market is exceptionally fast for this time of year, with the typical time on the market for unsold property in England and Wales dropping to 70 days (median), 43 days less than in March 2021 and the lowest such figure since 2008.
The property website's research has found that the market has accelerated to a blistering pace and prices continue to soar. The total stock of property for sale is up slightly but remains very low at about half that seen in 2019. So far, the 2022 UK property market is shaping up like a replay of 2021.
Further global turmoil, coming immediately on the back of the economic disaster that was triggered by the COVID pandemic, will serve only to further invigorate the market. Bricks and mortar, after all, have long been seen as safe haven in times of political and economic strife. Furthermore, any hopes that new builds would take away some of the demand pressure on the existent stock is fading as supply chain problems, coupled with inflation, seriously impede the progress of the construction sector.
Despite mortgage interest rates nudging up, demand continues to overwhelm supply and thereby drive asking prices through the roof. While spring normally triggers modest price rises, February's extraordinary increase of 1.1% overall is a testament to this state of affairs and some regions show hikes approaching double this figure.
In fact, prices have risen in every English region, Scotland and Wales during the last month. The smallest was in Greater London (0.5%, which is still on the large side for a month-on-month rise), and this sales market is still in recovery mode following the damage inflicted by the lockdowns.
The rate of take-up of properties by buyers, both individual and corporate, is astonishing given the further interest rate hikes planned by the Bank of England (BoE). The Typical Time on Market for unsold property in England and Wales has been driven down to a mere 70 days, a level not seen since the heady days of 2008 prior to the financial crisis. In the East Midlands, the typical time on the market is just 42 days, indicating that this is the UK's fastest regional market and strongly suggesting that further price hikes are inevitable.
Meanwhile, inflation has not gone away. Soaring energy and commodity prices mean that it is likely to get much worse. Building materials have also been affected with some constructors reporting up to 60% hikes in the cost of certain common items. Apart from inflation meaning that real house price growth is negative overall, it also spells disaster for many fixed-price construction contracts. Home.co.uk say that they expect new build disruption caused by bankruptcies.
Rents are also rising rapidly overall. The mix-adjusted average for the UK has risen 10.1% over the last twelve months. Most of this increase is driven by the phenomenal rebound in Greater London rents which indicate annualised growth of 27.3%, concomitant with a collapse in lettings supply. There were just under half the number of properties to let entering the capital's market compared to a year ago. Demand in the regions, especially in the North and West, has eased and rents are either rising more slowly or correcting in the wake of the lockdown boom.
The annualised mix-adjusted average asking price growth across England and Wales is now at +7.4%; in March 2021, the annualised rate of increase of home prices was 4.8%.