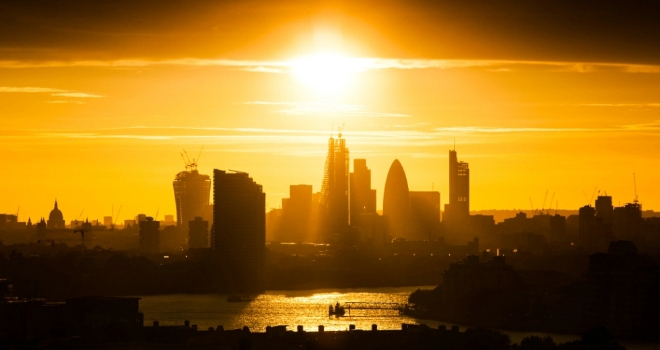 As we all know, despite being hugely influential on the rest of the UK, the London property market is somewhat of a separate entity. So how has our capital city faired during the pandemic and what is the outlook for next year?
Sara Ransom, of Stacks Property Search, offers her insight and looks back on a year quite unlike any other: "Buyer behaviour in London has shown several distinctive changes during the course of 2020.
"There's been a big surge in demand for swimming pools, from large basement pools to tiny organic-looking plunge pools in small back gardens. Architects have been overrun with holiday-in-your-back-garden demand.
"Required distance to the tube has changed out of all recognition. Buyers can get significantly more space for the same money by opting for a 20-minute walk to the tube instead of the historical limit of ten minutes. This has been impacted twofold, firstly by commuters not having to be in the office under such a strict routine, but also an increased desire for more exercise rather than less.
"There's been a huge increase in demand for 1.5 bedroom flats. Pre-pandemic these were often tricky to sell, more expensive than a one-bedroom flat, but not offering a proper second bedroom. Now, of course, everybody wants a space to work from home that isn't their bedroom or the kitchen table. Nooks and crannies and slightly awkwardly carved up spaces suddenly look very attractive. Few office workers need large office space, just enough room for a table, laptop, pen and paper, so a box room with the door removed can do the job very nicely.
"Lateral flats in large period houses, (there are lots like this in South Kensington), tend to have a large wide reception room at the front with a wide hallway leading to the accommodation at the rear. Buyers are realising that the generous width of these hallways easily accommodates a desk, or even two, and properties that offer this layout have become very popular.
"Long thin gardens too have become sought after with space at the end for a pre-fab studio providing the holy grail of a separate office annexe – with a very short commute.
"We've been seeing many homeowners who live in the SW suburbs moving to be more central. For those who have lost their appetite for quiet residential, the vibrant parts of Chelsea, Kensington and Notting Hill, and their cafes, independent shops and evidence of life, light and colour have become very appealing. Mews houses near Portobello road are having a surge of popularity having become slightly passe in the 21st Century.
"The Waitrose effect has been reversed, the queues outside artisanal shops selling home-baked bread, chutneys and olive oil are way longer than those outside the chains. We've seen a significant number of buyers who wanted to escape London at the beginning of Lockdown1 getting cold feet and changing their minds, preferring to stay in the thick of London life rather than swap it for muddy wellies and country walks."
So what are the predictions for 2021?
"Prime central London has taken a real hit from the effects of Brexit and the Pandemic, and as prices in these areas dropped, so prices in hip areas of East London such as Hoxton and Shoreditch soared. Now Hoxton and Notting Hill are similarly priced, so we fully expect a return to these more traditional areas of the Capital.
"One of the biggest hyped trends of 2020 was that Londoners were literally fleeing the capital for the south-west and other far-flung parts of the UK. But rational thought was a quiet underlying trend, many had a change of heart before signing on the dotted line, and some of those who found they'd made a mistake have returned. As the vaccine rolls out, and some normality starts to return, we expect to see a reverse in the trend. London will become party-central, and those who have endured a winter of deep mud and dark skies will be anxious to return to the safety of London pavements and streetlights.
"We fully expect demand for property in London to sky-rocket in 2021, and prices will follow closely behind. Brexit will make the UK more interesting to international buyers, London will be the Hong Kong of Europe, the gateway between America and Europe. London has always offered a safe haven for investor cash, it's an interesting and vibrant city that has shown consistent returns on property investment. We're seeing a trickle of overseas buyers already, and we expect them to return in force before March.
"Areas that will do well domestically include Battersea that will become so much more accessible with the Northern Line extension. Terraced cottages on the Shaftesbury Estate, where gorgeous three-bedroom houses go for under £1m, are looking very attractive.
"In Notting Hill, £1.5m-£2m buys a classically elegant raised ground floor flat with tall windows and fantastic proportions in the heart of everything. This looks like excellent capital growth potential to us.
"Tooting, at the bottom end of the Northern Line, has fantastic cycle routes, big parks, loads of shops and it's becoming uber-cool. With cottages for around £500,000 now is the time for the bank of mum and dad to reach into their pockets to help their FTB offspring jump onto this particularly attractive ladder.
"Similarly appealing is Acton where Crossrail will take residents to Liverpool Street in around ten minutes. Chiswick High Street is nearby, as is the M4 for weekends with the parents. Prices look very compelling compared with adjacent Chiswick."