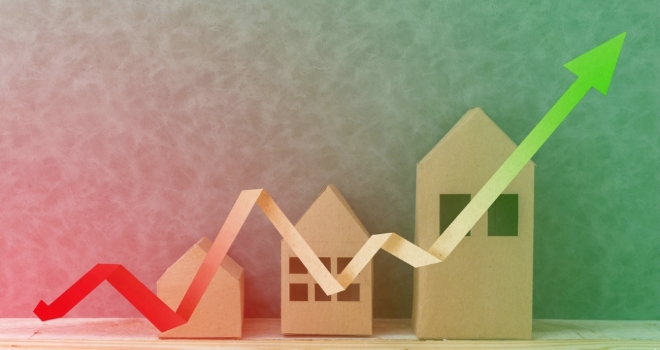 The latest figures released from LSL have shown that, during October, house prices rebounded and gained 0.4% – the first increase since February.
However, according to the data, the annual rate of price increases continued to slow, dropping to just 1.0%.
Despite this, most regions continue to show growth, the exceptions being both the South East and North East, which show modest falls on an annual basis. The average price of a home in England and Wales is now £304,433, up from £301,367 last October.
With overall annual price growth well below the rate of inflation of 2.2% (as of September), house prices in England and Wales are seeing real term falls in most regions, and are now growing at their slowest rate in over six years, since April 2012. The West Midlands and East Midlands are bucking the trend, however, with growth of 3.1% and 2.8% respectively.
All regions have seen annual house price growth reduce in the last month, with the slowdown most pronounced in the North East, dropping by 1.7% to -0.2%, and in London and Wales, with growth slowing from 3.0% to 1.8% in both cases.
In other respects, fundamentals are favourable to house price growth: interest rates remain low, mortgage supply is good, the number of people in work is high, and average weekly earnings are up 2.4% annually. Estimated sales for October 2018 were 6% down on the same month in 2017, but 2% higher than October 2016.
Oliver Blake, Managing Director of Your Move and Reeds Rains estate agents said: "Whilst price growth has slowed considerably in England and Wales, the fact that there is a relatively strong economic backdrop, and there have been three consecutive months of growth, means it's not all doom and gloom."
In London annual price growth has slowed substantially in the last month, falling to just 1.8%, yet there has still been an increase of £10,889 in the last twelve months with the average price in London now standing at £620,571.
Across the capital it's a mixed picture. At the top of the market, Kensington and Chelsea remains the most expensive borough with an average price of £1,754,706, down 0.8% on a year before. The City of Westminster, in second, has lost ground, with prices down 14.4% to £1,439,917 – the biggest annual fall; the City of London, in third place, meanwhile, is recording the biggest rise in London, with prices up 11.0%, albeit on relatively few sales.
At the bottom, the picture is similarly mixed: Barking and Dagenham and Bexley, the cheapest two boroughs, have both seen a modest rise in the last year, of 0.9% and 1.1%, respectively. Newham, the third cheapest, saw among the biggest falls – with prices down 9.3%. Overall in London, eight boroughs show annual growth, while the remaining 25 show falls.
Peter Williams, Chairman of Acadata and John Tindale, Acadata housing analyst, had this to say: "In October, house prices stabilised and indeed rose by some £1,250, or 0.4%. This was only the second monthly increase in prices in the last eight months, with the combined decline since February totalling a modest but nonetheless significant -1.4%. The average house price in England & Wales now stands at £304,433, which is 1.0% higher than October 2017. This is the lowest annual rate seen since April 2012, some six-and-a-half years ago. We show in Figure 6 on page 7 that all regions have seen a decline in their annual rates of house price growth, hence the current downward pressure on prices is countrywide, as opposed to being only in specific regions. In addition, this rise is below the rate of inflation (2.2% in September 18) - hence prices are falling in real terms.
It was the case that from August 2015 to February 2017 the rate of house price growth was dominated by London and the South East, with the national rates being increased by as much as 2.5% by the inclusion of the capital and its suburbs. However, from March 2017 to August 2018 the position was reversed, with London and the South East proving to be a drag on the national growth statistic.
But since August the position has changed, with the capital being very much in line with the rest of the country, and thus national prices are only being slightly influenced by what is happening there. As stated above, the downward pressure on prices is indeed nationwide."