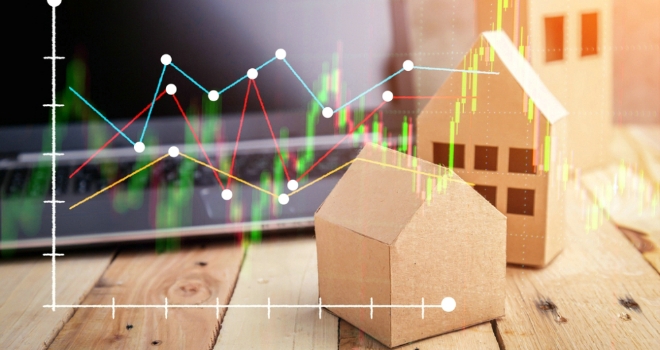 Annual house price growth eased slightly in July from the 17-year high of 13.4% recorded the previous month to 10.5%, according to this morning's figures released by Nationwide.
The figures show that in month-on-month terms, house prices saw a 0.5% fall, after taking account of seasonal effects, following a 0.7% rise in June. The average price of a home now stands at £244,229.
Robert Gardner, Nationwide's Chief Economist, said: "The modest fallback in July was unsurprising given the significant gains recorded in recent months. Indeed, house prices increased by an average of 1.6% a month over the April to June period – more than six times the average monthly gain recorded in the five years before the pandemic.
"The tapering of stamp duty relief in England is also likely to have taken some of the heat out of the market. The nil rate band threshold decreased from £500,000 to £250,000 at the end of June (it will revert to £125,000 at the end of September). This provided a strong incentive to complete house purchases before the end of June, especially for higher-priced properties. For those purchasing a property above £250,000, the maximum stamp duty saving reduced from £15,000 to £2,500 after the end of June."
The data also revealed a shift in the composition of property types that have been transacting. According to the stats, over the past six months, the proportion of sales involving detached and semi-detached properties have increased, with flats seemingly falling out of favour, as shown in the chart below.
Robert Gardner adds: "Shifting housing preferences appear to have been the more important factor in driving the increase in housing market activity, with people reassessing their housing needs in the wake of the pandemic. At the end of April, 25% of homeowners surveyed said they were either in the process of moving or considering a move as a result of the pandemic. Given that only c5% of the housing stock typically changes hands in a given year, it only requires a relatively small proportion of people to follow through on this to have a material impact."
Outlook remains uncertain
"Underlying demand is likely to remain solid in the near term. Consumer confidence has rebounded in recent months while borrowing costs remain low. This, combined with a lack of supply on the market, suggests continued support for
house prices. But, as we look toward the end of the year, the outlook is harder to foresee.
"Activity will almost inevitably soften for a period after the stamp duty holiday expires at the end of September, given the incentive for people to bring forward their purchases to avoid the additional tax.
"Nevertheless, underlying demand is likely to soften around the turn of the year if unemployment rises, as most analysts expect, as government support schemes wind down. But even this is far from assured. Even if the labour market does weaken, there is also scope for shifts in housing preferences as a result of the pandemic to continue to support activity for some time yet."
Anna Clare Harper, CEO of property consultancy SPI Capital, says: "With house prices growing by 13.4%, the highest level since November 2004, this comes as no surprise as it has been directly caused by the pandemic and policies around Covid-19, rather than happening 'despite' these factors.
"Housing transactions and prices were boosted by the temporary stamp duty reduction, which began to taper down at the end of June creating a 'race to the finish line' last month.
"This policy was designed to boost the housing market and confidence through the pandemic, and it's worked. At the same time, lockdown led to a widespread want and need to upsize, and a flight to safer, more stable investments. All of this was coupled with ongoing low-interest rates, making property purchases relatively affordable, in particular for existing homeowners with deposits available to buy their next property.
"In terms of what's anticipated next, some fear a crash. However, supply is still constrained, and demand continues to grow. We need 340,000 new homes built annually up to 2031 and remain well below this with circa 160,000 each year for the past two years. Construction is getting harder and more expensive. At the same time, a mass sell-off from property owners is unlikely in the absence of significant interest rate rises.
"So, it's likely that the long-term trend will continue: house prices rising faster than most people's wages. This is backed up by the data: according to Nationwide, in June, house prices were circa £3,000 higher than a month earlier, which is far more than average wage growth.
"This pace of growth makes 'affordable homeownership for most younger and less well-off people unlikely. The pace of growth and anticipated future trends also makes the case for sensible long-term property investments strong. The key is keeping rents relatively affordable for local communities, so that renters, as well as existing homeowners, can afford to live comfortably."