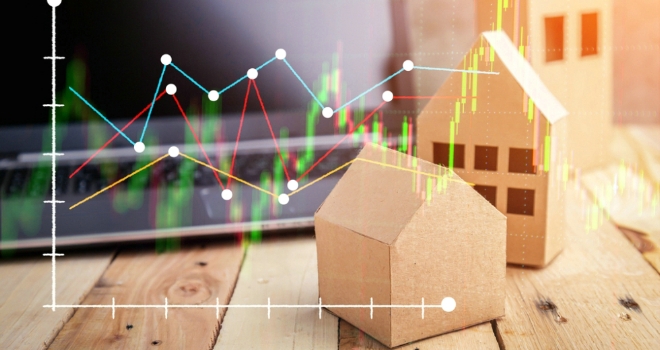 The latest data and analysis from Nationwide has revealed that the UK housing market saw a small uptick in house prices during September, rising 0.3% after being seasonally adjusted.
According to the figures, house price growth has settled at 2%, partially recovering form the previous months crash. However, it wasn't good news for the whole of the country as The North was revealed to be the weakest performing area during Q3 with prices down 1.7% year on year
Robert Gardner, Nationwide's Chief Economist, had this to say: "Annual house price growth was stable in September at 2%.
Indeed, annual house price growth has been confined to a fairly narrow range of c2-3% over the past 12 months, suggesting little change in the balance between demand and supply in the market.
Looking further ahead, much will depend on how broader economic conditions evolve, especially in the labour market, but also with respect to interest rates. Subdued economic activity and ongoing pressure on household budgets is likely to continue to exert a modest drag on housing market activity and house price growth this year, though borrowing costs are likely to remain low.
Overall, we continue to expect house prices to rise by around 1% over the course of 2018."
Yorkshire & Humberside top performing region
Regional house price growth was slightly more varied this quarter, though it remained the case that the regions of Southern England continued to see more subdued rates of growth.
Yorkshire and Humberside was the top performing region for the first time since 2005, with the annual price growth picking up to 5.8%.
Northern Ireland saw annual price growth strengthen to 4.3%. Wales saw a slight softening in growth, with prices up 3.3% year on year. Price growth also slowed in Scotland, from 3.1% in Q2 to 2.1% in Q3.
The Outer Metropolitan, London and North all saw small year-on-year price falls, with the North the weakest performing region with prices down 1.7% year on year.
England saw a 0.6% quarter-on-quarter rise in Q3, with average prices up 1.4% compared with a year ago.
For the sixth successive quarter, price growth in Northern England exceeded that in Southern England. While the North saw price falls, other regions such as Yorkshire and Humberside and the North West saw price growth accelerate, meaning that overall prices in Northern England were up 4.1% year on year.
Meanwhile, in Southern England both London and the Outer Metropolitan regions saw prices decline year on year, leading to overall price growth in the South slowing to just 0.3%. However, looking at price levels, there is a still a significant gap, with average prices in the Southern England around twice those in Northern England.
As ever, the property industry was quick to react. Here's what they are saying...
Russell Quirk, founder and CEO of Emoov.co.uk, commented: "It would seem that the UK property market and its buyers and sellers are becoming as sick of hearing about Brexit as the rest of us, and while not everyone will welcome further price growth, further stability across the market will certainly be warmly received by all.
While market regionalities remain broadly defined by affordability with the cheaper regions from the Midlands and beyond seeing stronger growth, something is also stirring at the other end of the market.
Although the capital has continued to see a decline in price growth, it's not far off the pace and not far off the all-time high recorded in 2017. These undertones of resilience in particularly hard conditions is yet further evidence that the UK market as a whole is dusting itself off and bouncing back."
Jeremy Leaf, north London estate agent and a former RICS residential chairman, says: "These numbers are actually quite good news because they show a fairly steady market after house prices fell by their largest amount in six years in August. Once again, we are finding that the market continues to be supported by a shortage of stock and low mortgage rates, as well as new buyers returning from holiday keen to take advantage of some more realistic pricing.
It is a mixed bag, however, because activity and prices in London remain challenging whereas in many places outside it is quite a different picture. This is mainly due to historic affordability reasons, particularly when this well-respected index confirms London prices are still more than 50 per cent above their 2007 peak.
It seems unlikely that the proposed additional stamp duty on foreign buyers will help to bring down prices or make more homes available for local people considering a large proportion support new development in London, many of which contain the affordable housing we lack."
Lucy Pendleton, founder director of independent estate agents James Pendleton, says: "London looks like the sick man of the UK on paper over five quarters but the capital is in more a holding pattern than stuck in a rut. Prices in the capital have corrected but sheer weight of numbers means price tags don't have to sink far to pick up renewed interest.
The market is playing pinball nationally between annual growth of 2% and 3%. It has the distinct look of a herd waiting to see what's going to happen next before it decides which way to go. People are waiting to see whether the Brexit gods deliver us a very bad Brexit or just a tumultuous one.
Politics has come to the kitchen table whether people like it or not and estate agents are already talking about Christmas coming early but it's next year they're talking about.
The festive season always delivers a slowdown and Brexit promises to deliver a second in March, with no mulled wine in sight. All eyes will be on how this affects buyer sentiment as we hit the usually busy post-Christmas period. We are expecting to be coasting into December, with annual growth still coming in at double the Nationwide's prediction for the year, but 'wait and see' could still be the order of the day come January and that could severely dampen confidence."
Mark Readings, Founder and Managing Director of online estate agency, House Network, comments: "The market is showing signs of a national slowdown, with fewer viewings and offers made per property. As the uncertainty of Brexit drives the UK news, many buyers are still on the fence, creating an increase in price drops, especially at the top end of the market where buyers remain limited.
Although we are seeing a large increase in inquiries and website traffic, compared to the same time last year, we don't expect a significant change in the property market until political uncertainties are resolved and the outcome of Brexit is more clear, especially for overseas buyers."
James Newbery, Investment Manager at property investment platform British Pearl, had this to say: "What's striking is that we are still a nation divided. Growth since the financial crisis has been incredibly uneven with many regions still struggling to get back to where they began whereas London has powered ahead.
That means there are still opportunities out there but they must be chosen carefully.
What's significant is that even in the market that has cooled the most — London — prices are still very close to all time highs. It has been a gentle softening over what is now a relatively long period, and you can partly credit Help To Buy and a weaker pound with warding off a convulsion in prices. A market that balloons then falls back hard is something all buyers fear but the capital may well have dodged this eventuality against the odds.
People's confidence in the Government to deliver the Brexit result they want might be waning, but economic factors and buyer incentives still mean deals in the capital add up on paper."
Mike Scott, chief property analyst at Yopa, says: "Nationwide reports steady annual house price growth at 2 per cent in September. It now seems very likely that the growth rate for the year as a whole will come in at around that level, beating Nationwide's forecast of 1 per cent. As we move into next year, prices are likely to continue to rise at this rate, roughly in line with inflation, with supply and demand in balance. Since housing supply only changes very slowly, it will take an increase or decrease in demand to realign the market and get prices rising faster, or slowing down and falling.
Prices in London continue to fall, with a -0.7 per cent annual rate, as do prices in the London commuter belt (-0.3 per cent) and the North of England (-1.7 per cent). All other regions are rising, with Yorkshire & Humberside performing best with a 5.8 per cent annual rate of growth. However, if we look at the change in prices since the peaks of 2007 just before the credit crunch, the picture is reversed. London is still over 50 per cent ahead of its 2007 figure, while Wales, Scotland and the three regions of northern England are largely unchanged over the past eleven years. Northern Ireland has never recovered and is still 39 per cent below its 2007 level. All of the recovery from the credit crunch has thus been concentrated in London, southern England and the Midlands."
Andy Soloman, CEO at Yomdel, commented: "Yet further steady growth recorded where house prices are concerned, and the wheels are yet to fall of the UK property market despite many predicting otherwise.
A misfiring wider economy may prevent UK property prices accelerating up through the gears in the short-term. However, the continued recipe of an imbalance between earnings and the price of getting a foot on the ladder, along with a lack of suitable supply, will ensure price growth keeps ticking over.
That said, the next few months will be vital from a political point of view, as a further botched handling of the Brexit process and the potential of an interest rates increase next month could both see buyer demand disappear from the market. If this is the case, not only will 2018 end without a bang, but 2019 could see the market start on the back foot as well."
Mark Harris, chief executive of mortgage broker SPF Private Clients, says: "Annual house price growth is steady as the number of buyers and sellers remains balanced, with no huge surge in demand on either side. The Bank's well-anticipated decision to raise interest rates in August has encouraged households to get their finances in order, with a spike in remortgaging over previous months. Many have opted for fixed-rate deals, which have been very competitively priced, to shield themselves from further rate rises.
Mortgage rates continue to be competitive. Lenders continue to cut the cost of their best mortgage deals, despite August's interest rate rise, as they compete for business in the run-up to the end of the year. Barclays, HSBC, Halifax and TSB are among the big names to have reduced the cost of fixed-rate mortgages recently, and we expect this trend to continue, which is good news for borrowers."