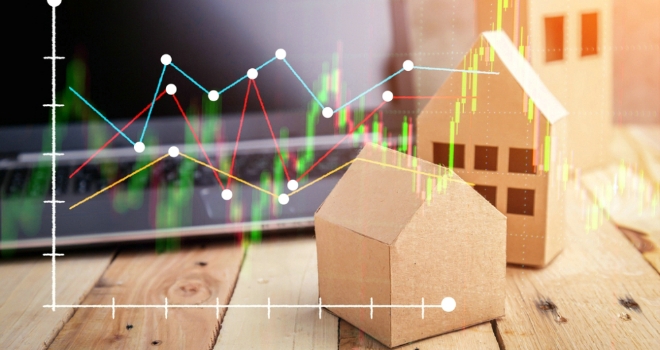 The brakes have started to ease on annual UK house price growth according to this morning's figures released by Nationwide, who report that during April prices slowed modestly to 12.1%, down from 14.3% in March.
After making seasonal adjustments, prices were up 0.3% on the month. However, Nationwide warned that the squeeze on household incomes is set to intensify with inflation expected to rise further and that, assuming that labour market conditions remain strong, the Bank of England is likely to ramp up interest rates, which will exert a drag on the market if this feeds through to mortgage rates.
Robert Gardner, Nationwide's Chief Economist, said: "Annual house price growth slowed modestly to 12.1% in April, down from 14.3% in March – nevertheless, this is the 11th time in the past 12 months that the annual growth rate has been in double digits.
"Prices rose by 0.3% month-on-month, after taking account of seasonal effects – the ninth successive monthly increase, though this is the smallest monthly gain since September last year.
"Housing market activity has remained solid with mortgage approvals continuing to run above pre-Covid levels. Demand is being supported by robust labour market conditions, where employment growth has remained strong and the unemployment rate has fallen back to pre-pandemic lows. With the stock of homes on the market still low, this has translated into continued upward pressure on house prices.
"Nevertheless, it is surprising that conditions have remained so buoyant, given mounting pressure on household budgets which has severely dented consumer confidence. Indeed, consumers' expectations of their own personal finances over the next twelve months have dropped to levels last seen during the depths of the global financial crisis more than a decade ago.
"Moreover, housing affordability has deteriorated because house price growth has been outstripping income growth by a wide margin over the past two years, while more recently borrowing costs have increased (though they remain low by historic standards)."
Guy Gittins, CEO of Chestertons, says: "Despite the incentive of last year's Stamp Duty Holiday no longer available, 2022 continues to set new records. This April, the number of agreed sales jumped by a staggering 28% since the beginning of the year and 12% compared to April last year. London buyers registering with our branches this April were up 31% whilst viewings were equally at a record high. This demand has created a strong sellers' market which has led to 38% fewer vendors willing to reduce their asking prices compared to April 2021."
"The sheer volume of agreed sales in April has created a challenging workload for solicitors and banks which has impacted on the time it takes to finalise a sale. Although we are nowhere near the delays the market has witnessed during the pandemic, buyers still need to be prepared for their deal to take slightly longer than anticipated."
Jeremy Leaf, north London estate agent and a former RICS residential chairman, says: "It could be said that Nationwide's figures, though comprehensive and long-established, are a little dated as they are based on mortgage approvals and sales agreed some time ago.
"Since then, increasingly stretched affordability is starting to have an impact. However, for the time being at least, the supply/demand imbalance is continuing to outweigh concerns about rising interest rates and the cost of living, exacerbated by the situation in Ukraine.
"Further reductions in house-price growth seem inevitable."
Tomer Aboody, director of property lender MT Finance, says: "The continued shortage of properties for sale is continuing to push up prices as buyers are still seeking space or feeling a change is needed.
"With interest rates on the up, buyers are rushing to secure a mortgage now before further increases are implemented. As rates rise and inflation increases, a lack of confidence is likely to start to filter through, leading to a slow calming of the market in coming months.'
Mark Harris, chief executive of mortgage broker SPF Private Clients, says: "There is much speculation about rising interest rates and whether this will impact property prices but we are in a low-interest rate environment, and are likely to be for a while at least.
"Even though rates are edging upwards, and may again at the next MPC meeting, they are coming off an extremely low base. Lenders have plenty of cash to lend and are keen to lend to the right borrowers, although the more house price growth outstrips incomes the tougher it will be on the affordability side to get the numbers to add up."