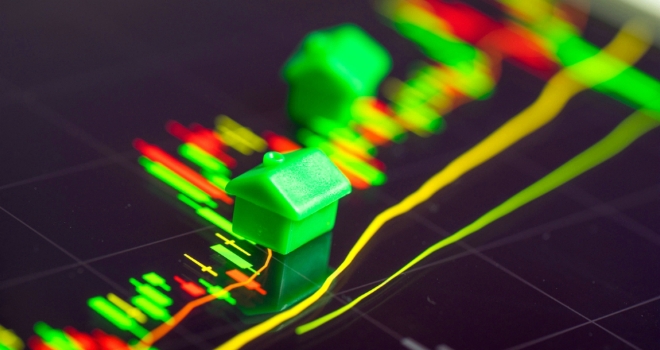 The latest data and analysis from Halifax has revealed that house prices in the last three months to January were 2.2% higher than in the same three months a year earlier, although the annual change in January was lower than in December (2.7%).
According to Halifax, house prices remained unchanged in the recent quarter (November-January) from the previous quarter (August-October); on this measure prices are down from the 1.3% quarterly rise recorded in December.
On a monthly basis, prices fell for the second consecutive month in January (by 0.6% following a 0.8% decrease in December)
The average price of £223,285 at the beginning of the year is 1.9% higher than in January 2017 (£219,217), however, the current price has edged down after recording £226,408 – highest on record – in November
Russell Galley, Managing Director, Halifax Community Bank, said: "Annual house price rises have slowed from 2.7% in December to 2.2% in January - the lowest rate since July last year. We've seen a monthly decline as well as the quarterly rate of growth flattening out.
Although employment levels grew by 102,000 in the three months to November, household finances are still under pressure as consumer prices continue to grow faster than wages. Additionally, it's still too early to see any impact for first-time buyers from the abolition of stamp duty on purchases of up to £300,000, which was announced in the November Budget.
Despite the recent rise in the Bank of England Base Rate, mortgage rates are still very low. This, combined with an ongoing acute shortage of properties for sale, will continue to underpin house prices over the coming months."
Russell Quirk, founder and CEO of Emoov.co.uk, commented: "With wage growth failing to keep pace with consumer prices, the immediate aftermath of the festive season is a tough time of year for all as demonstrated by this rather fitting market freeze. January is always a struggle and even with the current low cost of mortgage rates, market activity will remain predictably muted as buyers look to find their stride financially.
Price growth will soon thaw and as the market gains momentum into spring and summer the pick-up in buyer interest and market activity will see prices once again on the up.
While it may be too soon to see any direct impact from the abolition of first-time buyer stamp duty, a number of industry sources are reporting a strong uplift in buyer demand among this demographic.
But as we are all too aware, there is a severe lack of building stock to quench the thirst of the nation's aspirational buyers as it is, let alone with this additional influx of interest.
As a result, it is possible that another Government initiative to 'help' those priced out of the market could inadvertently see prices increase as demand is fuelled and further outweighs supply. There is also a chance that shrewd sellers in the £280,000 region will increase their asking prices to sit just below the stamp duty threshold in order to maximise their property potential in an otherwise slower market. If this were to happen, prices would see an additional boost as a result, but to the detriment of struggling buyers."
Jeff Knight, Director of Marketing at Foundation Home Loans, commented: "Wage growth remains stagnant and, while consumer confidence levels started the year relatively buoyant, the stamp duty cut for first-time buyers won't yet have had a significant impact on prices – though we'll be keeping a close eye on regional patterns that do start to emerge."
Continued attractive mortgage rates boosting demand will always inflate prices to an extent, and the ongoing issue of poor housing supply still means lack of choice for potential buyers. Affordable homes does not always mean home ownership, so in the meantime it's also important to ensure the rental market is being equally supported. Once again, concentrated efforts are needed to improve the quality and choice of rental homes for tenants and landlords respectively."
Paul Osborn, Chief Executive for Foresters Friendly Society commented: "Even with the slowdown, high house prices remain an obstacle for those with home ownership ambitions. With the mounting pressure people are already facing on their household incomes, affordability issues continue to make it a difficult time to buy, even for those who already have some savings set aside. Knowledge of the best savings products available has never been more important."
Our research shows despite 75% of UK adults having heard of the Lifetime ISA, only 11% of those eligible (under 40 years old) are taking advantage of the savings vehicle. The key to ensure more people are financially supported is by saving early and in the right way. With a 25% boost to annual savings, younger savers who take-up the Lifetime ISA can bring that ambition one step closer by saving significant amounts towards a home deposit."
Jeremy Leaf, north London estate agent and a former RICS residential chairman, says: "In December, Halifax reported the lowest annual rise in house prices since 2012 and the first monthly fall for six months so today's figures reflect confirmation of this trend.
However, the Halifax numbers are a little historic. At the sharp end of the market, we've noticed better-than-expected viewings but won't know whether this interest will translate into confirmed sales for the next few weeks at least. Prospective purchasers seem to be taking confidence from recent encouraging news about the economy and continuing low interest rates.
Once again the market is showing considerable resilience and little sign of a larger correction.
Nevertheless, sellers still have to be realistic and particularly recognise the importance of setting sensible asking prices if they are to generate offers.
First-time buyers too are beginning to emerge from hibernation and take advantage of lower stamp duty, the government's Help to Buy scheme and less competition from investors. However, lingering affordability and Brexit concerns remain common to all."
Jonathan Samuels, CEO of the property lender, Octane Capital, says: "High inflation and low economic visibility amid ongoing Brexit negotiations are holding the property market to ransom.

While the lack of supply and low borrowing costs rule out a material deterioration in prices, the cost of living and caution around the UK's exit from the EU are starting to get the upper hand. 2018 will see the usual see-sawing in prices but, short of any major breakdowns in negotiations or shock rate rises, the year is shaping up to be flat and uneventful.

A flat market, many would argue, is exactly what's needed given the entrenched affordability crisis. Over time, flat growth will offer a leg-up onto the property ladder for many first time buyers.

For those already on the ladder it's a negative, for those who aren't, quite the opposite."