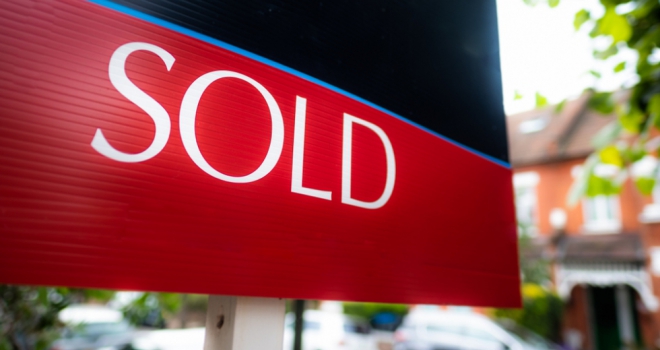 Be on your toes and move quickly, was the message from Rightmove this morning as the portal reveals that we are now in the midst of the fastest-selling market since their records began.
Average house prices recorded by Rightmove also broke records, with data revealing that the national average price of property coming to market hit a new all-time high of £327,797, following a 2.1% (+£6,733) monthly jump and shattering the previous record, set in October last year, by over £4,000.
The figures also show that despite an encouraging 145,000 properties came to market during the month, it was still not enough to meet frenetic buyer demand. Sales agreed were up by 55% on same period two years ago, reducing the stock of properties that are available to buy to the lowest proportion ever recorded
Rightmove predicts that although some of the froth is likely to come off the market later in the year once some government economic measures end, activity is widely expected to remain robust for the rest of the year.
Tim Bannister, Rightmove's Director of Property Data comments: "This is only the second time over the past five years that prices have increased by over 2% in a month, so it's a big jump, especially bearing in mind that the lockdown restrictions are still limiting the population's movements and activities.
"The property market has remained fully open and is fully active to such an extent that frenzied buyer activity has helped to push the average price of property coming to market to an all-time high. The stars have aligned for this spring price surge, with buyers' new space requirements being part of the constellation alongside cheap mortgages, stamp duty holiday extensions in England and Wales, government support for 95% mortgages and a shortage of suitable property to buy.
"There's also growing optimism due to the vaccination roll-out, which is helping drive the momentum for a fresh start in fresh surroundings. It does mean that this spring's buyers are facing the highest ever property prices, though with properties selling faster in the first two weeks of April than ever previously recorded by Rightmove at an average of just 45 days to be marked by the agent as sold, it seems that those buyers are not deterred. Almost one in four (23%) properties that had a sale agreed in March had been on the market for less than a week, which is also the highest rate that we've ever recorded.
"If you're looking to buy in the current frenetic market then you need to be on your toes and ready to move more quickly than ever before."
Two- and three-bedroom semi-detached houses are being snapped up quickest, with 30% of those that are being marked as sold by agents have been on the market for less than a week. This suggests that the surge in activity is now being driven by the mass market where few buyers will be achieving the maximum stamp duty savings.
Momentum is being partly driven by the lack of property coming to market over the last few months, which has reduced available stock levels as we move into the spring home-moving season. We can't compare with the same period a year ago in 2020 when the housing market was effectively suspended, but the number of properties coming to market in the last month is up by a modest 3% on the same period in 2019. This means it has now recovered to normal levels, but it is still massively outpaced by buyer demand.
Bannister adds: "The fast pace of the current market means that each week another activity record on Rightmove tumbles. Wednesday 7th April set a record of over 9.3 million visits to Rightmove, and March saw time spent on the site surpass two billion minutes in a month for the first time.
"This spring surge means that it's a good time to come to market and achieve a good price and a quick sale, especially if you don't have an onward purchase. The search for more space and new surroundings is still driving the market, with prices rising for the right property in the right location. Housing market activity remains high in Scotland where there has been no extension to the land and buildings transaction tax holiday which has now come to an end, which suggests that the same could happen when the tax holidays start to come to an end in England and Wales from the end of June.
"These rising prices will cause some buyer affordability challenges, as mortgage lending criteria are still constrained, and the record low available stock proportion will make it difficult for buyers to find the right property. Being able to act quickly when the right one does come along is vital, so having both a mortgage agreed in principle and your own property already sold subject to contract will help to get you to the front of the queue if you're looking to buy this spring."
Ben Taylor, CEO of Keller Williams UK, commented: "House prices have gone stratospheric and if you believe that what goes up, must come down, then surely we must be due a correction soon.
"That said, there have only ever been two periods in the last thirty years where house prices have fallen over any significant time and so there are smarter bets to be made.
"If anything, the new Government-subsidised low deposit mortgage, and interest rates that are set to fall still further, will probably cause this explosive market to continue crackling."
Jeremy Leaf, north London estate agent and former RICS residential chairman, says: "The increase we've seen recently in the number of buyer enquiries, sales agreed and transactions, has persuaded many sellers to raise asking prices, particularly while stock remained low.
"The faster rollout, especially of second doses of the vaccine, is prompting more appraisals and listings but not at quite a fast-enough pace yet to bring more market balance and keep a lid on prices.
"We have noticed from connected chains that demand seems to be even stronger in many places outside the capital as so many have brought forward home-buying decisions to live in greener settings, which are not so dependent on commuting.
"We expect momentum to ease once stamp duty relief is tapered from the end of June, although the availability and low cost of credit, as well as the government's new mortgage guarantee scheme, are likely to result in a price softening rather than a correction."