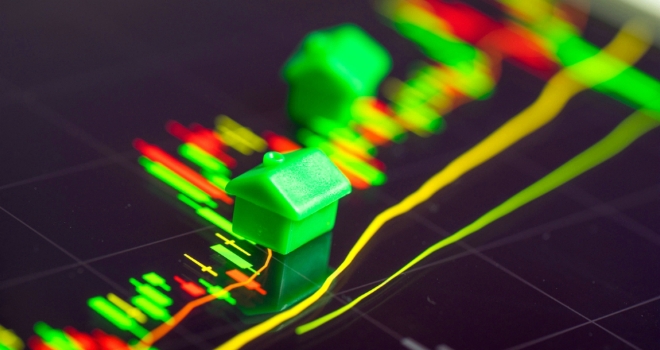 The latest data and analysis from Halifax has revealed that house prices in the three months to February were 2.8% higher than in the same three months a year earlier – a rising from 0.8% recorded in January.
According to this morning's figures, during the latest quarter (December - February) house prices were 1.8% higher than in the preceding three months (September - November). Halifax has the average UK house price now standing at £236,800
Monthly UK home sales remain steady. January saw 101,170 home sales, which, as for December, was very close to the 5 year average of 101,291. This is the fifth consecutive month where over 100,000 homes have been sold, leading to a 0.9% quarterly rise when comparing sales in November to January, against August to November. January home sales were 2% above the previous 12 month average.
In January mortgage approvals rose compared to December. Bank of England industry-wide figures show that the number of mortgages approved to finance house purchases – a leading indicator of completed house sales - rose 3.6% to 66,766. The January rate is marginally above the 5 year average monthly approval rate of 66,366, and is 1635 above the previous 12 month average.
Demand for housing and the number of sales both fall again. For the third month in a row RICS UK Residential Market Survey showed a drop on nearly every measure reviewed. New buyer enquiries, new instructions to sell, and sales were all lower than they were in the previous month. The National sales to stock level dropped to 31.5%, which is the lowest rate it has been since September 2013.
Russell Galley, Managing Director, Halifax, said: "House prices have grown on an annual, quarterly and monthly basis for the first time since October 2018, taking the average house price to £236,800.
The shortage of houses for sale will certainly be playing a role in supporting prices. House price growth is now at 1.8%, an increase from the 0.6% fall last month, and back at the rate we saw from July to September 2018. Annual house price growth at 2.8%, is within our expectations, but is fairly subdued compared to 2015 and 2016, when the average growth rate was 8.3%.
People are still facing challenges in raising a deposit which means we continue to expect subdued price growth for the time being. However, the number of sales in January was right on the five year average and, at over 100,000 for the fifth consecutive month, the overall resilience of the market is still evident"
Tomer Aboody, director of specialist lender MT Finance, comments: "With all the uncertainty around Brexit it is pleasantly surprising to see the resilience of UK house prices and a slight increase in price growth is very encouraging. While properties might sit on the market a bit longer, those that have steered clear of inflated valuations are selling, and there is a substantial appetite for properties which are priced correctly.
There is far more demand than supply in the UK housing market which should curtail any dramatic fall in pricing and act as an antidote to any potential fallout caused by the Brexit saga, keeping the property market active. Going forward, we don't foresee a vast increase in property prices, unless stamp duty is reduced and demand therefore increases."
Jeremy Leaf, north London estate agent and a former RICS residential chairman, said: "The increases across the board are certainly welcome and particularly the reference to transaction numbers keeping up with the five-year average but there is no doubt that the shortage of supply is a significant factor in the uplift. The reasons behind it are certainly not just to do with Brexit as we consistently hear on the doorsteps - affordability and tough lending criteria as other factors. Local factors are also highly relevant and activity varies quite a bit from area to area.
Looking forward, we expect to see more of the same and hopefully a more balanced market, particularly if negotiations on EU withdrawal begin to make some progress."
Mark Harris, chief executive of mortgage broker SPF Private Clients, says: "It has been a good start to the year for the housing market, considering the political and economic challenges the UK has to contend with, and there is definitely an element of people getting on with things. People are bored with the to-ing and fro-ing on the political front, and can't put their lives on hold indefinitely while the government sorts Brexit out. There is some prevailing nervousness towards the top end of the market where maybe the swings are greater and there may be more reason to hold off a purchase for the time being.
Brexit has created some pent-up demand and when we get a decision, whichever way it goes, we expect to see a spike in activity, not prices. There will be an uplift in transactions as confidence returns to the market and people know what they are dealing with.
That said, whatever happens, we expect to see national house prices continuing to hold up as they are doing at the moment, although this will mask regional differences."
Andy Soloman, Yomdel CEO, had this to say: "Much like the wider political spectrum, a drastic monthly increase of almost 6% will no doubt confuse many who have otherwise been told we're in the midst of a complete market slowdown. Monthly price growth measurements can be somewhat unreliable however, on both an annual and quarterly basis the market looks to be finding good form early in the year.
On the face of it, we remain in a fairly strong position with the property market holding firm due to a growing level of buyer sentiment and the consistent affordability of borrowing money. Both are helping to bolster a market that has otherwise been running on the fumes of political uncertainty for quite some time."
Marc von Grundherr, Director at Benham and Reeves, commented: "While such notable monthly price growth is likely to be an anomaly the nature of the UK market and the ever-shifting balance of supply and demand can see some drastic swings in market momentum.
We've seen a consistent level of demand and transactions over the last few months and this is starting to filter through in terms of price growth, with the long-term performance of the market starting to look very stable. Homeowners in parts of London, in particular, may be yet to feel this steady hand and those at the top end of the market will have to wait a while longer before the market springs back into life completely.
That said, we've seen a consistent interest from foreign investors so far this year and like the wider market, this positive sentiment should soon start to convert to something more tangible than interest alone.
We've also seen a 16% increase in enquiries for one-bed properties which would suggest the appeal of city living is starting to grow once again where as previously, it had been forsaken for larger, more family orientated properties on the peripherals of the capital."
Dilpreet Bhagrath, Mortgage Expert at Trussle, said: "On the face of it, and in the context of continued Brexit-linked uncertainty, these figures are really positive to see. However, if you delve a little deeper, the reality isn't quite as surprising.
We know that homeowners are reluctant to move, with many adopting a 'wait and see' approach to see how any Brexit deal might affect the market. This, coupled with the short supply of available housing, is possibly acting as a lifejacket - keeping house prices afloat despite the choppy economic waters.
Buyers, particularly those looking to get on the ladder for the first time, shouldn't be put off by rising prices. There are still good offers to be had in some areas of the country. Potential buyers who are concerned about the economic impact of Brexit should also be considering their own current and future circumstances when it comes to mortgaging. Opting for a fixed-rate mortgage may give provide more stability as they'll know how much their payments are each month."