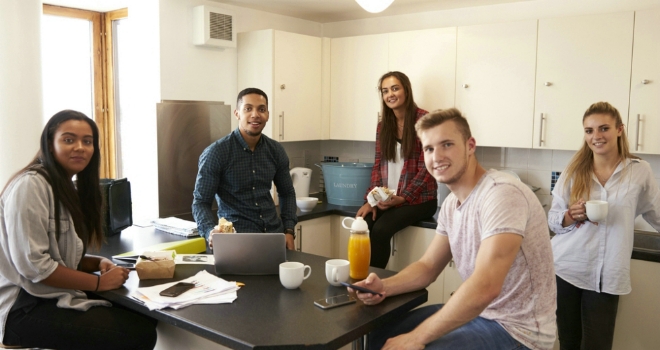 The majority of students are looking for simplified living arrangements with bills included in their rent, according to newly released research from UniHomes, who found that 68% of students would be more likely to rent a property that includes utilities.
The student accommodation platform revealed that doing so is not only more convenient but also makes for a far more harmonious student household. The requirement for one person to take responsibility for utilities in their name, while chasing housemates for late payments can often be a friction point. By each student paying for their own share, it completely removes this potential tension.
Many are also willing to pay for this added convenience, with 64% of students surveyed by UniHomes also stating they would happily pay a rental premium if it meant utilities were included.
When asked which utilities they would ideally like to see included within the cost of renting a property, students ranked the basic living essentials with the greatest importance. Electricity (55%), Water (53%) and Gas (51%) scored high, as did Wifi (47%) which is arguably one of the most essential requirements for the modern-day student. In fact, previous research conducted by UniHomes discovered that 58% of students won't rent a property with poor Wifi.
With the rise of streaming platforms such as Netflix, it's unsurprising to see that just 25% of students would like to see a TV licence included within the cost of renting too.
Despite this demand for utility rental utopia, just 30% of students stated that their current rental property included utilities within the cost of renting. So are landlords and their letting agents, missing a trick - and if so, why?
Phil Greaves, Co-Founder of UniHomes, commented: "It's clear that including utilities within the overall cost of renting can considerably boost the appeal of a rental property. Not only is this greater convenience extremely sought after amongst student tenants, but the figures suggest that there is also a shortage of letting agents offering the additional service.
"Of course, there is a reason for this, as organising multiple utility contracts and the ongoing management of the process is an extremely time-consuming endeavour for landlords and letting agents. At UniHomes, we manage this process on behalf of our partner agents, with many agents finding this service invaluable, as it frees them up to concentrate on the important tasks at hand such as letting and managing properties, instead of getting bogged down on the phone to multiple service providers."