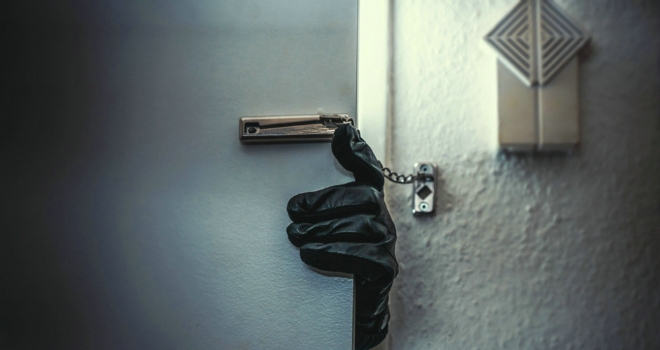 The latest data and analysis from price comparison website, MoneySuperMarket, looked at over two million home insurance quotes covering the last two years to identify the postcodes with the highest and lowest rate of claims for home contents theft within a five year period.
According to the findings, Guildford postal district GU3, which didn't feature at all in the top 20 last year, has risen to the top of the rankings with a rate of 52.31 claims per 1,000 quotes. In second place is Cambridge, rising sharply from last year's 12th place with a rate of 51.43 claims per 1,000 quotes. While London dominated 16 of the top 20 spots in last year's list, other cities have overtaken the capital this year with Manchester (M21), Leeds (LS5), and Birmingham (B15) sitting third, fourth and fifth respectively.

Liverpool (L16) is a new entry on this year's list at number six, with 50.15 claims per 1,000, while Edinburgh (EH5) is the first Scottish location on the list at 13th place, with a rate of 42.11 claims per 1000.

Residents of Redbridge (IG4) – which took the number one spot in the 2017 list – will be pleased to see it has fallen out of this year's top 20, alongside other London postcodes such as Clayhall (IG5) and south London's SE21.

Affluent Greater London areas including Teddington (TW11), Richmond (SW14) and Twickenham (TW12) are all new entries in the top 20.

Seasonal shifts
The MoneySuperMarket data reveals that the value of claims submitted in winter are on average 37 per cent higher than those submitted in summer – most likely because of the presence of high-value Christmas presents in the home.
The value of insurance for laptops, jewellery, watches and bicycles continues to rise. The average collective value of itemised possessions (items listed on contents policies because of their high value, typically £1,500 or more) was £4,400, which is 10 per cent more than in 2016.

Lowest rates of burglary claims
Of the postcodes with at least one claim for theft, Bideford in North Devon (EX39) has the lowest rate with 0.78 claims per 1,000 quotes3. Other areas successfully keeping burglars at bay include the Murton area in County Durham (SR7) with a rate of just 1.09 per 1,000, and Tiverton (EX16) – the second area in Devon to feature in the lowest five. There are also 101 postal districts with no recorded claims.
Kevin Pratt, consumer affairs expert at MoneySuperMarket, said: "This year's claims analysis suggests burglaries fall into two main categories: crimes committed in wealthy suburbs, where thieves expect rich pickings and a degree of seclusion, and busy urban areas, where strangers attract little attention and burglars hope to make speedy getaways.

We should bear in mind that many criminals are opportunists - if they see a soft target, they will pounce. That makes it crucial for everyone, regardless of where they live, to be vigilant and to take the necessary steps to keep burglars at bay.

Ask anyone who's ever been burgled about the experience and they will tell you about the devastating impact it can have. It's not just the financial loss. People often lose items of great sentimental value, which no amount of money can effectively replace. And then there's the feeling of violation, which sometimes prompts victims to move home.

For these reasons households should do what they can to boost security and prevent burglary happening. Insurance companies will lower their premiums for people who have robust locks on doors and windows, fit and maintain burglar alarms, use a safe for valuables and join a neighbourhood watch. Shopping around every renewal will also help keep insurance premiums as low as possible."