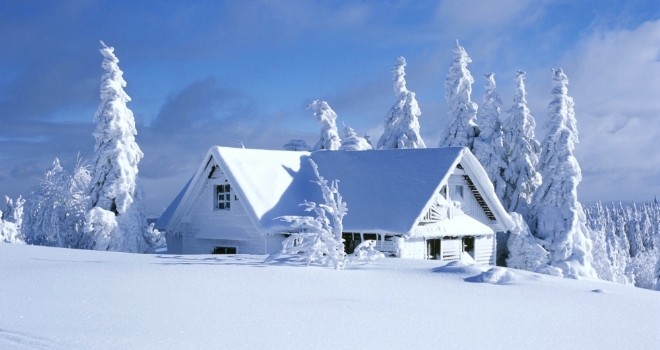 Over five million Brits will wait until the temperature dips to zero degrees or lower before switching on their heating this winter, according to new research.
Anglian Home Improvements carried out the research alongside the launch of its new Hot Property campaign, which is aimed at helping homeowners identify where the heat in their home may escape from. The home improvements company partnered with a thermographer-qualified drone specialist to take heat sensitive images of six different properties ranging from Grade II listed homes to new build properties. The images illustrate the most common areas residents lose heat from in their homes, which tend to be windows, doors, chimneys and roofs.
Anglian has launched the Hot Property research as many Brits start to feel the regulator Ofgem's recent price hike on safeguard tariffs. The rising energy tariffs mean the nation are looking to be thriftier with how they use energy and keep their homes warm. Four in 10 of those living in terraced houses have added better loft insulation and one in seven residents living in bungalows close the curtains when it's dark to keep the heat in.
The most common efforts made by Brits to keep the heat in their homes are:
1. I close the curtains to keep the heat in when it's dark - 61%
2. I have carpets/rugs instead of bare floorboards - 43%
3. I've added extra/better loft insulation - 34%
4. I fitted thicker curtains - 31%
5. I upgraded to double/triple glazing - 30%
Despite many Brits being clued up on heat loss, a quarter of 18-34-year olds and over a fifth (22%) of those living in Northern Ireland admit they have never done anything to improve the heating in their homes.
To help, Anglian Home Improvements has put together its top tips for dealing with heat loss in the home:
Tip one: windows
The first place to check in the home are your windows and their glazing. Glazing with an energy rating of B or lower will lose more energy than it creates over the course of a year, letting heat escape from your home. Single glazing has a notoriously lower energy rating than double or triple glazing, so an immediate replacement is recommended. Windows with an energy rating of A or above, however, will ensure no heat is lost.
Tip two: doors
Older doors may be susceptible to letting in drafts, however those not wanting to replace a door should consider a draft excluder. Don't ignore keyholes and letterboxes either. Purpose-made covers for keyholes can reduce the issue, while investing in a letterbox flap or brush can keep chilly breezes at bay.
Tip three: insulation
An estimated 25% of heat is lost through a roof that has no insulation, but the good news is that it's relatively easy to add to your home, particularly if you have a pitched/sloping roof.
The recommended depth for blanket-style roof insulation (such as glass and mineral wool) is 250 to 270mm. This recommended depth has increased in the past few years; previously it was 200mm, and before that 100mm, therefore older homes may not have enough insulation to effectively prevent heat loss. However, even if your roof does have insulation, it may need upgrading.
Tip four: air quality
While focusing on preventing heat loss in the home, it's important not to forget about air quality. Particularly in winter, a lack of fresh air and an increase in central heating can cause a major reduction in air quality, making it stuffy and dry.
Costas Kariolis, Head of Digital Marketing at Anglian Home Improvements, said: "With rising energy bills eating into all of our household budgets, we hope our Hot Property video shows the importance of preventing heat loss for every kind of home. With the British winters getting even colder and many residents worrying about how they'll keep their homes heated, our tips show alternative measures that can be taken before cranking up the thermostat."