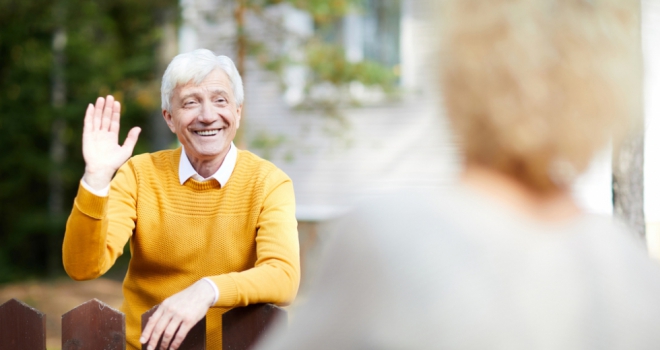 Newly released figures from comparethemarket have shown that nearly nine in ten - or 86% of people have good relationships with at least one next-door neighbour and this has been largely fuelled by the UK lockdown.
The coronavirus lockdown has meant that most people have spent more time in their homes, and many are relying on local communities for support.
Encouragingly, 61% of people say they have good relationships with neighbours on both sides of their home – a comforting sign that community spirit and togetherness remain strong during this time. By contrast, only 14% of all Brits say they do not have a good relationship with their neighbours.
In light of COVID19, the Government has advised that older people should self-isolate, so it is encouraging that good neighbourly relations are particularly strong amongst this older age group, who may need regular deliveries of essential food and supplies from those nearby. The research shows that those aged 65 and over have the strongest relationships with their neighbours, with 87% claiming to have good relationships with neighbours on both sides of their home. Indeed, one in ten (10%) pensioners say that they chat with their neighbours daily.
When it comes to community spirit, 54% of people in the UK feel that they are part of a community. This number increases with age, as 70% of over 65s feel they are part of a community within their area.
Northern Ireland is the friendliest region in the UK, with 77% of residents claiming a good relationship with both next-door neighbours and 70% considering their neighbours as friends – the highest of any region, in both instances. By contrast, those in the North East tend to keep to themselves, with just over half (52%) claiming good relationships with neighbours on both sides. Perhaps surprisingly, Londoners are above the national average when it comes to neighbourly relations with 65% claiming they are on good terms.
Chris King, Head of Home Insurance at comparethemarket, said: "With many people working from home and unable to leave the house regularly due to lockdown, being a good neighbour is more important than ever. With social distancing measures in place, online neighbourhood groups and technology are keeping community spirit alive.
"Community spirit is particularly important at times like this for older members of the community, many of whom may rely on friends nearby to help with deliveries of food and supplies. With family members potentially living further away, it is encouraging that a significant majority of this age group have good relationships with their next-door neighbours. Even just putting a note through the door or giving them a call could be a real help. Times of crisis bring people together from all walks of life and to see neighbours look out for each other more than ever right now is a silver lining in an otherwise troubling time."