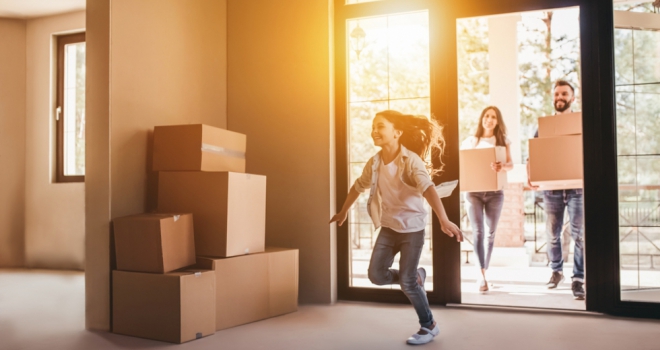 It's no secret that selling your house and moving home can come at a cost — and there are a lot of little fees that can take you by surprise.
Sky-high estate agent fees, increased mortgage payments, surveying and removal costs, plus everything else in-between.
We're seeing more people looking to move home than ever, with a 50% increase in demand from buyers now versus before lockdown, and on average twice as many sales per week.
But it's also a time when many of us are feeling money-conscious due to the pandemic — so making savings wherever possible is key. The good news? It's a great time to save money when moving to a new home.
Sam Mitchell, CEO of online estate agent Strike, shares his top five tips on ways to save. In fact, these tips could save you up to £20,000.
Sam says:
"1: Sell up before Santa arrives
You probably know that the government has cut stamp duty to reignite the UK property market, so if you move before the 31st March 2021 there are serious savings to be had.
"There's currently no stamp duty on property costing up to £500,000 in England and Northern Ireland, so that's a potential saving of up to £15,000 at the top of the scale — or around £2,000 based on the average UK property price.
"My advice would be to get your property up for sale and be looking at where you want to move to as early as you can, ideally before Christmas. You'll want to start the process early so you can ensure that you complete your purchase and exchange before the deadline on 31st March 2021.
"The process of buying and selling can be unpredictable, particularly when you're involved with a complicated chain or solicitors are extremely busy. Usually, it can take around 12 weeks to exchange, so getting in early will help alleviate stress and guarantees you those savings.
"2: Sell for free
"There are several costs and fees associated with selling a house, but estate agent fees are often the costliest.
"But times are changing. We offer a digital-first approach to selling which also helps to lower costs by speeding the entire process up, from start to finish. Our service handles everything - photos, marketing, negotiation - for free.
"Unlike other estate agents who normally claim between 0.75%-3% commission from your sale (1.5% being the average), we believe the money you get from the sale of your property belongs to you.
"You can check how much you would save today based on the average commission rate by visiting the Strike website. Based on the average UK property price, you could save more than £3,000 - a lot of money to have back in your pocket.
"There may be other costs you could cut out too. For example, when it eventually comes to moving out day, do you know someone with a van you could borrow? Or could you cut back on packing supplies by asking friends and family for old boxes or by visiting supermarkets? There are a lot of ways you can save if you plan ahead.
"3: Move your mortgage
"When moving home, it's important to carefully consider what you to do with your mortgage.
"If you can move your mortgage to the next property you can end up avoiding early repayment fees. Talk to your lender and look to seek professional mortgage advice on this, because it could save you a bundle.
"Most lenders will allow you to 'port' your mortgage and move it from your existing property to the one you're buying. But if you do decide you want to pay off the mortgage, it may come at a cost.
"Generally, lenders will allow you to go over your payment by an extra 10% a year. However, anything after that will incur a fee – something to remember when making that decision.
"However, if you have had your mortgage for a while, it may be a good time to consider switching to a new lender as rates have been very competitive recently.
"4: Pay for value
"Though you can save by cutting non-essentials from your move, something that you shouldn't do without is a good solicitor. You'll need their expertise to handle the transferred ownership of the property, otherwise known as conveyancing.
"The cost of this will vary, depending on the value of your property, but keep in mind that the cheapest option might not always be the right choice in the long run. Ultimately, their experience, speed and efficiency will also play a key role in the final price you have to pay.
"Prices can vary drastically, so make sure that you compare prices and reviews before you commit to a solicitor. If your agent has done a great job for you then trust their recommendations, or speak to friends and family.
"Similarly, shop around and ask those you know for recommendations on everything from deals on utilities and broadband to getting a water meter or reassessing car insurance. The last point is especially one to consider if you're moving to a quieter area as there could be real savings to be had.
"5: Time your move
"When it comes to actually moving all of your belongings, you need to make sure that you're not paying more than is necessary. It helps if you remember that the more you need to move, the more you'll have to pay.
"The first step towards saving is making absolutely sure that you're only transporting things you need. In the weeks or even months, before packing, tackle your house room by room and declutter.
"Another trick is to be as flexible as possible about when you move to allow yourself the best deal on removal costs. Be sure to check the prices on individual days when booking. Typically, Fridays are highest in demand as they allow for the weekend to settle into a new home. Sunday tends to be cheaper, however, arguably less practical if you need to be at work on Monday.
"Check if you qualify for a discount with your chosen removal firm too, as some will have money off for armed forces, pensioners, students and even keyworkers. Alternatively, you could rent a van to do it yourself for as little as £50 a day."