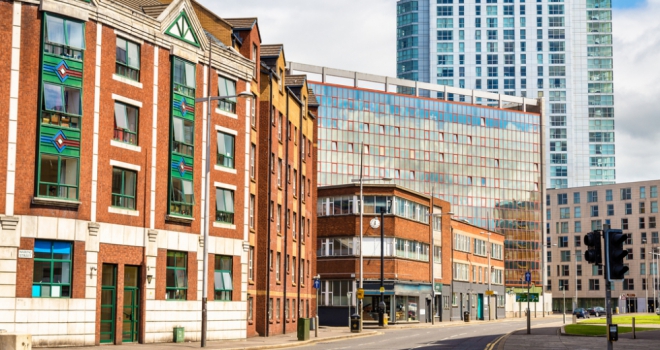 Following the relaxing of lockdown rules in England, there was a predictable surge in housing activity as estate agents reopened their doors and restarted operations.
However, while property activity in England surges, Northern Ireland remains firmly in lockdown mode with no indication from the Government as to when estate agents can return to work. So, when the Northern Ireland market does open, can we expect the same surge in activity?
The Guild of Property Professionals spoke to its offices in the region to find out their view on the Northern Ireland market and its awaited reopening.
How are people in Northern Ireland responding to virtual viewings and valuations?
Daniel Henry, Partner at Bensons, comments: "Our people are quite set in their ways and prefer face-to-face meetings, however, that said, we have seen people start to embrace it and enquire about virtual tools and how they work. Effectively, it has been a slower transition than England, which is probably not totally unexpected. England seems to be more tech-savvy, with a younger professional population predominantly living in metropolitan areas, whereas our office deals with an older population of more private individuals, living in more rural regions."
Julie McCrory from Kingham Property, comments: "Clients are sending us their own videos and photos and we have succeeded in converting 100% of these to listings. The virtual viewings are slower to start, although people are enjoying the videos and we are offering live videos if requested, clients still want to view the property physically. From the start of lockdown, we have still been able to agree smaller volumes of sales, approximately 10% of which were from the virtual video, while the rest were either new build homes from plans or homes that had already been viewed before lockdown."
Art O'Hagan, Managing Director of CPS Property, says: "CPS, like all the agents in Northern Ireland, has been compliant with Government guidelines regarding no viewings during lockdown, therefore the quantity of sales has been greatly reduced. The lockdown has created a surge in appetite from buyers with the CPS database increasing by 18% from interested parties looking to buy property. The second significant reassuring factor is high street lenders in April had reduced the loan-to-value to 75%, as they were unsure of the stability of the marketplace, but they are now back lending up to 90%. This is reassuring for buyers; lenders returning to the property market instils confidence."
Are you expecting Northern Ireland to follow suit with a surge in activity once restrictions are lifted?
O'Hagan adds: "The Coronavirus pandemic has 'pushed pause' on a very stable Northern Ireland property economy. I think the market will open after lockdown with asking prices generally where they were in February 2020, however, buyers will feel hesitant initially as they step back into their jobs again.
"Employers have no doubt also been analysing how they could do their business more online, as this is an opportune time for those with technical skills to try to change how they run their business. Less face-to-face meetings are going to be implemented for the foreseeable future, as video calls have proven very effective. With regards to sales viewings, there have been very few, so naturally, there is a dip in the number of sales, but this has created an appetite, thus demand to acquire a new home, if that was already their plans. The re-opening of Land Registry will facilitate sales completions once again."
Henry comments: "There is a bit of momentum starting to gather of people looking to list, however, it seems that buyers are waiting until they can physically go and see properties. Another anomaly that we have in Northern Ireland, is our Land Registry is still very archaic and is not online and freely accessible. Why do I say that? Our Land Registry is closed which has frustrated the legal process and until it opens again, solicitors are unable to carry out the work they need to. So even if someone wanted to purchase a property today, their solicitor would not be able to move forward until the Land Registry office opened."
O'Hagan adds: "Lenders have to play their part in creating stability and confidence. In Northern Ireland, pre-COVID-19 we had not seen an overheated market; in fact, we have seen a very stable economy for the past five years. The population hasn't changed, employment is unlikely to change, and most homeowners have had lots of time to reanalyse their own lives. We have seen an increase in enquiries for property over the past seven weeks, which is a clear market indicator, this reassures us, and we are confident that the demand is awaiting viewings taking place."
How are you preparing for when the market is reopened?
McCrory says: "The office has been deep cleaned and we have ordered protective screens for the desks. We have also rearranged the desks to comply with the two-metre social distancing rule. Gloves, masks and hand sanitisers are at every desk," she says. "We have also been utilising The Guild's 6-step return to work safely programme with health assessments for both homeowners and viewers and we have risk assessments in place and our staff are have been fully trained on these new measures."
Any positives aspects to come from this situation?
O' Hagan says that he feels the rental market is stable, demand has remained high and the likelihood of new social housing construction is very slight. "Interest rates remain low and lenders have confirmed availability for buy-to-let mortgages which is very reassuring," he adds.
According to McCrory, the downtime has given house hunters the opportunity to consider the spaces they currently live in, what is most important to them and as a result where they might prefer to live now. It seems that having a garden or larger outdoor space has become more important to buyers asked in the last few weeks. A lot of time and money has been spent on home improvements, indoor and outdoor since lockdown and this will only boost saleability.
Henry concludes that, from his perspective, perhaps the most positive aspect is how people have shifted their priorities: "People are putting each other's safety above anything else and making the necessary changes to ensure everyone is protected. We have seen a change in emphasis with people adopting the attitude of 'health before wealth'. There is a greater sensitivity towards people's needs and agents are adapting their approach to ensure people are comfortable and safe at all times."