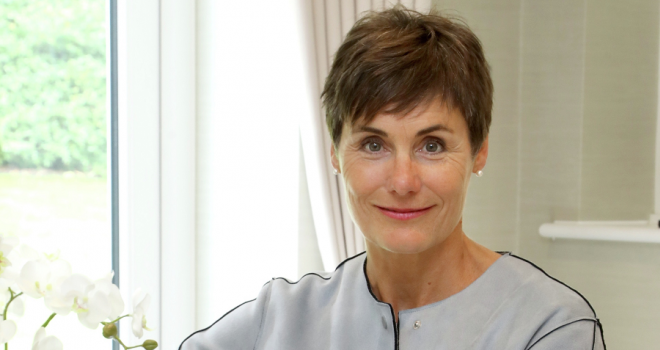 The latest estimates show that women make up just 15% of the workforce in the property and construction sector. However, with 40% of its jobs being filled by women, housebuilder, Kebbell, is bucking the trend when it comes to gender equality in this traditionally male-dominated industry.
Sales and Marketing Director, Andrea Fawell, shares her thoughts on what the industry needs to do to attract more women, as we mark International Women's Day.
Andrea says: "My personal route into property was initially through town planning, as my careers teacher who was also my geography teacher, piqued my interest in the area. In 1987 I worked as a land buyer, but I liked working at a fast pace and so then joined the sales team. My background in land was very helpful in understanding the relationship between the start of the home building process, in both land buying and the implications of early decisions in design, to the end of the process of actually selling homes. My planning and construction background made me more effective at sales."
Is educating at school level the best way to encourage more women into property?
"A few years ago I had a table at a careers day at my daughters all-girls school and I went along in my construction kit complete with tool-belt and hard hat. No one came to my table to talk to me! The next time I turned up to talk about interior design and I was flooded with enquiries. On the third occasion, I came to talk about town planning which received a good level of interest. It is incredibly frustrating because jobs in property are often highly skilled roles and we need women to be actively at the table or on-site."
Equality in the property industry
"There is much talk in housebuilding that it is women who do the buying and are the decision-makers and facilitators of a home move, so women in the industry are possibly uniquely placed to be the best to understand their needs, wants and desires. Sadly whilst there is also inequality, the main problem is diversity because there are so few women working as subcontracted trades, in construction or in the technical department in particular, but also in the boardrooms. It's a problem and this really is an area where improvements in the industry could and must be made.
There is an increased appetite for real change and it has never been so important to get inclusion and diversity in all areas right, to unite us and to promote respect after one of the most difficult years in living history. Ultimately different people bring different things to the table. We don't do well with a linear approach and need a wide range of ideas and experiences. Diversity increases awareness, individuality and curiosity, and leads to better understanding and new ways of thinking. It also creates a healthier working and living environment, prevents bullying and stereotypes and ultimately is good for business.
How should the property market ensure inclusion for women?
Andrea explains: "Educating about the huge number of roles that are available in property is key, as well as highlighting what skills suit which jobs. For example, if you are artistic, you may want to consider architecture, strategic - the legal or planning side, mathematical – engineering, practical – the trades and so on. It is about finding your niche and choosing something that is suited to your skills and that you find interesting. We need more apprenticeships and training roles in every area of the business.
"We need to enhance the profiles of women in different roles in property and to include them in the design and implementation of any changes. We also need to conduct surveys around inclusion within our businesses and senior leadership need to lead conversations around women in property and make an effort to understand the nuances of what different people in the workforce many need.
"Flexible roles are sometimes attractive to bring women into the industry but may equally be a factor for men. What the pandemic has taught us is that getting the job done is what is important, flexibility is not detrimental to a business in most cases. For example, sales in the housing industry is busier at the weekend which could suit women who need flexibility and are interested in a career in that field."
Why is it important for more women to join a traditionally male-dominated industry?
"I consulted with many of the women I work with for this article and Clare Clarke, from our customer care department summed it up well: "A home is not designed or built by one person and it takes a team to bring any project to fruition. A good team is made up of many different skills and therefore many different people. Women can bring new perspectives and skills such as problem-solving and relationship-building to ensure that the project is efficient and customer-focused."
"Linda Tillisch, our Northern Sales Manager also said: "A sales role is not without its challenges in a male-dominated industry, diplomacy and an ability to smooth ruffled feathers is something most women have learnt to do easily."
Andrea concludes: "Ultimately property is a very rewarding business to be in. The camaraderie on site is amazing and there is something so tangible and fulfilling from buying the land to handing over the keys to someone's new home. Property is so close to all of our hearts. We all live somewhere. Women certainly need to be better represented in the industry."