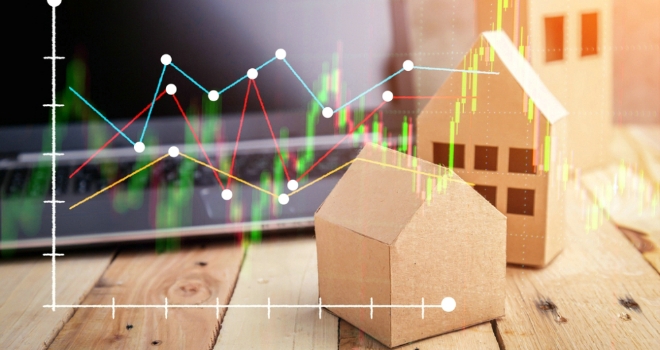 ONS figures show that the average UK house price was £295,000 in November 2022 - £28,000 higher than this time last year but a slight decrease from last month's record high of £296,000.
Average house prices increased over the year to £315,000 (10.9%) in England, to £220,000 in Wales (10.7%), to £191,000 in Scotland (5.5%) and to £176,000 in Northern Ireland (10.7%).
Scotland's annual house price inflation has generally been slowing since April 2022, reaching 5.5% in the year to November 2022, down from 14.2% in the year to April 2022.
The North West saw the highest annual percentage change in the year to November 2022 (13.5%), while London saw the lowest (6.3%) of all English regions.
Nathan Emerson, CEO of Propertymark, comments: "In November, our agents reported a market that was on the cusp of seeing purchasing power handed back to buyers which was a trend we hadn't seen in months.
"Interestingly, estate agents in London are reporting buyers agreeing on sales at under the asking price, however, agents in the North West are seeing properties sell for asking price very quickly after being marketed, sometimes in a matter of days.
"Buyers are looking for more affordable properties, if sellers are realistic with their pricing, there are plenty of serious buyers out there that will move quickly."
Avinav Nigam, cofounder of real estate investment platform, IMMO, says: "This slight fall in house prices was expected, as economic confidence has fallen and interest rates have risen, making purchasing properties more expensive and harder to do.

"Buying property is more expensive due to higher rates. The stress tests applied by banks are also more stringent. The result is that many who had hoped to purchase using mortgage finance will no longer be able to.
"Younger and poorer households are disproportionately affected. Their need for housing is unchanged, but their ability to access it through home ownership is.
"Demand for rental properties continues to grow. The opportunity for professional providers of safe, quality and affordable rental housing for the UK is increasingly clear."
Vikki Jefferies, Proposition Director at PRIMIS, comments: "Although today's statistics show a decline in the rate of house price growth, it's important to recognise that figures are still on par with pre-pandemic level and remain relatively strong.
"With rate reductions likely to continue as the new year gets underway and with growing numbers of products returning to the market, brokers need to be prepared to help homebuyers and remortgagers make informed choices when it comes to the best product for them. As economic turbulence continues, this involves thinking about future impacts, as well as shorter-term outcomes. Increasingly, advisers have a range of tools available to help insulate borrowers to an extent from fluctuating market changes, including increasingly flexible products coming to market, such as those allowing customers to switch on to more affordable rates, should these fall.
"From a lender's perspective, there is certainly an appetite to lend, and we're seeing clear creative thinking and enhanced proposition development in order to create flexible products that meet customer needs at this time. Overall, independent advice remains essential for homebuyers looking to secure the best deals and benefit from guidance tailored to their unique personal and financial needs."