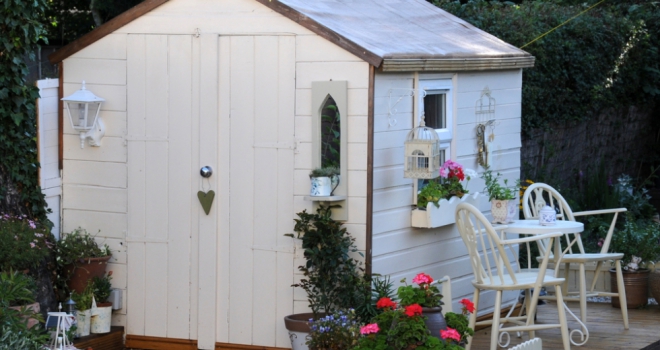 Appreciation for outdoor space and demand for gardens is at record levels, largely thanks to the pandemic and subsequent lockdown measures that saw all of us spending more time at home over the last 18 months.
With vast numbers working from home during the crisis, the challenge of finding suitable office space in the home became apparent. Some chose kitchens, others set up camp in bedrooms, and some, their shed.
Whether you've converted your shed into an office, a bar, or simply kept its original function, regional developer, Harron Homes, has some advice from its experts at Id Verde Landscaping on the best ways to maintain your shed and keep it fit for whatever purpose you set for it.
The Winner of Harron Homes Spruced Up Sheds Competition is Beth Moran
1. Treat your shed – Most sheds are treated in the factory, so you won't need to treat it straight away but it's a vital task to keep it in tip-top condition; try to apply a fresh coat at least each year. Apply it when no rain is forecast for a few days so it has time to soak into the wood properly, and leave it for a couple of days before adding colour. Bonus tip - paint PVA glue onto nail heads to stop them rusting through the paint.
2. Seal your windows - It is important to make sure the windows are sealed inside and out as soon as possible after installation, to avoid leaks that can shorten your shed life. Use silicone, timber beading or any other suitable 'watertight' solution and keep an eye on the windows year-round, especially during the colder, damper months.
3. Fit guttering - As well as being an eco-friendly way to keep your garden green, installing guttering and a water butt to capture run-off from your shed roof will help keep the building in good condition. Make sure it's kept in good condition or rain is more likely to run off the roof and into the shed.
4. Check the roof – On the subject of roofing, make sure that's kept clear too to stop water pooling. Remove leaves and twigs and clean moss from your roof with moss killer to stop it from absorbing water. Make sure to check the roof from the inside too, and if the felt needs replacing ensure you remove it completely including old nails to stop them from damaging the replacement.
5. A solid base – The best spot for your shed is on a slabbed or concrete base, clear off any moisture and lying water to avoid getting damp. Even better if you can fit timber runners underneath to create airflow.
6. Clear debris - To avoid your shed walls rotting from the bottom up, clear away any soil or plant build-up from around the base. Look out for moss here too and clean it off. Dirt and debris hold moisture to the surface of the wood, providing perfect growing conditions for fungi and mould which cause wood rot.