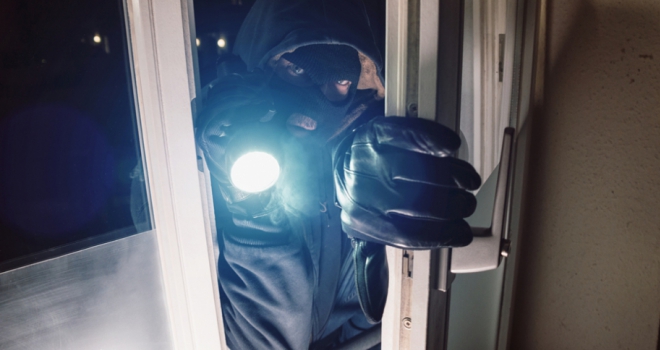 The study was conducted by the team behind home security firm www.Boundary.co.uk, who asked 2,100 Britons who were burgled in the last year, questions relating to their behaviour since the intrusion took place.
When asked what factors had led to them moving out, a staggering 82% of Britons claimed they had felt 'unsafe in their own home' since the burglary occurred. 15% of those who felt unsafe also said that they were suffering from symptoms of PTSD, with some reporting vivid flashbacks, intense distress at real or symbolic reminders of the trauma and even physical sensations such as pain, sweating, nausea or trembling.
All participants of the study were also asked if the perpetrator(s) of their burglary were caught and prosecuted, of which just over two thirds (69%) reported that theirs had not been identified.
Other notable findings from the study were:
· 1 in 3 of the burglaries that took place happened while the homeowners were still inside the house
· Two-thirds of the residential burglaries took place during the night
· 65% of burglars gained entry through the main door
· The average cost of all the burglaries came to just over £1,350 (including damage and stolen goods)
· 5% came face to face with their burglar, with 3% reporting that deterred the perpetrator
Home security expert, Robin Knox, has provided some tips on how to prevent your home from burglary where possible:
"It's surprising to see that over a quarter of people are actually moving out of their homes as a result of a burglary. It's such a shame that these crimes can cause huge disruption to people's lives, particularly when many don't get the justice they deserve. It's so important that people take measures to protect their homes from burglary and that includes investing in an effective home security system.
"Not only should a home security system flag legitimate threats of break-ins, but they should also then proceed to provide follow-through protection, such as automatic police response. A professionally monitored system from a recognisable brand makes it more likely that your intruder will be initially deterred, cause less damage and ultimately increase the likelihood of being caught, thanks to a swift and reliable 24/7 response.
"Look out for systems that have BS EN 50131 tested motion sensors, and only buy from companies who can offer a Grade 2 installation, Police URN, and are accredited by one of the two industry bodies (SSAIB or NSI). These companies are the only ones who can access the highest priority 'level 1' response from police forces in the UK."
The team of home security experts at Boundary have also put together the below advice on how to cope with being burgled:
Talk to your friends and family
Like any traumatic event, opening up and talking through how you're feeling will help you to eventually overcome what you're experiencing. If you feel like you need to talk to someone other than friends or family, there are professionals out there who you can seek help and support from.
Victim Support offers emotional and practical help to those who have been burgled. You can request support online, contact your local Victim Support team, or call the charity's support line on 0808 16 89 111.
Take care of your health
It can be easy to neglect our personal health when something traumatic occurs, but we can soon enter a whole minefield of problems if we're not taking care of ourselves. Stick to a routine where possible, eat well and exercise often; exercise is great for helping to release some of that pent-up anxiety or distress which you may be experiencing after being burgled.
Take steps towards making your home safer
If you've not already done so, there are some steps you can take to make your home safer. Invest in an effective home security system, ask if your neighbours can help keep an eye out in the future and make sure your house is in full working order (no faulty windows or locks that a burglar might be able to break through).