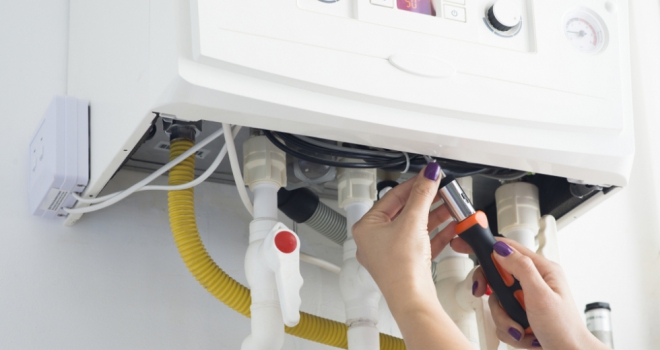 "We get a lot of callouts from customers with wireless programmable room thermostats that have stopped working. It's nearly always the batteries that have run out."
A new survey of 8,261 UK homeowners, commissioned by Fair Fix, has revealed that 24% have encountered boiler issues in the past 12 months, with 17% stating that they attempted to repair these issues themselves rather than hiring a professional, qualified engineer.
Why are people taking this work on for themselves? According to the research it's likely because 55% state that they had to wait between one and five days for an engineer, 10% of which waited for more than five days.
During this current cost of living crisis, the cost of a repair might also be leading people to try fixing their own boiler, as 32% of those surveyed report being charged £150 or more. 9% of these say they had to pay more than £450.
As previous Fair Fix research has shown, boiler repairs cost England's homeowners an eye-watering £154m each year, with those in London most likely to be hit by a boiler breakdown, so it's understandable that many people say they are surprised at the high cost of boiler repairs.
What you need to know
1: Lack of boiler service can negate warranty
Tyrone Ekrem, Fair Fix Founder, says: "Boilers are highly efficient, finely tuned machines."
"As such they demand regular checks and services. If your boiler is new and you fail to get it regularly checked, it will likely negate the manufacturer's warranty."
2: Thermal blinds can reduce boiler strain
The less pressure you put on a boiler, the longer it will run without error. Good home insulation is the first step to reducing boiler usage. If you don't have good home insulation and can't afford to improve it, some well-insulated thermal blinds for your windows can make a huge difference at less expense.
3: Clear your flue exhaust
If you live on the ground floor, make sure the flue exhaust (the external pipe that vents gases from inside to outside the home) is not covered by any foliage. Things like leaves and twigs can block the flue and radically reduce boiler efficiency which increases the risk of breakdown.
4: Check the batteries in your smart meter
"We get a lot of callouts from customers with wireless programmable room thermostats that have stopped working," Tyrone says. "It's nearly always the batteries that have run out, so you can save a lot of stress and money by making sure you check the batteries first."
5: Make sure system pressure stays green
The system pressure indicator on your boiler should always be in the green, which is usually between 1 and 2 on the dial. This will ensure that your boiler performs correctly and doesn't overheat. If there is not enough water in the system, it will cause parts to fail prematurely.
6: No hot water? It could be the shower, not the boiler
Tyrone explains: "Most people first notice a loss of hot water in the shower, after which they go straight ahead and call an engineer.
"Instead, you should check other taps to see if hot water comes out. If it does, the issue is with your shower, not your boiler."
7: Lack of boiler service can negate house insurance
Much like failing to service your boiler can negate its warranty, it can also negate your home insurance. So, if your boiler is in the loft, for example, you should be doubly strict when it comes to regular servicing because if water starts to drip from the roof down, it can cause awful damage that your insurance provider may refuse to cover due to a lack of diligent servicing.
8: Don't wait for an emergency to find a good engineer
This will reduce stress tenfold. Too many people wait until they encounter a problem before looking for a good boiler engineer. Then, they are often led by price and availability instead of quality.
Instead, it's recommended that you identify a trustworthy and reliable engineering provider right away so that they can get to you quickly in an emergency.
9: Some engineers find excuses to overcharge
Talking of rates, while the vast majority of boiler engineers are honest, hard-working people, there are always some who will try and make more money from you than they're entitled to. Most engineers charge an hourly rate which means if they want to overcharge, they simply take longer than necessary to complete the job.
10: Engineer experience is just as important as qualification
All gas engineers must be qualified and certified. What most people forget to check, however, is how experienced they are.
Tyrone concludes: "Experience is invaluable. It means engineers have seen it all before and know exactly what needs doing without having to go through a long, drawn–out diagnostics or trial-and-error process which takes ages and racks up the customer's bill.
"That's why we ensure that all Fair Fix engineers have at least two to three years of Boiler Breakdown Engineer expertise, and why each of our engineers undergoes a thorough competency test before coming aboard."