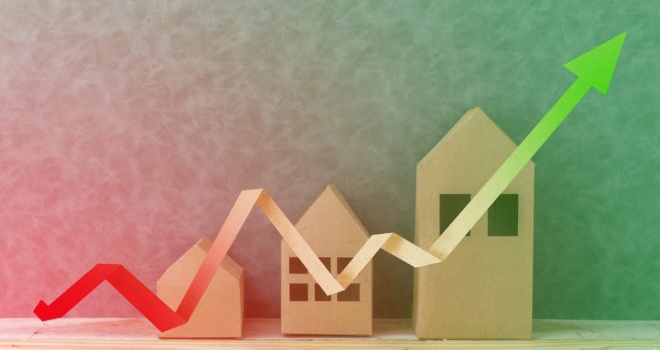 "Prospective sellers appear to be taking a cautious attitude, leading to a low supply of homes for sale. This is likely to have strengthened prices in the short-term, rather than prices being driven by buyer demand, which remains weak overall"
- Kim Kinnaird - Halifax
The latest data released by Halifax has revealed an unexpected boost in average house prices during October, the first since March with prices up by +1.1% on the month. A typical UK home now costs £281,974, up around £3,000 compared to September.
Yet despite the positives, the housing market remains subdued with all UK nations and regions seeing house prices declines on an annual basis.
Nations and regions' house prices
The greatest fall was seen in South East England, where prices decreased by -6.0% over the last year (average house price now £374,066).
Scotland's annual house price was the most resilient, down just -0.2% annually, with homes in the nation now costing an average of £202,608. It was a similar picture in Northern Ireland, with a decline of -0.5%, and average house prices of £183,922.
Property prices in Wales fell by -3.9% over the year (average house price £213,125).
London continues to have the highest average house price in the UK, at £524,057, falling -4.6% over the last year.
First-time buyer market shows relative resilience
Despite weakness in overall buyer demand, the first-time buyer market has held up relatively well. Buying a first home remains attractive for many, especially against the backdrop of rental prices increasing.
The latest house price data shows prices for first-time buyers are down -2.4% annually, a notably smaller fall than the market generally (-3.2%), over the past year.
Kim Kinnaird, Director, Halifax Mortgages, said: "UK house prices rose in October, up +1.1% on a monthly basis, breaking a run of six consecutive monthly falls. The average house price is now £281,974 – an increase of almost £3,000 compared to the previous month. On an annual basis, prices are down -3.2%, though the decline was at a slower pace than we saw in September (-4.5%).
"Prospective sellers appear to be taking a cautious attitude, leading to a low supply of homes for sale. This is likely to have strengthened prices in the short-term, rather than prices being driven by buyer demand, which remains weak overall. While many people will have seen their income grow through wage rises, higher interest rates and wider affordability pressures continue to be challenges for buyers.
"Across the medium-term, with financial markets not anticipating a decline in the Bank of England's Base Rate soon, we expect house prices to fall further overall – with a return to growth from 2025.
"The current picture should continue to be seen in the context of the longer-term house price trend as, on average, prices remain around £40,000 above pre-pandemic levels."
Tom Bill, head of UK residential research at Knight Frank, said: "The financial pain of higher mortgage costs, the ambiguity over when and where interest rates will peak, and the uncertainty of an approaching general election and conflict in the Middle East mean that sentiment in the UK housing market has been unseasonably weak this autumn.
"Thin trading means monthly price movements should be handled with care but price falls have been kept in check by the hesitancy of both buyers and sellers. It means this slowdown has been a story of weak sales volumes, not fast-declining prices.
"House prices will continue to come under pressure but we think they will bottom out in 2024. We expect a decline of 7% this year and 4% next year as inflation comes under control and mortgage rates stabilise."
Nathan Emerson, CEO at Propertymark comments: "Although we have recently seen interest rates hold steady again at 5.25 per cent, this combined with a stubbornly high rate of inflation, continues to translate into a challenging marketplace.
"We currently have the situation of many people being extremely mindful on affordability who need to feel reassured they can confidently come to the market for the long-term journey. Our own Housing Insight Report shows that 76 per cent of member branches reported properties selling for under their initial asking price. We need a housing market that delivers stability for buyers and sellers alike to reignite sales volumes.
"Propertymark remains resolute that the UK Government must firmly tackle high inflation and with the optimism that interest rates will start to return to more favourable levels again. When all this starts to snap into place, we will start to see that equilibrium which works well for both buyers and vendors once again."
Iain McKenzie, CEO of The Guild of Property Professionals, comments: "There are clear signs of vitality in the property market as we come to the end of the year, a far cry from when we started 2023.
"Breaking the spell of six consecutive months of declining house prices is welcome news for sellers who currently have their home on the market.
"The demand for good-quality housing remains constant, especially as millions of first-time buyers feel trapped in a rental market which is becoming increasingly unaffordable.
"Sellers should be reassured by the stability in house prices we are currently seeing. While you may not receive the same offer you would have this time last year, properties are still worth considerably more than pre-pandemic levels.
"The upcoming Autumn Statement could introduce some incentives for potential buyers to get their foot on the property ladder.
"It is likely that we will see an extension of the mortgage guarantee scheme for a further year, although this will have little impact on smaller income households that cannot afford the vast majority of properties available to them. Another form of incentive such as a new help-to-buy scheme could go some way towards solving the problem for first-time buyers."