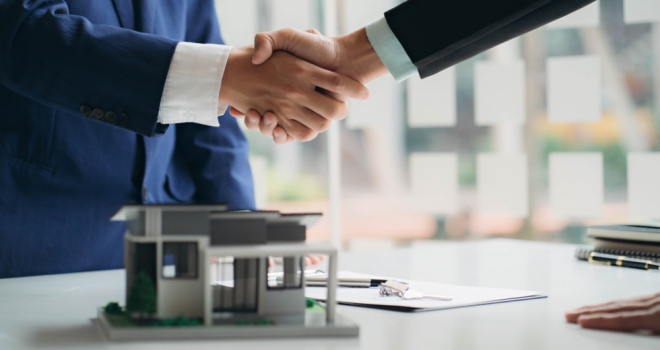 A potential surge in planning approvals
In 2022, the industry witnessed a dip in the number of planning applications receiving permission, down 25% on 2021. But this was not due to a lower success rate, but rather a backlog in the decision-making process. In fact, of unapproved applications, more than 90% are still awaiting a decision.
Should this backlog be addressed, we could see approvals surge this year. Outside of residential property, this could have a significant impact on the sectors where backlogs are the largest – industrial (where 49% of last year's applications are still awaiting decision), leisure (45%) and offices (42%).
With a raft of potential newly approved applications, we could see a range of new developments when the backlog eases.
The build-to-rent revolution continues
In the past five years, the number of build-to-rent (BTR) properties in the UK has doubled, with the sector now accounting for 7% of all new-build homes.
This has seen an increase in BTR operators and providers, with well-known investors and new players – such as retailer John Lewis – recognising the opportunity and potential of this subsector.
Following an upward trajectory, EG's data showed 69 new rental price records in December. Not only does this demonstrate the increasing opportunity within the sector, but also highlights a broader trend in EG data where new records are increasing by 20-25% per month.
With BTR continuing to grow and revolutionise the private rental market, investors and developers are beginning to look outside of London and the typical BTR audience for new opportunities.
This has recently seen BTR properties being developed and marketed at families. With developments in Bolton (Silkash) and Ellesmere Port (Glisk) already underway and aimed at providing family homes.
As the family homes market looks set to be the next BTR hotspot, we expect the regional spread will continue throughout 2023.
Mixed signals for purpose-built student accommodation
For purpose-built student accommodation (PBSA) the outlook is more difficult to predict.
December 2022 data showed healthy growth figures with total new rental price records to date up by 1,649 demonstrating how active PBSA operators are.
However, the number of new records in the same month suggests new listings are beginning to slow. This could simply be that some operators are more active than others, or that demand for PBSA is quieter at the end of the first university term ahead of the Christmas holidays.
Due to the cyclical nature of university lettings, we expect new records to begin to drop over the coming months ahead of an increase nearer the summer when prospective students receive their A-Level results and start exploring accommodation options for the 2023/24 academic year.
Time for the industry to act on EPC
From April 1st this year, commercial buildings that do not have an Energy Performance Certificate (EPC) rating of E or above will not able to be traded or leased. The Government legislation then increases the rating to C in 2027 and B in 2030.
For commercial real estate owners this year, this could mean that almost £2.5bn of rental income is under threat if their building's EPC ratings are not improved. In fact, EG's Radius data combined with EPC figures show that 120m sq ft of commercial real estate will have failing EPCs in England by April.
Not only will these properties not be able to be leased, but owners will also face a fine of approximately 12.5% of the property's rateable value.
It's clear that this year the industry has to respond – taking a proactive approach to upgrading EPC ratings of buildings across the UK. This will not only enable properties to continue to be leased and traded post-April but also set the industry up for the more challenging legislative updates in 2027 and 2030.
Cautious optimism
2023 will see the commercial real estate sector tackle some known challenges, the updates to EPC legislation being just one. However, there is reason to be optimistic, the continued rise of the BTR sector and a hopefully easing planning backlog, there will be plenty of successes and developments to champion over the coming 12 months.