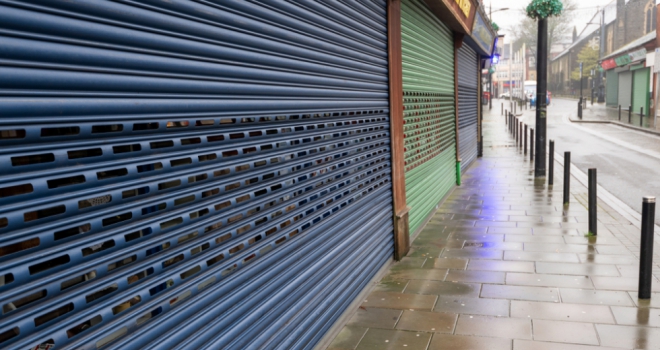 The general consensus is that our town centres are at a crisis point. Something has to be done to prevent further decline and, if possible, to turn high streets once again into places we want to visit.
With the rise of online shopping, the latest retail evolution has left a challenging legacy. We have redundant retail hubs in our town centres that need to be repurposed. According to Savills, around 12.5% of retail premises in the UK are vacant, with 40% of empty stores lying vacant for three years or more. Savills predict that retail vacancy will rise to 25% by the end of the decade if no action is taken.
The future high street
So, the question arises: what do we want our high streets to look like in future?
Well, if retail is still to play a role, then in the absence of any need to shop in the high street, we need to create a place that shoppers want to visit (and not just for the occasional visit to the dentist, optician or estate agent). To recapture the thriving hub of activity, town centres need to become leisure destinations. They need to house restaurants, pubs and cafes, boutiques and other specialist retailers, cinemas, theatres, and sports and music venues, as well as gift and craft stores. It will be down to small independent retailers serving up a huge range of products to create a browsers' paradise ─ a place where people want to go for a day out or for an evening's dining or entertainment.
A revival of residential development
This all sounds rather nice, but how do we make it happen? While it may sound counter-intuitive, the secret to achieving this revitalisation of commerce is to make town centres more residential. With more people living in town centres, there is automatically more demand not only for local services, cafés and eateries but also for local convenience stores and entertainment.
So, how do we achieve this transformation? We need to repurpose the existing buildings in our town centres to create the right balance of homes, workspaces, retail, leisure and services.
Historically, this residential development has been difficult due to strict planning regulations. To turn a derelict department store into apartments, for example, would require planning permission from the local planning authority (LPA) department, which are usually notoriously underfunded, overloaded and often bureaucratic.
Changes making redevelopment easier
But help is at hand. To speed the redevelopment process up, the government has created what's known as Permitted Development Rights (PDRs) which allow the use of classes of certain types of building to change without the need for a full planning application. This makes the process much quicker and easier for developers to redevelop buildings as it reduces and sometimes removes altogether the risk of planning being refused.
In most cases, however, developers must still make an application, but the LPAs have far fewer criteria on which they can object and, in some cases, they have just 56 days in which to raise any objection.
Using the 'Class G' PDR, it's possible to convert the floors above a shop to residential. Since many shops have developed 'just-in-time' inventory management, they no longer need these upper floors to store significant volumes of stock on-site. Consequently, the upper floors of many shops are redundant and could easily be converted.
Furthermore, 'Class M' PDR allows developers to convert the ground floor of shops up to 150m2 that are not deemed 'prime retail' into residential property.
But that's not all. In 2020, the government simplified the way buildings are classified by their use. Where previously, shops, offices, light industrial buildings, financial and professional services businesses, cafés or restaurants, clinics, health centres, day nurseries, and gyms each had their own individual use-classes, they are now lumped into one single-use class, 'Use Class E'. This means that it's easy to change a shop into a restaurant, gym, or office, without explicit permission from the LPA.
But what about turning these buildings into new homes? In December the government proposed that, from 1st August 2021, all buildings in Use Class E can be converted to residential using a brand new set of Permitted Development Rights. This is the final piece of the jigsaw puzzle which, if approved, will allow us to repurpose most of the buildings in our town centre without the need for planning permission.
Benefits of a high street rejuvenation
This new vision of the high street will deliver multiple benefits beyond the rejuvenation of our town centres. There is an acute housing shortage, and by turning existing unused buildings into homes, we're not only creating new homes, but we're also recycling our building stock and reducing the need to develop on green-belt land, thus helping preserve natural environments.
Currently, many developers tend to gravitate to new build because they believe it will be easier to get permission and they don't have to contend with the limitations presented by an existing building and a town centre location. But, by making it easier, quicker and less risky to develop brownfield sites, converting existing buildings becomes a much more attractive proposition.
The new-look high street will also encourage property investors to invest in town centre premises once more.
These new more vibrant communities will also help drive a reduction in crime, and remove the risk of town centres becoming ghettos. Instead, they will be places that appeal to all sectors of society: young and old, families, couples and singletons.
And, of course, it ensures that a new type of retail can continue, without threat from e-commerce and out-of-town shopping centres.
The perfect moment for redevelopment
This utopian vision sounds amazing, but can it really be delivered? Interestingly, there's arguably a perfect storm brewing at the moment because:
A. More homes are desperately needed – 300,000 per year are required according to the government
B. Town centres have long been in decline and need rejuvenating
C. There is an increasing number of vacant buildings in town centres
D. More retailers are going bust due to the pandemic and the recession
E. The retailers that remain have less need for storage on site
F. Businesses are looking to downsize their office space in town and city centres, and incorporate home-working into their business model full-time. This will free up existing centralised office space and also create a demand for smaller, more local office space
G. Permitted Development Rights are being created to make it much easier to repurpose unused buildings
H. The government is overhauling the entire planning system to make it quicker and easier to create new homes.
As a result, there is a large incentive to develop un- or under-utilised retail space in town centres into residential and boutique retail spaces. The risk is lowered by PDRs and the number of available properties is increasing, creating a fantastic opportunity for small developers.
Potential drawbacks
One of the biggest historical objections to using PDRs to redevelop retail spaces into residential properties is rogue developers creating tiny, cramped flats with little natural light. However, the government has declared that, from 6th April 2021, all PDR applications must conform with National Space Standards, which sets minimum requirements on home sizes and quality.
Another, more stubborn, issue could be the absence of a firm plan to deliver the right balance of housing, retail, and office space in each individual town. While PDRs makes repurposing buildings easier, we don't want our town centres to be turned into housing estates.
One potential way around this issue may be for local planning authorities (LPAs) to override PDRs entirely by using Article 4 directions. By issuing such a direction, they could require that any town centre development must have full planning permission. Unfortunately, however, this would simply bring us back to where we were before, with little incentive for developers to bother with town-centre regeneration. The baby effectively gets thrown out with the bathwater.
Instead, there needs to be some joined-up thinking between the government and LPAs that ensures the vision is realised. It will necessarily require LPAs to relinquish a level of control by embracing the new PDRs, but also to create both a vision and a framework that allows for regeneration to deliver the sort of town centre that works for everyone. The key is to take a step back and focus on the bigger picture, then plot a path to achieving it. Compromise will undoubtedly need to play its part.
One final hurdle is that LPAs do not keep an updated register of brownfield sites, so the scale of the development opportunity is not known and can be hard to ascertain. According to a January 2021 report by specialist regeneration developer U+I, poor brownfield land registers 'hinder the development of new homes'. LPAs have been obliged to maintain such a register since April 2017, but it would appear they are far from up to date.
Opportunities for the indie developer
One of the most interesting aspects of town centre redevelopment is that it will have to be led by small indie developers. For large housebuilders, converting individual retail and office units into residential property is too small scale to interest them.
Instead, we will see the rise of the indie developer who can take on one or two redevelopment projects at a time, creating unique, high-quality housing. These small scale developers could be anyone looking to work on projects in their spare time, or indeed escape the nine-to-five altogether and create their own business. In 2020, there was a huge surge in interest from people from all walks of life interested in small-scale property development, attracted by the opportunity to create six-figure profits from relatively small development projects.
For many, it is simply an additional (or alternative) solution to investing in rental property or hoping that their pension contributions will be enough for their retirement. For others, it marks a change of direction that allows them to create their own small business in an established sector with a relatively certain future. After all, there are enough business owners out there at present whose futures are far less certain than they were just a year ago.
Property development isn't easy or without risk. But, while it may be the first time these indie developers have taken on a redevelopment project, they will be mostly employing a team of local professionals to do much of the heavy lifting with a Project Manager overseeing things on their behalf.
The future of the high street is looking brighter with many opportunities for indie developers to play a part in the transformation.