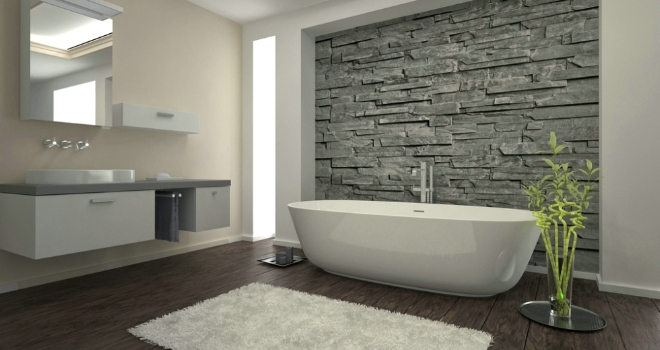 Showerstoyou consulted 32 different estate agents, property professionals and designers from around the UK to find out how homeowners can maximise the value of their property when renovating their bathroom or adding a new one.
Bathroom features were ranked and experts revealed the following:
Quality wall/floor tiles with good grouting (76%) was cited as the feature to add the most value to a bathroom. This was closely followed by electric or power shower (70%) and then, good sized fixtures (sink, toilet, shower/bath – 66%). The lowest ranking feature to add value to a bathroom was surprisingly underfloor heating at 34%.
The majority of experts did agree that homeowners should aim for a combination of these bathroom features rather than one, for it to really boost a property's value.
Estate agent Emma Barns commented: "Over the years, I have seen a fair share of properties where the homeowners have not taken any pride in the appearance and maintenance of their bathrooms. This has adversely impacted on the value of their property when trying to sell or rent. Leaking pipes, mould and outdated fittings have become reoccurring problems in a lot of the properties I see.
"Considering the bathroom is going to be used on a daily basis, prospective buyers want to see it is in good condition. If they identify problems which cannot be easily addressed or becomes costly to do so, it negatively effects their perception of the property, even if the rest of the house is what they are after. So, the best course of action is to identity all the improvements that need to be made and make them without sacrificing on quality. This will yield the best possible outcome for the re-sale."
Dan Gates, a Property Investor and Analyst, added: "A second bathroom or improvements to an existing bathroom doesn't have to be a complex process. I believe appearance is the underrated key to it all. Whilst the popular consensus may be to splatter white paint and fixtures across the bathroom, it may come across as too boring. When giving the bathroom a lick of paint, choose soft colours as going for dark colours will may make the bathroom feel confined and smaller. Additionally, integrating features such as a heated towel rail and power shower could add vast appeal in the eyes of prospective buyers."