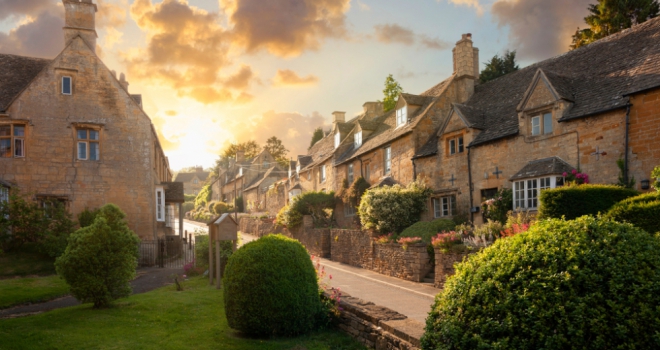 The ongoing pandemic and evolving rules surrounding hybrid working have seen growing numbers of house hunters re-evaluating their city lifestyle, hoping to take advantage of working from home with greener pastures in sight.
The latest research by Zoopla highlights the 10 most popular UK beauty spots for those looking to make a move, and in which of these areas it's the most and least expensive to buy a home.
If you're ready for a change of scene, from breezy sea views to rolling hills right outside your window, there are plenty of locations to call home. England, Wales, and Northern Ireland boast 46 areas of natural beauty (AONB), with a further 40 national scenic areas (NSAs) in Scotland. So which of the UK's beauty spots are the most popular for home hunters?
Table 1: The 10 most popular UK beauty spots for home hunters
Surrounded by 100 miles of countryside and historic towns, the Cotswolds is revealed as the most popular UK beauty spot, with over 8.5 million prospective buyers viewing properties here in 2021. Home to extensive farmland and beautiful villages, the average home in the sought-after Cotswolds will set you back £474,164.
The Kent Downs in the South East is the second most popular beauty spot, with 8,257,901 views by home hunters in 2021, and an average property price of £460,132. The Chilterns ranks in third place and has appealed to 7,270,489 potential buyers this year. As the area stretches across an extensive 660 square miles of land and four counties, remote workers could relocate to Oxfordshire, Buckinghamshire, Hertfordshire, and Bedfordshire for an average price of £613,200.
In Wales, people are seeking rural life in its glorious Gower coast and the Wye Valley, which covers the border from Monmouthshire to Gloucestershire and Herefordshire. Perfect for surfers and those who love being by the sea, over 4.9 million (4,915,398) people have been on the hunt for homes in the Gower, and 1,802,694 in the Wye this year alone. Properties in each area will cost on average £314,279 and £341,174 respectively.
Out of the top 10 popular UK beauty spots for home hunters, just two are based in South Wales while eight are found in the South of England (Central, South East and South West).
Table 2: The beauty hotspots with the biggest property price increase from 2020-2021
When analysing beauty spots in the UK, Eildon and Leaderfoot came out top as having the biggest increase in property prices in 2021 compared to the previous period (July 2020 - December 2020). Based just south of Melrose in Scotland, homes here have increased in value by £77,797 since 2020.
In second, Assynt-Coigach National Scenic Area has seen properties increase in value by £75,485. In third place is England's Northumberland Coast, famous for its dark skies (perfect for stargazing), where homes for sale have risen by £49,636. The Gower in South Wales has the 10th highest property price increase at £21,327.
Coming in as the most expensive beauty spot to live in is England's Surrey Hills, with homes valued on average at £704,813. The least expensive properties are all based in Scotland's beauty spots, with the Kyle of Tongue coming in first, costing home hunters an average of £118,302.
Daniel Copley, consumer spokesperson at Zoopla, comments: "Remote working has become a catalyst to the property market boom post-Covid, and has opened doors for many homeowners who've jumped at the chance to relocate for a different, quieter pace of life.
"For London commuters, homes in the Cotswolds offer easy access, should they ever need to return to the city, and for remote workers who want to get away for good, there's plenty of beautiful areas in Scotland offering a peaceful and secluded lifestyle."