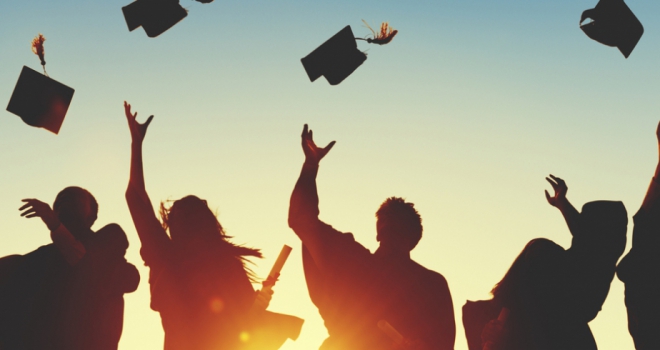 With degrees costing in excess of £9,000 a year, the question of 'what are your plans after uni?' is more pressing than ever. So where should graduates be looking to start their lives after university?
Property marketplace, TheHouseShop, have calculated average house prices, rents, utility costs, disposable income, travel and, most importantly, the price of a pint, along with a host of other factors, all to decipher the best location for graduates to spread their wings and start their future.
As this is our third consecutive year running this report, we have decided to systematically improve our algorithms to ensure that the statistics accurately present the best and worst cities for graduates. Data has now been weighted to take into account the importance of certain factors in relation to others.
This has been done to ensure that the variety of factors that can influence a graduate are taken into account, to find the ultimate graduate hotspot.
Leeds topped the charts for the second year running as it consistently scored highly across the board and, importantly, was home to the third cheapest pint. Belfast came a close second with a highest disposable income and some of the cheapest rental properties. Canterbury and Bath, once again, fell in the bottom two. Maintaining their status as the worst cities for graduates to live in, largely due to the fact that they offer low disposable incomes with sparse job opportunities for the aspiring graduate.
Nick Marr, co-founder of TheHouseShop.com gives his thoughts on 2018's top graduate locations:"After its previous success, we have decided to run our graduate hotspot research for a third consecutive year. This year we have refined our algorithms to find the perfect city for new graduates."
It isn't surprising to see Leeds dominate the table for the second year running. Especially since the property market in Leeds is set to boom over the next five years, so now is the perfect time to invest in this cultural, exciting and thriving city. Recently named the 7th best city to live in by Royal Mail, Leeds boasts a strong economy with plenty of opportunities and social activities for graduates.
It is interesting to see how revealing the disposable income figures are and their effect on some cities' ranking. From a city like London where a graduate can earn around £34,938 and only end up with £413.60 a month to spare, to locations where annual income sits at £24,194 and a graduate can have a disposable income of £1,124.78 a month. It seems that no matter the income, if the average living cost is high then realistically, graduates may find themselves eating the same pot noodles that were sustaining them as a student. This research is incredibly important as Generation Rent expands, it is good for fledgling graduates to get an idea of where they can get the best quality of living."