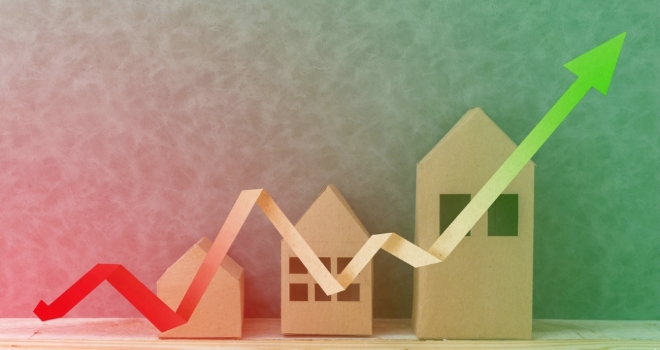 The latest data and analysis by online estate agent, eMoov.co.uk, has revealed that UK property demand has increased during Q3, up +5% to 38% nationally, having already increased by an initial +5% during Q2.
The index looks at the balance between the supply and demand for housing stock and attributes a percentage score based on the level of stock available on the major property portals, to that which has already sold.

National Overview

Scotland has seen the strongest growth in demand levels across the mainland UK, up +8% in Q3 to 39%. Wales has also seen healthy growth in buyer demand, up +7, whilst England is the only nation to see buyer demand fall in Q3 down -5%, largely driven by a cooling London market. The capital has seen buyer demand levels fall by -15% over the last quarter, down to just 28%.

By Region

London's reduced buyer demand makes it one of the coldest regions in the UK, with just the North East seeing a lower level at 22%.

The South West is currently enjoying the highest level of buyer demand at 45%, along with the East of England (45%), West Midlands (44%), the East Midlands (42%) and the South East (41%).

Top 10 Hottest Areas in the UK

Wellingborough in Northamptonshire (East Midlands) is currently enjoying the largest levels of buyer demand in the UK at 69%. It's joined by neighbouring town Kettering where demand is also at 66%.

St Edmundsbury in the East of England (65%) and Solihull (63%) and Bromsgrove (61%) in the West Midlands also enjoy a current level of buyer demand above 60%.

Daventry, Rhondda Cynon Taf, Forest Heath, Rugby (60%) and Ipswich (59%) complete a top ten that other than Rhondda Cynon Taf, is dominated by the Midlands and East of England.
London

Hottest

Bexley remains at the head of the table for London buyer demand at 52%, closely followed by Havering (50%), Waltham Forest (46%), Barking and Dagenham (44%), Hillingdon (43%), Redbridge (42%), Sutton (40%), Ealing and Enfield (37%).

Biggest Increases

While much of London has seen buyer demand drop off, Ealing has seen an impressive +46% increase since Q2. Hounslow has also seen a jump of +14%, with Havering (+3%), Wandsworth (+2%), Waltham Forest and Redbridge (+1%) also seeing a marginal increase.

England (County Level)

The City of Bristol is the hottest county in England with demand currently at 57%, while Lincolnshire has seen the largest increase in demand since Q2, up +12% with Cornwall second with a jump of +6%.

East Sussex has seen the largest drop quarter to quarter (-35%) while County Durham continues a poor run of form as the coldest spot for current demand (21%), down -2% since Q2.

Scotland

West Lothian is the hottest spot for Scottish buyer demand at present (57%), with Edinburgh second (56%).

The City of Dundee has seen the biggest turnaround since Q2 with a jump of +21%, while it continues to be bad news for homeowners in the City of Aberdeen with a -37% drop in buyer demand, making it the coldest area in Scotland at just 7%.

Wales

Not only is Rhondda Cynon Taf one of the hottest in the UK, but the area has the highest level of buyer demand in the whole of Wales at present, followed by Caerphilly (47%) and Cardiff (45%), the area has also enjoyed the largest increase since Q2, up a notable 82%.

Denbigshire has also enjoyed a large turnaround since Q2, up +49% while Newport has seen demand fall off by -30%, now at just 36%.

At 20%, Gwynedd is the coldest area for current buyer demand, although it has seen an increase of +7% since Q2.
Russell Quirk, founder and CEO of eMoov.co.uk, commented: "Yet more positive movement where UK buyer demand is concerned and movement that is certain to help keep prices buoyant, despite the slower market conditions seen over the last six months.

We've highlighted a number of times, that while London might be under performing and tainting the overall picture for England, there is still an abundance of areas across the UK with high levels of buyer demand where it is business as usual for UK sellers and buyers.

With sales transactions continuing to climb and buyer demand remaining strong, recent price adjustments are nothing to fear and are just that, adjustments appropriate to current market conditions.

Those predicting that a market crash is imminent are wrong to do so and would find a greater degree of success trying to predict the latest Lottery numbers."