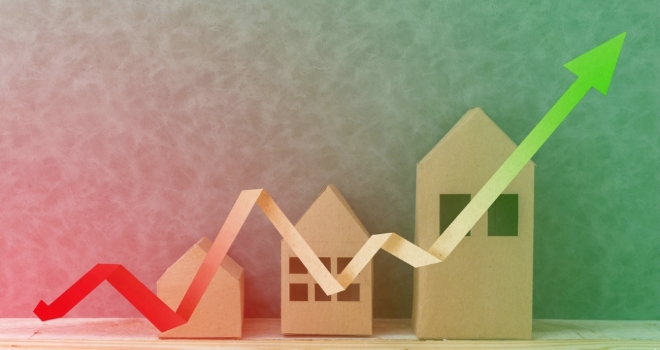 The latest statistics from ONS has revealed that the slowdown in house price growth continued into April, with average UK house prices seeing a 3.9% rise compared to 4.2% in March. ONS reported that this the lowest rate seen since March 2017.
According to the figures, the annual growth rate has been slowing since mid-2016 and has remained under 5%, with the exception of October 2017, throughout 2017 and into 2018.
When seasonally adjusted, average house prices in the UK increased by 0.7% between March 2018 and April 2018, compared with an increase of 0.5% in average prices during the same period a year earlier. The main contribution to the increase in UK house prices came from England, where house prices increased by 3.7% over the year to April 2018, with the average price in England now £244,000.
Wales saw house prices increase by 4.4% over the last 12 months to stand at £156,000. In Scotland, the average price increased by 5.6% over the year to reach £149,000. The average price in Northern Ireland currently stands at £130,000, an increase of 4.2% over the year to Q1 2018.
The South West showed the highest annual growth, with prices increasing by 6.1% in the year to April 2018, followed by the West Midlands with a rise of 5.9%.
The lowest annual growth was in London, where prices increased by 1.0% over the year, followed by the North West, where prices increased by 2.4% in the year to April 2018.
As ever, the property industry was quick to react. Here's what they're saying:
Russell Quirk, founder and CEO of Emoov.co.uk, commented: "In recent cooler market conditions, the propensity of sellers to overprice and the refusal of buyers to match these expectations has resulted in a game of property ping pong where asking prices and buyer demand levels are concerned.
However, this latest boost in monthly house price growth due to an uplift in the number of property transactions completing is a strong indicator that this gap is beginning to close and both sides of the market are becoming aligned.
Although the market is yet to start firing on all cylinders when compared to this time last year, it is certainly starting to tick over nicely and will continue to do so as activity heightens over the coming months."
Jeremy Leaf, north London estate agent and a former RICS residential chairman, said: "These figures are interesting, albeit a little dated, in that they show house prices are continuing their more modest upward trend with little sign of correction any time soon.
Behind the numbers bears out what we're finding on the High Street – transactions are falling while listings have increased but not making up for an historic shortfall whereas demand is relatively flat.
As a result, the increase in house prices is more to do with the lack of supply of appropriate property in places where people most want to live rather than a marked improvement in confidence.
Looking forward, we do not expect major change but do hope more sellers appreciate the difference between vanity and sanity when it comes to recognising these new market conditions."
Paul Smith, CEO of haart estate agents, comments: "Property prices continue to rise with no signs of slowing. Homeowners are now paying a huge £9,000 more to buy a home than the same time last year as the UK property market continues to defy expectations.
However, it is families looking for a new semi-detached home who are increasingly being squeezed on price, having to deal with an £11,000 rise in prices on the year, a growth more than double the rate of inflation. The government must incentivise the building of more family homes, to help ease the demand that is currently outstripping supply at a rapid rate.
London prices grew slower, up just 1% in April. But with house prices already hovering just below the £500,000 mark, Londoners must still fork out an extra £4,794 on average to buy a home. Traditional first-time buyer friendly hotspots Havering, Barking and Dagenham and Lambeth are each experiencing growth between 4-7% as Millennials rush to get on the ladder while these areas are still affordable."
Mike Scott, chief property analyst at Yopa, says: "This month's official government house price index shows prices in April continuing to rise, but slowing down slightly, with London the worst-performing region of the UK. The average increase since April 2017 was 3.9 per cent, but it was only 1 per cent in London. Over the next few months, it is likely that prices will continue to rise, but with the annual rate of growth falling closer to 2 per cent than 4 per cent.
London is also likely to fall further behind, perhaps turning negative as has already happened in other reports that use more recent data.
However, the price of new-build property is booming, doubtless assisted by Help to Buy and other government schemes to help first-time buyers purchase a newly-built property. In the year to February 2018 there was an 11.5 per cent increase in the average price paid for new-build property, compared to 4.1 per cent for second-hand property. The average price of £297,238 paid for a new-build property was well ahead of the £220,661 average for second-hand property. This probably reflects a rebalancing of the mix of new-build properties away from cheaper flats in favour of more expensive detached houses.
Apart from the slowdown in London, there is no clear geographic pattern, with the best-performing regions over the past year being the South West and West Midlands, and the worst-performing (other than London) being the North West and East of England. If London's slowdown spreads to its commuter belt, we may soon see the emergence of a new north/south divide, with prices rising faster in the north of the country than in the south east."
Lucy Pendleton, founder director of independent estate agents James Pendleton, had this to say: "The capital has narrowly avoided a third consecutive month of negative annual house price growth but the gulf between London and the regions remains a sign change is in the air.
It is now a stubborn fact of this market that London is bottom of the class.
As the regions continue to give chase, London is at best rocking on its heels with property in Westminster weighing most heavily on the numbers outside the City with a contraction of almost 10% annually. The trajectory of sales volumes and stock levels also remain concerning. Some people simply need to move and their necessity underpins every market as they are most willing to drop their prices.
Those who don't need to sell can afford to hang around and it is these vendors who keep prices artificially high. This can flatter regions with apparently good growth in the short term but ultimately this is what stalls markets and exacerbates the marked drop-offs in transactions that we are currently seeing."