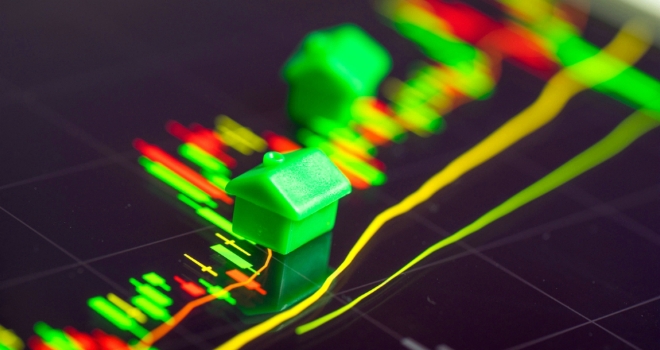 The latest data and analysis by the Office for National Statistics has revealed that, in the year to November 2017, average house prices in the UK increased by 5.1% - down slightly from 5.4% in October 2017.
ONS reported that the annual growth rate has slowed since mid-2016 but has remained broadly around 5% during 2017.
According to the figures, the average UK house price was £226,000 in November 2017. This is £11,000 higher than in November 2016 and unchanged from last month.
Russell Quirk, founder and CEO of Emoov.co.uk, commented: "Although house prices are still up annually, a combination of seasonality and a subdued level of buyer interest has resulted in the market running lower on steam compared to previous months.

There are swathes of the UK market that will have seen the value of their property fall or at least plateau over the last year, particularly those at the top end of the market and across the capital's more prestigious boroughs. However, the market has been propped up for the large part by the UK's more affordable areas where the marginal reduction in property values has done little to deter the everyday buyer and seller.
While many have been quick to predict doom and gloom scenarios as a result of slower market conditions, these predictions are perhaps a tad overstated and this gradual, more natural adjustment to the UK market is far more palatable than another market crash.
A reduced pace of price growth will no doubt be welcomed by those priced out of homeownership, but these slower market conditions aren't enough to address the wider issue of affordability, or indeed the severe lack of housing stock.
With a heightened level of buyer interest already returning to the market in 2018, it is likely that an air of stability will soon follow and the lack of housing stock to satisfy this demand will raise the bar of unaffordability even further."
Simon Heawood, CEO of Bricklane comments: "Political discussion of the housing crisis has largely been focused on the supply-side. But there will be no quick fixes to the structural problems of undersupply, and in the interim it is vital to keep focused on conditions in the buy-to-let market. The Housing Standards Private Member's Bill currently going through Parliament brings gives us the opportunity to debate the best ways to drive up rental standards and protect tenants' rights. We think the legislative backdrop for amateur landlords will only become more onerous, favouring consolidation of rental properties in the hands of professionalised operators, able to manage at scale and to a certain standard."
Graham Davidson, managing director of buy to let specialist, Sequre Property Investment, comments: "For buy to let investors, it's clear that London remains a no-go – the capital growth is simply not there and investors are selling up and shipping out, whilst buyers and tenants are looking further afield for better value for money, no doubt as a result of the unsustainable and unaffordable London market.
Investors have already begun to take advantage of the North West market which was the among the best performing regions with a 6.2% annual growth, along with high rental yields and strong tenant demand –as success there continues, we can only see this advancing even further in 2018."
Jeff Knight, Director of Marketing at Foundation Home Loans, commented: "Regardless of today's dip, prospective homeowners are still facing an uphill battle to get a foot firmly on the property ladder, with escalating prices presenting an obstacle despite the leg-up that the recent cut to stamp duty provided."
Despite hiked rail fares threatening to price travelling professionals off the trains, and the ripple-effect of reduced prices at the higher end of the London market filtering out to the commuter belt, we're still seeing confident asking prices in these locations and activity is likely to pick back up now we're into the new year. In the longer term, all eyes will be on Dominic Raab post re-shuffle to ensure government plans to address housing supply once and for all are seen through."
Paul Osborn, Chief Executive for Foresters Friendly Society commented: "Regardless of today's dip in house prices, ongoing affordability issues mean first time buyers are still struggling to get a look-in on the UK's housing market."
Ishaan Malhi, CEO and founder of online mortgage broker Trussle, commented: "Those looking to get onto the property ladder should see the current slowdown in price growth as an opportunity to buy. With interest rates still extremely low and the recent changes to stamp duty, first-time buyers are arguably facing better conditions than they have for some time.
However, affordability is going to be an issue for many. Wage growth has failed to keep pace with inflation, so saving for a deposit is going to be that bit harder. Nevertheless, with many parts of the UK now seeing house price growth begin to level off, what was once an almost impossible task is getting a little easier, and this trend should continue over the coming months."
John Goodall, CEO and Co-Founder of buy to let specialist, Landbay, said: "The government's stamp duty cut for first time buyers came too late in November to have directly pushed up house price growth, but by giving young tenants a small directional nudge onto the housing ladder, it is likely to have that very effect as we move through 2018.
Of course the Chancellor's cut to stamp duty for first time buyers wasn't the only big ticket event in November. Earlier in the month the Bank of England increased the base rate, which made mortgages more expensive, and all at a time of high inflation and stagnant wage growth. Young first time buyers might have been counting their blessings after the Budget, but affordability remains constrained across the rest of the market, and this is keeping a lid on house price growth.
It's time the government offered a concrete housing strategy to build homes for both first-time buyers and those in the private rented sector. Hopefully the new Minister for Housing, and Homes England agency, will be well placed to make good on the promise of both."