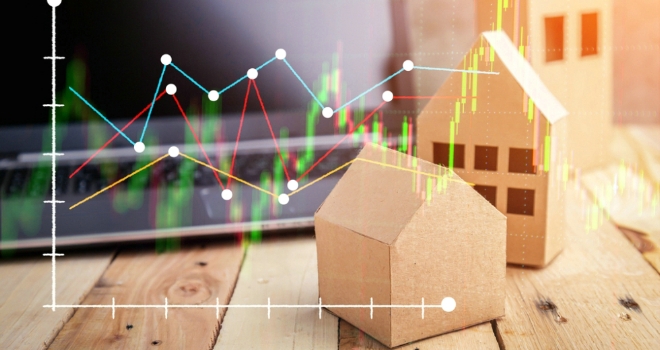 The latest data released by Nationwide has revealed that annual house price growth remained subdued at 0.5% in June.
Robert Gardner, Commenting on the figures, Nationwide's Chief Economist, said: "Survey data suggests that new buyer enquiries and consumer confidence have remained subdued in recent months. Nevertheless, indicators of housing market activity, such as the number of mortgages approved for house purchase, have remained broadly stable.
Housing market trends are likely to continue to mirror developments in the broader economy. While healthy labour market conditions and low borrowing costs will provide underlying support, uncertainty is likely to continue to act as a drag on sentiment and activity, with price growth and transaction levels remaining close to current levels over the coming months.
Annual price falls in London and South East
Northern Ireland remained the strongest performing home nation in Q2, with annual price growth rising to 5.2%, from 3.3% last quarter. Wales also saw a pick up to 4.2%, from 0.9% in Q1. Price growth in Scotland was more subdued, at just 0.4% year-on-year. Nevertheless, England remained the weakest performing home nation, with prices essentially flat compared with a year ago.
Looking across England, the Outer Metropolitan was the weakest performing region in the three months to June, closely followed by the Outer South East, with annual price declines of 1.8% and 1.6% respectively.
Prices also fell in London for the eighth quarter in a row, though the annual pace of decline moderated to 0.7%, from 3.8% last quarter. Moreover, prices in the capital are still only around 5% below the all-time highs recorded on Q1 2017 and c50% above their 2007 levels (by comparison, UK prices are only around 17% higher over the same period).
Elsewhere in England, annual price growth remained relatively modest in Q2, with Yorkshire & Humberside the best performing region, with a 3% year-on-year rise.
House price growth across northern England (North, North West, Yorkshire & Humberside, East Midlands and West Midlands) averaged 2.1%, remaining ahead of that in the south (London, Outer Metropolitan, Outer South East and East Anglia), which experienced a 0.7% fall. These trends are not entirely unexpected, however, as they follow several years of sustained outperformance in London and the south, which left affordability more stretched in these areas."
As ever, the property industry was quick to react. Here's what they're saying..
Marc von Grundherr, commented: Director of Benham and Reeves, "While many remain sceptical about the current direction of the UK housing market, with other industry indicators such as Halifax being viewed as a tad over-exuberant, it seems as if the latest figures from Nationwide suggest that while we may be travelling at a different rate of knots, we are at least doing so in the same direction.
This movement will continue to be underpinned by the partnership of higher employment levels and lows of interest rates and while many will prophesise any market downs with more vigour than the ups, it continues to weather the uncertainty of our European future, our domestic political turmoil and the potential reality of Mr Johnson in Number 10.
Rest assured, if it can do so without crashing to the ground, the long-term health of the UK property market is very positive indeed.
Of course, it may take longer for London and the South East to see a reversal in fortunes, but with house prices in these regions remaining at a premium despite months of decline, they remain the pinnacle of UK homeownership and over time will regain momentum."
Alastair McKee, Managing Director of One 77 Mortgages, commented: "Monthly price growth remains an erratic measure of wider market health however on an annual basis we are starting to see a consistent string of positive movement which will reassure many homeowners across the UK.
There remains a very strong appetite for homeownership and this hunger has been growing considerably since the start of the year, spurred on by the continued affordability of mortgage products and a reduction in asking prices.
This is being driven by first-time buyers in particular who refuse to have their appetite dampened by Brexit uncertainty and while market conditions aren't ideal if you are looking to sell, they certainly are if you have the financial foundation to buy.
However, with many sellers remaining sidelined we aren't seeing this demand convert to actual sales as we might have done prior to Brexit and so while buyer demand remains healthy, house price growth is being stunted for the large part, by a lack of follow-through from UK home sellers."
Jonathan Harris, director of mortgage broker Anderson Harris, says: "London property prices continue to fall although the pace of decline has slowed to 0.7 per cent, from 3.8 per cent last quarter. This is good news to an extent for those trying to get on the housing ladder in the capital for the first time but when placed into context they are still only 5 per cent below all-time highs recorded in Q1 2017, highlighting the struggles first-time buyers continue to face.
Mortgages remain extremely cheaply priced with no signs that rates will rise anytime soon. For first-time buyers it is still about raising the all-important deposit, something the Bank of Mum and Dad know only too well."
Jeremy Leaf, north London estate agent and a former RICS residential chairman, says: "These figures show the market remains in limbo at present awaiting political direction and more certainty but no real movement one way or the other. Encouragingly, both prime ministerial contenders seem to recognise the importance of housing market activity to economic prosperity, irrespective of Brexit.
At the sharp end, many buyers in particular are still cautious but looking beyond 31st October whereas successful sellers are facing up to sometimes unpalatable offers in order to move on."
Sam Mitchell, CEO of online estate agent Housesimple comments: "It's remarkable, given the heightened political uncertainty in the UK surrounding Brexit, that we are still seeing growth in house prices at all.
Albeit marginal, this growth demonstrates the resilience of the UK property market, and is a reflection of the underlying more favourable economic factors like low unemployment and low interest rates.
Importantly, these latest figures indicate that the north-south divide is becoming ever more stark. While London and the south east are being hit as the perfect storm of political uncertainty and a punitive stamp duty regime for second home ownership strikes, Northern regions are experiencing consistent growth. At Housesimple, we're also seeing markets in the north, where affordability looks to be more reasonable, continue to perform well with plenty of buyers and sellers active."
Tomer Aboody, director of property lender MT Finance, says: "The fact that the market is subdued is not surprising as the summer tends to be quieter for the property sector.
However, once a decision is made by the Conservative Party as to whether it is Boris or Jeremy for prime minister, this will give the market a boost and stimulate the economy. Both candidates have set out encouraging plans for the housing market with regards to stamp duty and taxation cuts, and these will appeal to many.
The London property market is very interesting as people have been down on the capital for some time, talking about falling prices, but in actual fact they haven't fallen by very much and are only an astonishing 5 per cent off the 2017 high. It shows that people in the capital are still buying but there are fewer of them, which is affecting prices. Many people don't have to sell and that is reflected in the figures."