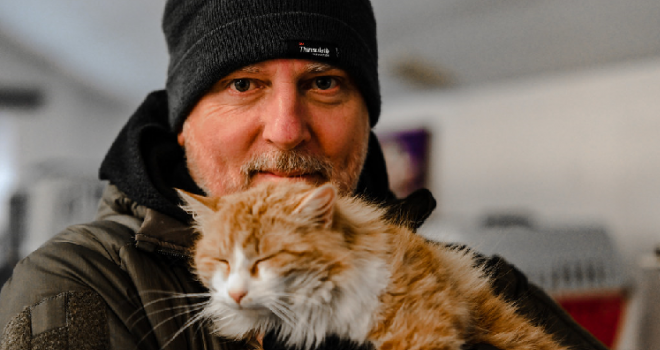 Originally setting off to the Polish/Ukraine border over a week ago with a car full of supplies for Ukrainian refugees who are fleeing the war, Property Tribes co-founder, Nick Tadd, is still there and has vowed to help with the evacuation of the country's animals.
Nick was in Przemysl, a small city in Poland on the Ukraine border, roughly 100km from Lviv, when we caught up with him as he was buying supplies for the next day.
He told Property Reporter that although he was safe and well, he was aware that hostilities were getting close and was unsure what the situation would be like there in the next few days.
Nick explained that he is assisting polish animal shelter, ADA Foundation, which has been operating for 30 years in Przemysl homing abandoned dogs, cats, and other animals in need. Since the invasion, the charity has shifted its efforts to help provide food and medical assistance to animals and pets fleeing Ukraine.
He explained how there are many teams working up and down the border, going in and out of Ukraine to rescue animals adding that during the previous day, one team had managed to rescue over 100 dogs. But more help is needed and in particular, animal cages and microchips (to track pets) are in short supply.
Nick's ultimate aim is to raise £20,000 which will be used to buy an "animal ambulance", providing a much-needed means to retrieve more abandoned animals from Ukraine.
Nick Said: "I want to be able to buy them a van, which will be used as an animal ambulance initially. But could (and probably will) be used after the war, to help further with the rebuilding of the country in some way."
He finished off by saying he wasn't sure how long he would or could stay due to the rapidly changing situation, but would remain in contact with his Polish colleagues and continue to help in any way he could.
If you would like to donate, click here to visit the Just Giving page here
To see regular updates from Nick, click here