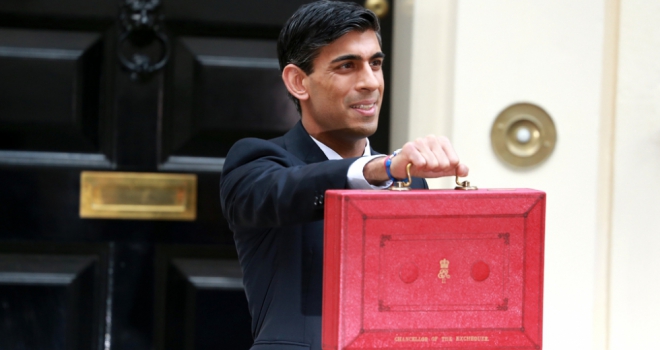 Now that the dust has settled and people begin to take stock, we round up what the reaction has been from those within the industry.
Stamp duty extension
Tim Bannister, Rightmove, said: "We've heard from so many first-time buyers over the past year of their challenges to raise a 15% or 20% deposit, with a number saying they had to put their plans on hold, so the availability of 5% deposits will really help this all-important market sector. It could help some buyers bring their plans forward, especially if they managed to save more than they were expecting to while in the various lockdowns. It's also a helping hand to people who have been struggling to trade up because of the much bigger deposit needed. Right now there are not enough properties coming to market to satisfy the increased buyer demand that this scheme will likely bring, so if more people do choose to trade up this could help open up more choice at the start of the property ladder.
"The combination of not enough stock and high demand will help underpin prices, and we've calculated that over the past five years asking prices of a typical first-time buyer home has increased by £23,000 on average, so those who can now afford to buy a home will be trying to make the move quickly in case prices rise further."
Melanie Leech, Chief Executive, British Property Federation: "The stamp duty holiday has kept the residential sector moving throughout 2020 and, with recovery still insecure, an extension is the right decision. The current 'holiday' has illustrated what a damaging tax stamp duty is – it stops people from moving home. Our tax system should focus on where value is created and that should mean working towards low or no stamp duty."
Anna Clare Harper, SPI Capital: "The extension of the temporary stamp duty holiday is welcome news for the housing market. It is expected to boost transactions and house prices, which both reflects and affects confidence. It is significant because stamp duty has a more than proportionate impact on transactions because affordability is heavily influenced by mortgage lending. Investors and homebuyers can borrow against the property price, but they cannot use finance to fund transaction costs.
"It will also be helpful for investors and homebuyers alike to smooth the transition from the £500,000 nil-rate band, helping minimise the risk of a cliff-edge shift from the current reduction."
Brian Murphy, Mortgage Advice Bureau: "Extending the stamp duty holiday for another three months for up to a £500k purchase price - followed by a tapered ending until 30th September for properties up to £250k - will mean home buyers currently in the process of completing their property transactions can breathe easy. It offers some much-needed latitude to the industry as conveyancers have been overwhelmed by the sheer volume of transactions, and so the extension should help ease the current bottleneck the market is experiencing.
"However, the stamp duty holiday has fuelled a surge in house prices, making little difference to first time buyers who can already take advantage of stamp duty allowance up to £300,000. It is therefore a step in the right direction to hear that the Government has introduced a new scheme incentivising lenders to reintroduce 95% mortgage deals once again. High loan-to-value mortgages have dropped in numbers during the pandemic for a variety of reasons, which has created a significant barrier to homeownership for first-time buyers, so this scheme will help get the country back on track to turn Generation Rent into Generation Buy."
Paresh Raja, CEO of Market Financial Solutions: "Extending the stamp duty holiday is exactly what the property market needs. The appetite among buyers remains strong, and it makes sense for the Government to build on this momentum through targeted tax reliefs. The market response will be immediate – I anticipate agencies and lenders will receive another surge of enquiries in the coming 24 hours, and this should lead to a rise in property listings.
"My advice is for buyers and sellers to act sooner rather than later. Three months may seem like a substantial amount of time, but with mortgage providers taking longer to process applications, loan delays could increase the risk of transactions not being completed in time. In the two months following the initial announcement of the stamp duty holiday on 8 July, a survey by MFS revealed that 32% of prospective buyers had been denied a mortgage.
"That is why buyers need to ensure they engage with lenders who can deploy finance quickly, be it mainstream or alternative finance provider. Failing this, there is a risk of buyers missing out on this new holiday deadline due to factor outside of their control."
Paul Smee, Non-Executive Chair of the Conveyancing Association: "The Chancellor has recognised the economic boost which an active housing market gives to the wider economy and we are pleased he is not bringing the support of stamp duty relief to an abrupt conclusion at the end of March. A tapered reduction to the relief which we have long advocated will help avoid cliff edges in October. The conveyancing sector does however faces real challenges in meeting the likely volumes of transactions over the next few months but is ready to rise to the challenge."
Tomer Aboody, MT Finance: 'The stamp duty holiday extension is welcome and will ease the logjam many are facing. The gradual tapering of the return to the £125,000 nil rate band by 1 October should also help avoid the cliff edge that many feared we would have with a sudden cut-off point."
Mark Peck, Director, Cheffins: "Whilst the extension to the stamp duty holiday will be welcomed for those with property sales already agreed, the government here is simply kicking the can down the road with chaos set to ensue once the tax break comes is reduced in June and tapered until September.
"The pressure on the property industry since the announcement of the stamp duty holiday has been immeasurable and this extension will simply continue to add to the strain already being felt by both buyers and sellers as they look to complete on sales before the end of the tax break. Whilst the Chancellor has attempted to manage this with the tapering system until September, the property industry will need to brace itself for further pandemonium throughout the summer months.
"Whilst the stamp duty holiday certainly allowed the property market to continue with full force throughout the coronavirus pandemic and ensure that property sales continued at a fast pace, it has created an unhealthy scenario with values increasing at unsustainable levels within a short space of time. Stamp duty has long been the Treasury's golden goose and has filled government coffers for centuries, and whilst the lack of stamp duty paid over the past year will have been felt by the government in terms of income, this extension will ensure that the property industry continues its current bull run over the next three months.
"The property industry has long been a marker for the overall health of the economy and ensuring that transactions continue will encourage more spending on a wider scale as well as alternative investment decisions as the UK looks to follow its 'roadmap to recovery,' however, the impacts, once stamp duty is reintroduced, could be major, and these will remain to be seen from September onwards."
Paran Singh, TIC Finance: "The extension on the stamp duty holiday will be welcomed by thousands of homebuyers in the process of moving, particularly those who may have experienced delays in the process and otherwise would have completed within the previous time frame.
"Extending the stamp duty in line with the rest of the coronavirus relief measures such as furlough self-employed business loans will help the property market stay buoyant, avoid those in sale chains from experiencing additional complications and save home buyers thousands."
Kate Randall, Managing Director at Whitegates: "The extension to the stamp duty holiday is welcome news, especially to those currently in the purchasing process, as it will give them the time they need to complete before the deadline.
"Whilst there is also likely to be increased new buyer activity, the reality is this may not benefit new buyers as much. With such an active market, restrictions of lockdown and increased pressure on conveyancing services, we are seeing a slightly slower sales process, with the average time taking to complete up from 12 weeks to an average of 20 weeks.
It is, however, great news for those already in the purchasing process as it gives them more time to complete and it also eases pressure on the chain. There is now less risk that chains may collapse as buyers had assumed savings from the stamp duty relief and may not have been able to afford to buy without it.
Overall we see this as positive news for the market, it allows those already in the purchasing process to complete and the sales already in process to flush through before the deadline."
Rob Clifford, CEO of Stonebridge Group: "The news about the stamp duty extension was widely trailed in the media last week, and therefore this three-month extension is not a surprise but a welcome and sensible intervention. Clearly, it will help some purchasers continue with their SDLT-free transaction, who might ordinarily have struggled to comply with the 31st March deadline. There is a risk that this might act as the catalyst for a further spike in new purchases case which now attempts to complete before this new deadline, which the market needs to consider.
"Let's not forget that a short-lived Stamp Duty holiday isn't the solution. The Government missed a trick today when they could have brought about a permanent resolution – by accepting the compelling economic arguments that suggest it's an outdated tax and its removal would consequently lift transactions and thereby deliver far more taxation upside to the Treasury's coffers than the SDLT system does today. This would also have taken some of the pressure off solicitors, advisers, lenders and clients, which the holiday approach perpetuates. Whilst we naturally welcome a busy market, we still appear in danger of having thousands of transactions not completing before this new deadline, which will hurt consumers, and exacerbates the risk of aborted sales, at a great cost to both consumers and the wider economy."
John Phillips, Just Mortgages and Spicerhaart: "The extension to the stamp duty holiday will also encourage activity. However, with the already full pipeline, buyers will need to move quickly to get deals over the line. When we do approach the end of the holiday, there will be a slight dip in activity, however, the incredible appetite in January and February demonstrates that the market will continue to move regardless."
Nick Sanderson, CEO, Audley Group: "The stamp duty holiday was implemented to get the marketing moving and wouldn't easily withstand the shock of an immediate cancellation which the Chancellor has rightly recognised. However, the stamp duty holiday has succeeded in some parts of the housing market but not all of it. Yet this Budget focuses on targeted measures at the wrong end of the market. 95% mortgages will primarily benefit first-time buyers. But there is no support for those downsizing or moving into housing with care. Supporting this end of the market would have a significant impact on the whole housing market, but has been largely neglected. This is a missed opportunity."
Nick Chadbourne, LMS: "While today's extension is great news for borrowers in the pipeline, as is clarity on the tapering off timeline, the initial cliff edge has simply been moved to the 30th June.
"The extension adds fuel to an already well-lit fire, and will likely cause a second surge of purchase applications in the coming months. However, its necessity is debateable. Most borrowers are motivated by far more than just a tax break, and high cancellation rates if the SDLT holiday ended in March were highly unlikely.
"COVID-19 has forced homeowners to re-evaluate their priorities in terms of space, location and accessibility, and these factors will continue to buoy the purchase market long after the scheme comes to an end."
Mike Scott, Yopa: "We welcome news of the stamp duty holiday extension, which will allow property purchases that have already been agreed to go forward without those in the chain having to worry about missing the deadline (and a saving of thousands of pounds).
"The extension of the holiday to 30th June followed by a higher tax threshold until 30th September is long enough that new buyers may take up this opportunity in the hope of beating the June deadline and saving up to £15,000, or at least saving up to £2,500 by completing before the end of September, which is great news for the property market and wider UK economy.
"However, the Government should consider the additional load this will place on the conveyancing industry, which may even prevent some of the existing purchases from completing by the new deadline despite the extra time, frustrating home buyers who have been ready to go for some time. We would like to see a measure in place to ensure that those sales that were already in the process before this extension was announced will be prioritised."
95% mortgages
Melanie Leech, Chief Executive, British Property Federation: "Mortgage guarantees have a mixed history. They can inflate house prices, which was the experience of the Help to Buy mortgage guarantee scheme that ended in 2016. We support government efforts to help more people on to the housing ladder, but this will require supporting housing supply as well as demand. Getting that balance right is key, and fit-for-purpose planning reforms will make or break this ambition."
Paran Singh, TIC Finance: "Moves to help 'generation rent' onto the property ladder are welcome but government support for 95% mortgages comes with additional dangers that first-time buyers might not be in a position to gamble on.
"The stamp duty holiday has driven up house prices by an estimated £20,000 but this value could fall quite quickly once the tax returns and borrowing at 9% LTV means you're more likely to fall into negative equity if house prices fall."
Mark Graves, Financial Services Director at Property Franchise Group: "The announcement of the Government's new plan (to underwrite 5% deposits) clearly demonstrates just how much importance they place on the housing market in playing a key role in the recovery of the country's economy.
"The rationale behind the plan is to breathe life into all of the businesses connected to the house moving process, as it's not just house sales that benefit from this initiative. We forget how much home furnishing departments, for example, benefit from people moving homes, especially in the new build sector.
"By reducing the deposit required (when interest rates are at an all-time low) the Government is encouraging people to move out of rented accommodation and onto the housing ladder. So, no doubt it will bring more first-time buyers into the market.
"The difference to this incentive is that it is targeted at not just first-time buyers. By having a limit of 600k and opening it out to previous homeowners the initiative is also hoping to draw in higher earners and not just attract low-end house sales.
"This helps to encourage people already on the property ladder to also make the move, especially if they've been considering moving to a bigger property. For example, for many, it will bring 4 bed detached houses into the equation rather than a 2-bed terrace starter home. So, I see the attraction being countrywide and appealing to a wide age range."
Nigel Purves, CEO of Wayhome: "The headline-grabbing 95% mortgage policy is politically astute, but it is a band-aid on a bullet wound. The affordability issue for renters goes much deeper than the deposit. Mortgage lenders calculate their lending by multiplying household income – and with the average house price in England coming in at just under £270,000, it means that you'll need quite a hefty household income to get a 95% mortgage to afford to buy it. If the Government is truly committed to turning Generation Rent into Generation Buy, it must work together with the property industry to raise awareness of innovative ways to help people take their first step onto the homeownership ladder."
Tomer Aboody, MT Finance: "With further assistance towards those with a small deposit by backing 95% mortgages, the government will indeed help turn Generation Rent into Generation Buy, encouraging would-be purchasers to get on the ladder. The Chancellor recognises the importance of the housing market to the wider economy and is doing all he can to support it.
"While higher LTV mortgages will be more readily available with a number of lenders already announcing that they will offer them, it is hoped that buyers don't get carried away by extending themselves too far. Interest rates may not be rising anytime soon but at some point they will and mortgage costs will increase accordingly. Buyers must ensure they can afford their mortgage payments when that time comes.
"Further money being thrown at businesses to assist through these tough times is helping businesses stay afloat and keep people in their jobs. But how much longer this support can continue no-one knows - the can only be kicked down the road for so long. It has to stop somewhere and when it does, let's hope the fallout will not be too painful.'
Michelle Stevens, finder.com: "This past year has undoubtedly been financially tough, meaning many people have been unable to get on the property ladder or move house. The 95% mortgage presents these people with the opportunity to buy a property, however putting down a lower deposit can make things more costly in the long run.
"The most obvious difference you would see would be in your monthly repayments. Based on the average UK house price of just under £250,000, monthly payments with a 5% deposit would be £107 higher compared to putting down a more typical deposit of 15%. This may not seem like much, but by the end of your mortgage, you will have paid £12,400 more.
"While putting down less money at the beginning may seem like an attractive option if you are a bit cash short, monthly mortgage payments are one of the biggest outgoings and pushing up this payment may not be a good option, especially if you are already low on funds. A 95% mortgage is a useful route for those who have no option but to take it, however, it will cost you more in the long run, so people who can survive without it should think twice before applying."
Alex Gibbs, Built Asset Management: "The introduction of the 5% Deposit Mortgage Scheme will almost certainly pave the way to an uptick in property transactions in the short term, which is good news for the industry. We saw the effects that schemes of this nature can have as the Help to Buy scheme, launched in 2013, helped bolster transactional volume in the wake of the 2008 crisis.
"It's interesting to note that deposit requirements from lenders in the market last year rose amidst concern around the wider economy. This year, lower deposit requirements of circa 10% have made a re-emergence amongst various lenders; a level which the open market seems comfortable with in terms of risk. A criticism of schemes like this one from the government, which reduce that deposit requirement further via intervention, is that they can pump up prices at the lower and lower-middle ends of the property market which perhaps doesn't help first and second -time buyers with overall affordability in the medium to long term."
Marc von Grundherr, Benham and Reeves: "While Help to Buy in its various forms has helped homebuyers to an extent, it's also done a good job of pushing house prices higher and homeownership even further out of reach for many.
"To roll this sort of counterproductive initiative out to the whole of the market wouldn't be so bad if the government also addressed the issue of supply. If you have trouble climbing the stairs you need to add a handrail, not increase the size of the staircase. However, the government has, yet again, chosen to do just this."
Islay Robinson, Enness Global Mortgages: "95% mortgage products in any shape or form take the market into pretty overheated, dangerous territory and we've previously seen the results of this kind of precarious lending to those who aren't really in the financial position to commit to it.
"As always, the devil will be in the detail but many lenders have already tightened their belts over the last few months in terms of their high loan to value offerings.
"Although many big lenders have committed to the government's announcement today, it will be interesting to see just how many buyers are able to secure such a product when it comes to actually applying.
"Converting Generation Rent to Generation Buy is a noble initiative but not if it comes at the expense of wider market health."