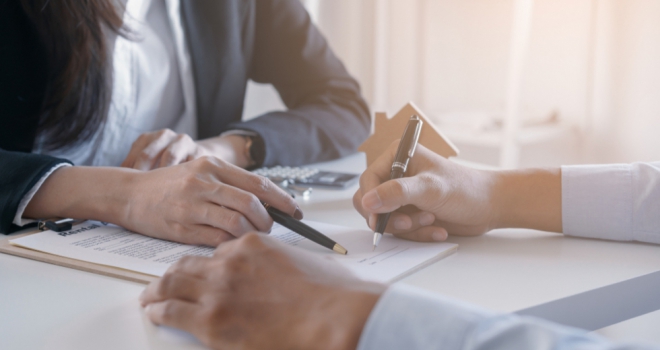 What is conveyancing?
The conveyancing process deals with all of the legal processes required when buying property, including surveys, contracts, and the transfer of legal ownership. This process is long and complex so it's essential to hire a conveyancer or solicitor.
Conveyancers vs solicitors
There is little difference between conveyancers and solicitors. Both are fully licensed, regulated and insured and the way in which they handle your buying process will be more or less identical.
To be precise - a conveyancer is a lawyer who specialises in property and focuses all of their daily attention on the process of buying and selling homes. A solicitor is a lawyer who has training in many different areas of law. This means they can offer a full range of legal services and are, therefore, usually more expensive to hire.
The best advice is to hire a conveyancer if you're dealing with a simple property purchase and hire a solicitor if the situation is more complex. For example, if the property is tied up in a divorce dispute.
How to choose a good conveyancer
When choosing a conveyancer, it's vital to shop around but also important that your decision is not based purely on price. The cheapest conveyancer is rarely the best. More important is their reputation and track record. If you have friends or family who has had a good experience with a conveyancer, this is invaluable guidance that you should embrace. Otherwise, online reviews are a good resource.
It's often the case that an estate agent will recommend a conveyancer. Do not follow this advice blindly because there is likely a deal between the two professionals that the agent will receive a commission for the introduction, so their recommendation is not based on your best interests.
Finally, only ever hire a fully accredited conveyancer, someone who is regulated by one of the following bodies. SRA, CLC, LSS, LSNI, CILEX.
Communication is everything
The conveyancing process is long and complicated and involves numerous different parties and professionals. Your conveyancer, therefore, needs to be extremely proactive in ensuring everyone is working as quickly and efficiently as possible. If not, the process will take much longer than it needs to. Your conveyancer should be in constant contact with everyone involved providing you with regular progress updates. If a conveyancer is hard to get hold of, it's a bad sign and you should look elsewhere for help.
How much should a conveyancer cost?
You should expect to pay around £1,000 for a good conveyancer. This fee should cover many of the fees involved with the process, but it's likely you will have to pay additional fees to get certain pieces of information along the way. Your conveyancer should outline these additional fees at the very start of your relationship.
How long does conveyancing take?
On average, the process takes 8-12 weeks. The timeline can be longer or shorter depending on the efficiency and determination of the conveyancer and your willingness to be available and proactive when the process requires you, for example, to complete paperwork or provide signatures.
4 top tips for a smooth conveyancing experience
1: Always check all documents carefully and ask as many questions as you need to in order to understand what's happening and why.
2: Always respond to requests and sign documents as quickly as you can.
3: Don't communicate directly with the seller, always use your conveyancer.
4: Before even hiring a conveyancer, make sure all of your documentation, such as proof of funds, is on hand and ready to go. This goes a long way to avoiding delays.
Christina Melling, CEO of Stipendium, commented: "Conveyancing is usually the longest leg of the buying journey but a good conveyancer will ensure that it's completed as quickly as possible. This means they're worth their weight in gold, especially if you're part of a chain. With a good conveyancer on your side, the process should not be a stressful one because they will do all of the hard work and clearly explain what's needed from you and when.
"It's when a conveyancer doesn't work efficiently or is difficult to get hold of that the process becomes most stressful and delays in the process cause sales to fall through. Our Merge platform provides access to an expert panel of 50 solicitors and conveyancers, allowing you to choose from the very best while keeping you notified as to when action is required on your part, to ensure your sale progresses as quickly as possible."