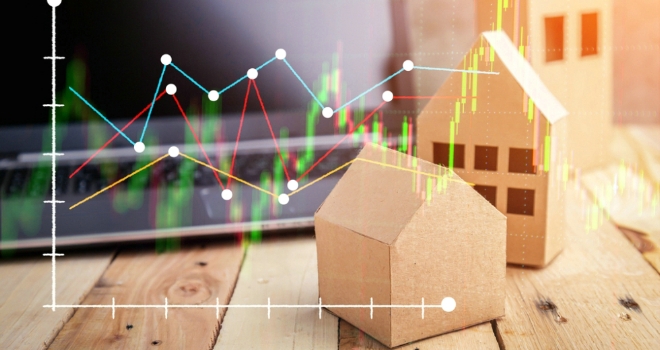 This morning's figures from Halifax have revealed that annual house price growth dipped below 1% during October, the lowest annual growth seen so far this year.
According to the lender's data, house prices were up by just 0.2% over the quarter and fell by 0.1% on a monthly basis.
Russell Galley, managing director of Halifax, comments on this morning's figures: "Average house prices continued to slow in October, with a modest rise of 0.9% over the past year. While this is the lowest growth seen in 2019, it again extends the largely flat trend which has taken hold over recent months.
A number of underlying factors such as mortgage affordability and wage growth continue to support prices, however there is evidence of consumers erring on the side of caution.
We remain unchanged from our view that activity levels and price growth will remain subdued while the UK navigates economic uncertainty."
As ever, the property industry was quick to react. Here's what they're saying:
Milton Rodosthenous, director of online auction service LetsBid Property, comments: "It's no surprise to see that annual house price growth slowed again in October, adding to the overall flat trend recorded over the last few months.
That said, the market has remained stable and resilient in the face of an unprecedented political situation and a period of uncertainty that has stretched to over three years now. It's likely that activity in the market will stay at the same subdued pace over the next couple of months. However, the outcome of the General Election in December combined with the traditional market boost in January, should provide the property industry with renewed optimism for the New Year.
The market's biggest problem in recent times has been a lack of confidence, but certainty surrounding the outcome of Brexit and the government alongside the positivity a fresh year brings, will encourage buyers and sellers to return to the market in volume.
With consumer confidence in the property market restored, there's no reason why 2020 can't be a great year for house price growth and transactions."
Gareth Lewis, commercial director of property lender MT Finance, says: "There are positive signs - people have the ability to transact with mortgages cheap and unemployment low. There has been an uptick in the number of mortgages being approved, albeit from a low base, but it isn't translating into the consumer confidence we need and stimulation in the market.
People have been cautious about making big decisions such as buying a home because of Brexit and are going to be even more so now with the general election. If we have a hung parliament there will be further frustrations to come.
Mark Harris, chief executive of mortgage broker SPF Private Clients, says: "This may be the lowest growth in house prices we have seen all year but it is no surprise as Brexit concerns, coupled with a general election, are thrown into the mix. This trend is set to continue until both of these are resolved.
Meanwhile, lenders remain extremely keen to lend, particularly as they look towards year-end and how much business they have done. Just when you think they can't go any lower, rates have been cut further still, with five-year fixes available from less than 1.5 per cent. That really is an astonishingly cheap rate for medium-term security."
Jeremy Leaf, north London estate agent and a former RICS residential chairman, says: "Although the market remains fairly subdued, which may actually be a good thing in view of wider political and other concerns, we are finding it continues to be supported by fewer but more serious buyers. This is particularly the case with first-timers who are taking advantage of mortgage affordability and wage growth.
However, we have noticed some are hedging their bets by trying to agree terms in expectation of the release of pent-up demand and more activity post-election."
Adrian Anderson, director of mortgage broker Anderson Harris, says: "Mortgages are incredibly cheap so it is a good time for borrowers and not all doom and gloom as one might expect when reading some of the headlines about the housing market. Hardly a day goes by without a lender reducing its fixed-rate mortgages. Lenders have to be more competitive than ever to attract business, resulting in a price war with mortgage rates falling significantly this year, benefiting borrowers.
There is demand from families for larger homes but with limited stock available, finding those homes is a challenge. Subsequently, there is growing pent-up demand in some areas.
Uncertainty creates opportunity. In London and the southeast, where values have been hardest hit, buyers are realising that if you are purchasing for the long term then now is a good time because you won't pay over the odds and mortgages are cheap."