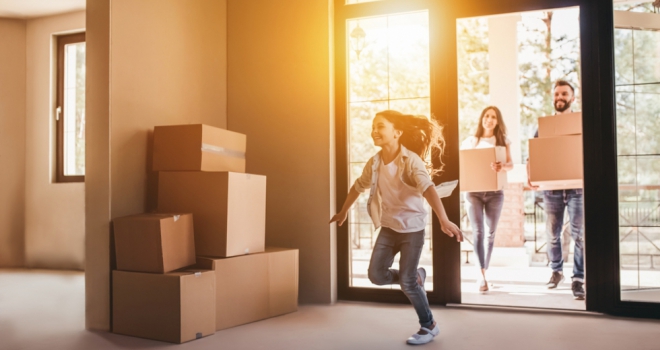 Newly released data from UK housebuilder, Redrow, has revealed that 24% of future home movers in the UK are reconsidering what they want from their next home.
Over 2,000 UK adults were polled with the findings highlighting that COVID-19 has forced many to reassess how they want to use the space in their home, and what community features and facilities they want to be surrounded by.
Those with children under the age of 10, or who are currently expecting a child, were most likely to have changed their priorities (53% vs the national average of 24%), followed by those who have been working from home due to COVID-19, either part-time or full time, or who have been placed on furlough (39%).
Top amenities in the home post-lockdown
The majority of respondents (60%) stated that having access to private outdoor space, such as a garden, terrace area or balcony, will be the most important factor when choosing their next home. 2 in 5 (40%) will be looking for a home with a large kitchen with ample space for food preparation, while over a quarter (29%) will be after excellent levels of energy efficiency.
In London, respondents are more concerned about access to high-speed broadband, with more than a third (34% vs the national average of 27%) agreeing that it would a top priority for them going forward.
Top community features and facilities post-lockdown
Where we want to live and the facilities we want to surround ourselves with have also changed. As lockdown eases, more than one in five (22%) agree that being able to walk or cycle to work (rather than drive or take public transport) will be important for them. This increased to almost half (45%) of those living in London.
In terms of community features and facilities, proximity to green open spaces will be most sought-after post-lockdown (35%), followed by proximity to smaller shops (33%), and a doctor's surgery (32%).
A quarter (25%) also agreed that finding a home within a strong community will be more important to post-lockdown. This increased to a third (33%) of those aged 18 to 35, and 42% for those who are either expecting a child or have young children under 10-years-old. Almost a quarter (23%) also agreed that going forward they will make more of a concerted effort to get to know their neighbours when they move.
Lockdown home improvements
More time spent indoors also saw DIY projects boom – with nearly two in five (38%) people trying their hand at home improvements during the lockdown. However, Redrow's research also reveals that almost half of UK homeowners are only 'somewhat satisfied' with the results of their last home renovation.
Research shows that the more significant the home renovation project, the less satisfied homeowners tend to be with the results. Just 38% of those who spent more than six months on a renovation project were likely to do so again on a future property. This compared to the majority (63%) who were happy to repeat the process after spending just one day renovating.
As well as unsatisfactory results, consumers frequently reported going over budget, with almost 40% stating that they had spent more than planned on their last renovation. This rose to just shy of half (48%) who spent between one and three months on their project.
Top 10 community features and facilities to look for in a new home
James Holmear, Group Sales Director at Redrow, commented: "Lockdown has changed our lives dramatically. More time spent in the home has made us reconsider how we use the space that we have, and how our homes can adapt to a more permanent change in the future. Even as more offices re-open, many people will opt to work at home, and people are planning to replace public transport with greener modes of community when they do commute.
"This change has translated to huge shifts in buyer preferences on the ground. Now, we are experiencing more customers adapt their search to homes with extra space to work, and more people are looking for proximity to green space and local shops, over good schools, and cafes and restaurants.
"However, planning and budgeting for changes in the home are simplest when buying a new build. With a renovation on an existing or future home, it is very possible that you will run into unforeseen problems which will see your costs go up. With a new build home, not only are you protected with a 10-year warranty, but you can also expect the latest technology and 'smart home' features. Buying off-plan often means you can have a say in the design of your home too."