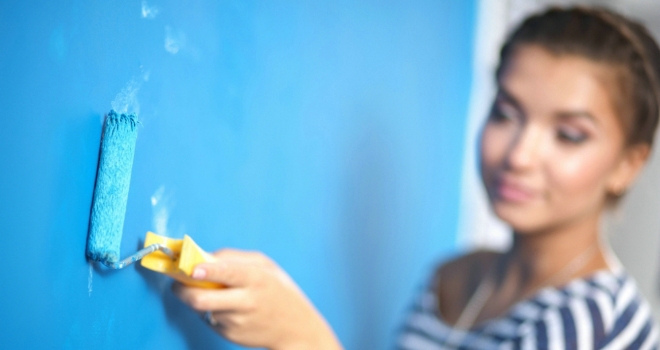 New research from regulated property buyers, GoodMove, found that 48% of Brits caught the home improvement bug due to increased time spent indoors over the last year - spending an average of £1,640 on home improvements over lockdown.
Analysis by GoodMove highlights exactly what work we did on our homes during the past year, the reasons why, and how much we spent doing the work.
As for exactly what homeowners got up to during lockdown, here are the top five home improvement projects undertaken:
1: Decorating; including wallpaper, fresh paint, new carpets etc (46%)
2: Bought new furnishings (44%)
3: Transformed a space into a home office (39%)
4: Renovating the garden/outdoor space (37%)
5: Transformed a space into a home gym (22%)

A further 13% transformed a space into a home bar, 12% created a home play area for kids, 10% had a home extension, and one in twelve (8%) added in a home cinema.
So, what are the reasons for undertaking this work?
48% said it was due to spending more time at home during lockdown and 23% said they simply did so out of boredom.
Looking at the money we spent on these renovations, on average, the nation has spent £1,640.21 renovating. Delving further into the research, 6% of homeowners splashed out over £10,000 while 5% said they'd spent less than £50 in total.
Working from home has had a significant impact on how we use our space and resulted in almost two in five of us (39%) creating a home office. Interestingly, a home office can increase your property value by 8-10%,2 making it a pretty worthwhile investment.
The research found that 22% transformed their space into a home gym while gyms were closed. Although home gyms are super convenient, transforming this space typically costs around £5,000 and with the average gym membership costing around £40, you would need to use your home gym for 125 months – that's nearly 10 and a half years - in order to make break even!
Nima Ghasri, Director at GoodMove, says: "Our homes have been our safe haven this last year, and have become even more important to us in our daily lives than ever before. This is displayed in our research, as we have found Brits have spent a significant amount of time and money making renovations and adjustments to their home.
"Luckily, there are various ways we can transform our homes in order to suit our personal needs, add value or just to create a more comfortable and cosy space. Whether it's a home gym, office, bar or even some simple decorating and landscaping, it's clear that lockdown has caused homeowners to re-evaluate the purposes of their spaces and gain a greater appreciation for these spaces ultimately resulting in many home makeovers."