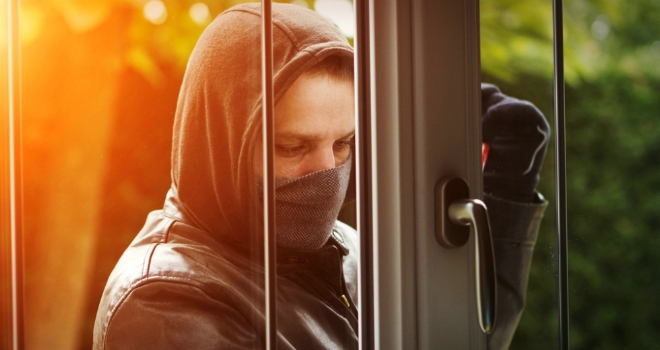 New research from home insurer, Policy Expert, has revealed that with more than 2.7 million homes being robbed in the past year, 12% of of victims moved home after being burgled, feeling they could no longer live in the property.
The research found that 32% had difficulty sleeping after the crime took place and almost one in 10 (or 8%) felt that they couldn't be left alone in the property.
According to the study, the most common way burglars broke in was through a window (38%). Just under a third (29%) damaged a door, and one in seven (13%) tampered with the locks. While you're more likely to be burgled when out of the house, a fifth (20%) admitted the incident happened when they were at home asleep.
More than a quarter (28%) were at work, a fifth (18%) were out shopping or socialising, and one in six (15%) were on holiday, revealing the crucial need for effective home security
Adam Powell, Operations Director at Policy Expert, commented: "Burglary doesn't just impact us financially, but takes a huge toll psychologically and emotionally. Protecting our homes and belongings is vital and there are a number of steps you can take to reduce the risk of becoming a target for thieves. Installing a burglar alarm doesn't just provide a visible deterrent, but if there is an attempted break in, it's more likely to alert neighbours and passers-by. Some alarm systems are even set up to alert the police.
Opting for enhanced locks, windows and doors, or installing CCTV may also reduce the chances of being burgled. Try and keep valuables, including keys and gadgets, out of sight, and investing in sensor-activated, external lighting for the garden and around the front of the home is a simple, and usually inexpensive, way to prevent thieves.
In addition, while it may be tempting to post about holidays on social media, this might inadvertently advertise that your home is unoccupied. Burglars will typically go for smaller, more expensive items such as watches or jewellery, so check your single item limit and if you have a valuable that exceeds that, inform your insurer. Ultimately you need to make sure you have the correct level of home insurance, so if the worst was to happen, you'll be protected financially."
Top tips from Policy Expert on protecting your home:
1. Enlist the help of a housesitter or ask a trusted neighbour with a set of keys to check in on your house every now and again if you're away for an extended period of time
2. Install a timer to set lights inside your home to come on once it gets dark – choose a light in a visible room at the front of the house, not the hallway, as this will create the impression that someone is inside
3. Invest in sensor-activated, external lighting for the garden and around the front of the home
4. Install a burglar alarm – not only is this a visible deterrent, if someone does attempt to break in the alarm would alert neighbours and the police before any damage could be done
5. Don't leave curtains closed – during the day this makes it look like there's no-one at home
6. Make sure any outbuildings or sheds are locked and that any tools are hidden away – these could be used to break into your home
7. Ensure any valuables are out of sight – remove the temptation and make sure these items cannot be seen from outside the house through the windows
8. Never leave a spare key anywhere near the front door, for example under a doormat, flower pot – thieves know all the usual hiding places
9. Similarly, don't store house/car keys just inside your front door, as burglars could try to fish for the keys through the letterbox