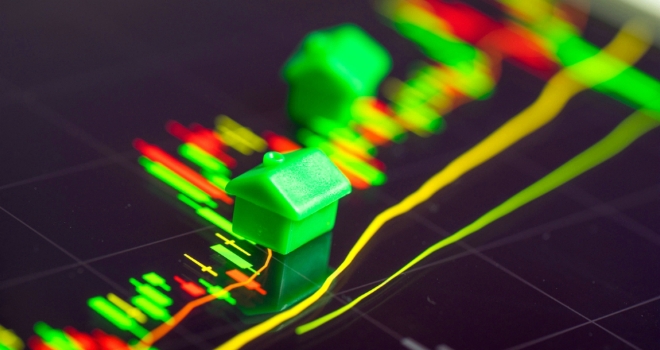 The latest data and analysis from Nationwide has revealed that the UK property market appears to be in Limbo. House prices, demand and growth all saw a decline. The average price of a home in the UK now stands at £213,618 according to the lender.
Robert Gardner, Nationwide's Chief Economist, said: "UK annual house price growth slowed modestly in May to 2.4%, from 2.6% in April. House prices fell by 0.2% over the month, after taking account of seasonal factors. Annual house price growth has been confined to a fairly narrow range of 2-3% over the past 12 months, suggesting little change in the balance between demand and supply in the market over that period. There are few signs of an imminent change. Surveyors continue to report subdued levels of new buyer enquiries, while the supply of properties on the market remains more of a trickle than a torrent.
Looking further ahead, much will depend on how broader economic conditions evolve, especially in the labour market, but also with respect to interest rates. Subdued economic activity and ongoing pressure on household budgets is likely to continue to exert a modest drag on housing market activity and house price growth this year, though borrowing costs are likely to remain low. Overall, we continue to expect house prices to rise by around 1% over the course of 2018.
Data from the Ministry of Housing, Communities and Local Government shows that, over the last 20 years, the total housing stock in England has increased from 20.6 million to 24 million dwellings, a rise of 16%. There have been significant shifts in the ownership of the stock, which in turn has influenced trends in property type over time.
The most striking shift has been in the proportion of the stock owned by private landlords. While last year's data showed a small decline in the stock of privately rented dwellings, they still account for 20% of the total stock, double the proportion in 1997. The counterpart of this shift has been a decline in the proportion of homeowners (from 68% to 63%) and social landlords (from 22% to 17%).
As ever, the industry was quick to react to this morning's report. Here's what they're saying:
Jeremy Leaf, north London estate agent and a former RICS residential chairman, says: "Once again, we are seeing few signs of major change in the market after the last few months of up a bit, down a bit - and May is no different. On the ground we are seeing much the same - more interest in an increased number of properties coming onto the market which we would expect at this time of the year but still hard to generate commitment from buyers and transactions agreed taking longer to finalise.
Looking forward we do expect a little more activity in what is generally the peak time of the year for buying and selling. But once again it is the realistic who are proving the most successful.
Recent tax and regulatory changes have meant that the playing field between buy-to-let investors and first-time buyers is levelling but to date ding criteria and deposit-raising difficulties are preventing many first-time buyers taking their place in sufficient numbers to make a real difference, despite stamp duty abolition.'
Mark Harris, chief executive of mortgage broker SPF Private Clients, said: "While the trajectory for interest rates is upwards, by how much and at what pace is harder to forecast. The UK mortgage market remains highly competitive and over-supplied in certain areas, which will apply downward pressure on mortgage rates and they could go lower. Conversations with a few lenders indicate that servicing and not necessarily cost of funds has meant they haven't repriced downwards.
Our view remains as before - the UK economy is in a fragile state and still prone to conflicting data on the strength or otherwise of any recovery. Added to that are the challenges being faced elsewhere in the world, particularly in the Eurozone."
Jeff Knight, Director of Marketing for Foundation Home Loans commented: "The London property market has long been a story of lofty prices backed by relentless demand. Any talk of 'discounts', while positive for those hoping to buy in the capital, is therefore hardly the beginning of a spiral downwards. Likewise, there are pockets across the country where momentum has been stunted slightly, but equally it is not reflective of the entire market.
Whether looking to buy in or outside the Capital, affordability remains one of the biggest challenges facing prospective homeowners. With limited purchasing power and concerns of interest rates rises ahead, it remains a challenge to get a foot on the ladder. This is where sufficient supply of rental property is key, and we need to ensure momentum is kept up on that front – and that increased supply is achieved without compromising quality."
Mike Scott, chief property analyst at Yopa, had this to say: "Nationwide report a small monthly fall in house prices in May but year-on-year there is still a 2.4 per cent increase - a figure which hasn't changed much over the course of the year. Both supply and demand remain subdued, and Nationwide is sticking with its forecast of a 1 per cent increase in prices for 2018 as a whole, behind the likely rate of overall inflation.
Nationwide also reports that over the past 20 years the proportion of properties privately rented has doubled, from 10 to 20 per cent, while there have been corresponding falls in the proportions that are owner-occupied and socially rented. These figures come as no surprise since households are being squeezed out of owner-occupancy by high prices and out of the social rented sector by a shortage of social housing, leaving the private rented sector their only option.
The English Housing Survey over the same period shows increases in the share of the total housing stock make up of flats and detached houses, and falls in semi-detached, terraces and bungalows. The middle of the market is being hollowed out as developers of new-build properties aim either at the wealthiest purchasers by building detached houses or at investors by building blocks of flats. However, this trend was most pronounced a decade ago, before the credit crunch, when nearly half of new-builds were flats. They have since returned to a more normal 20 per cent of all development."
Jonathan Samuels, CEO of Octane Capital, said: "Tight supply and subdued demand are the key contributors to the ongoing limbo gripping the UK property market.
A lethargic economy populated by cautious and squeezed consumers has created a property market lacking both momentum and direction.The property market is fuelled by confidence but many consumers are running on fumes. Low stock levels and continued cheap borrowing rates will prevent a material decline in prices but equally a rise greater than very low single digits is highly unlikely.
From a house price growth perspective, 2018 is looking greyer by the day."
Lucy Pendleton, founder director of independent estate agents James Pendleton, comments: "For all the concerns about purchasing power, consumer confidence and interest rate hikes, another month has brought with it yet another record high.
This just goes to demonstrate the energetic effect that a nationwide scarcity of properties can have on prices. Subdued new buyer enquiries are being offset by the fact that those who are entering the market are competing for fewer homes. Despite the impression that there has been an exodus of landlords from the rental market over the last couple of years, their population is still robust, representing one in every five homes.
On the ground we are not seeing landlords abandon the private rental market but shift their focus to smaller rentals, including those known as 'pocket living', which might be one-bed studio apartments. It is already the case that most flats are privately rented, so this suggests that is unlikely to change any time soon. A lingering concern in this market on the demand side is the 'leg-up' effect.
First-time buyer demand has only recently crept back to pre-crisis levels and that's only with a massive shot in the arm from Stamp Duty relief and Help to Buy.
So far, 2018 has seen more price contractions than rises month-on-month. This could be a sign that this 'leg-up effect' is slowly beginning to wane. That would fit squarely with the fairly unexciting expectation of a 1% rise in prices throughout this year."
Mark Readings of Online Estate Agency, House Network, said: "The market is sensitive to political change, London is feeling the brunt of this but as the uncertainty fades, the capital will recover. We also need to remember that London has had a huge property price boom over the years and only now is it seeing a small decline, this is not something the market should be worried about. This is a chance for buyers to take advantage of one of the UK's still most desirable and dynamic locations, before interest rates are set to rise and the political uncertainty fades."
The housing market is changing and with the advancement in technology, platforms such as; Rightmove and Zoopla are becoming more and more integral when finding a property. Individuals now have full access to the property market so are able to have a wider choice, therefore buyers are able to be more selective and ensure that the property is the best on the market for them."