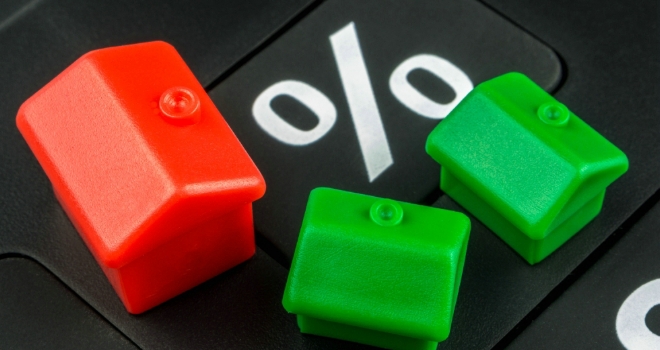 ""
A month on month comparison shows that January saw an annual price increase of 7.1% and a monthly rise of 2.5%.
The February data for London shows a monthly increase of 0.6%. At 13.5%, the annual change for London remains "considerably higher" than most other regions, according to the Index.
The average price of property in the capital is now £530,368 in comparison with the average for England and Wales of £190,275.
The North East saw the only annual price fall with a movement of -3.2%, and also the most significant monthly price decrease with a fall of 1.2%.
The North West experienced the greatest monthly price rise with a movement of 1.8%.
The total number of property transactions has decreased over the last year. From September 2014 to December 2014 there was an average of 79,237 sales per month, compared to 78,778 in the same months a year later.
Andrew Bridges, managing director of Stirling Ackroyd, comments: "House prices across the country have paused for breath – but London is still dancing to its own tune. In the capital, a steady beat of demand shows no signs of stopping.

Higher prices aren't stifling any interest from those living in the capital, even if the mixture of movements is shifting. Not all of London is seeing property prices surges, with the more traditional top of the prime London market much quieter. But this is more than made up for by new, emerging suburbs and the surprisingly affordable parts of central London which still persist.

As the capital's population keeps on growing, the London housing market is getting ever warmer and more crowded. This is underpinning solid house price growth for sellers. But for buyers and renters it makes entry to the housing ladder ever more difficult. Hundreds of thousands of new homes are the only real answer. Mayoral candidates are still reluctant to take on such a massive challenge – but if they want to gain entrance to City Hall on election night, they might have to do more to help Londoners enjoy the success of the house price party."
Mark Posniak, Managing Director at Dragonfly Property Finance, had this to say: "With its double-digit price growth over the past year, the unique property microclimate of London and the South East is once again in evidence. With the exception of the East of England, the difference between the South East corner of England and all the other regions is as pronounced as ever.

With the London market where it is, the South East is well positioned for further outperformance in the short to medium term as buyers shift their focus beyond the capital. Property investors, both overseas and domestic, are increasingly looking for capital growth and yield potential outside London.

There will naturally be a degree of uncertainty around Brexit but the sense we are getting is that, however things turn out, it won't be a Black Swan for the UK's property market. With demand still strong and supply as weak as it is, the overall trajectory of the market is likely to be up."
Jeremy Leaf, former RICS chairman and north London estate agent, said: "The decline in number of property transactions continues to be a worry, with a 6 per cent fall in completions in December compared with the previous year. If people aren't able to move in and out of the market when they want to, there will be an inevitable knock-on effect for the rest of the economy. On the ground we want to see more balance between supply and demand, and while we expect completions to rise in January and February as landlords attempt to beat the stamp duty hike from April, there remains a woeful lack of supply, which will push prices higher.
House prices rose again in the year to March but perhaps not by as much as we expected. This suggests that they could go higher still in the next few months as that extra flurry of transactions filters through into the Land Registry's historic data, before they start to soften."
David Brown, CEO of Marsh & Parsons, comments: "An overall monthly dip in property prices in February disguises the fact that the majority of regions are experiencing striking growth. In the capital, annual growth has climbed to comfortably double the wider England and Wales average.
There have been a lot of stimulants spurring on the housing market this spring – and there's no denying there's been a palpable buzz in the air. To beat the April 1st implementation of additional stamp duty, second-home buyers and buy-to-let investors have been frantically pushing through purchase completions as quickly as possible. We've had documents collected and delivered by hand across London to solicitors to avoid postal delays, and our teams have been in at the crack of dawn to make sure all parties involved in the transaction are meeting their deadlines. This short-term whirlwind should go some way to balance out the slower sales activity seen at the end of last year, but only time will tell how buy-to-let demand tapers off as we enter into new territory. As buy-to-let investors face yet another blow from the banks, the incredibly strong buyer demand we're seeing will take the reins, and keep the market on a stable course."
Richard Sexton, director of chartered surveyor e.surv comments: "A lack of supply from sellers is restricting the property market – seen through a slowdown in sales figures from last year. Those moving are facing fewer options, encouraging many to stay put and therefore reducing choice for all in the market. And first-timers are feeling the effect.
It's not just a lack of choice – but a lack of funds is holding some back as prices keep moving upwards across the country. London may be leading the way but the South East is catching up, alongside the East of the country – creating a corner of formidable property price growth. While encouraging anyone selling a home in these areas, this is also a potential obstacle for some buyers. Savings are struggling and government initiatives like the Lifetime ISA are still a drop in the ocean when it comes to building a deposit.
It's in the North East that first-time buyers are most likely to get value for money – and most likely to get a foot on the property ladder. It a fact that imbalances in the UK's property market are becoming ever starker."