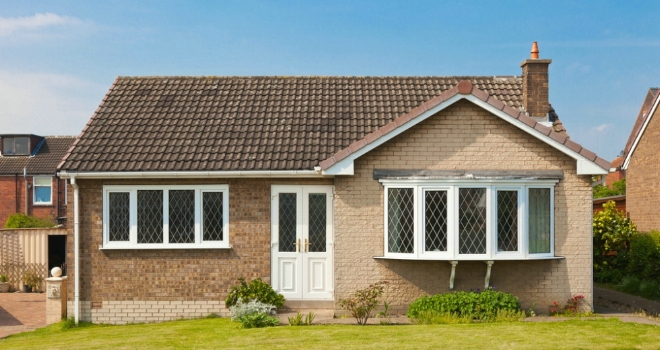 According to research by online estate agents HouseSimple.com, we are facing a dire bungalow shortage, with just 1 in every 14 houses currently on the market listed as a bungalow.
And with little incentive for developers to build one-storey houses - due to the lower profit margins that are achievable compared to multiple-storey houses rather than a lack of demand - the death knell could have been sounded for the British bungalow.
The knock-on effect of fewer bungalows could be devastating, as the lack of suitable properties for the older generation could force people into care houses earlier, or result in longer hospital stays putting more strain on NHS services.
Just how few bungalows are there?
HouseSimple.com looked at the percentage of houses currently for sale across 75 major towns and cities, that are listed as bungalows. In almost three quarters (73.3%) of those towns and cities, bungalows account for less than 10% of all houses on the market today.
In London (0.9%), Aberdeen (1.4%), Portsmouth (2.0%), Oxford (2.2%) and Cambridge (2.5%), the situation is already at crisis point, with bungalows making up less than 2.5% of property stock, that's 1 in every 40 houses for sale. Not surprisingly, London is at the bottom of the list. The capital has the fewest bungalows for sale as a percentage of all houses on the market, at less than 1%. In numbers, there are just 129 bungalows for sale in the whole of London, including Greater London.
According to HouseSimple research, Aberdeen currently has just four bungalows for sale, while Cambridge has 10 out of more than 400 houses on the market. Manchester is the only city in the north of the country that features in the bottom ten places, with just 3.8% of current stock listed as bungalows.
At the other end of the table, Worthing (24.1%), Bournemouth (21.9%) and Eastbourne (20.1%) - towns popular with retirees - have the highest proportion of bungalows. More than a fifth of houses currently on the market in these towns are one-storey houses.
Alex Gosling, CEO of online estate agents HouseSimple.com comments: "We could be facing a specific housing shortage that hasn't been addressed, or certainly hasn't been at the top of the Government's priority list. There is a lack of suitable housing for the older generation, and with fewer bungalows being built and the existing stock declining or off the market indefinitely, there is a crisis brewing that could put a terrific strain on the care home system and NHS in the next decade.
We have an ageing population but there isn't the housing infrastructure in place to meet the needs of this demographic. Bungalows have provided a solution but the fact that fewer are being built every year speaks volumes. Without any incentives or Government intervention, why should housebuilders choose needs over profit. There is every chance that housebuilders could stop building bungalows altogether in the next three to five years. The knock-on effect of that eventuality could be catastrophic if provisions aren't put in place."