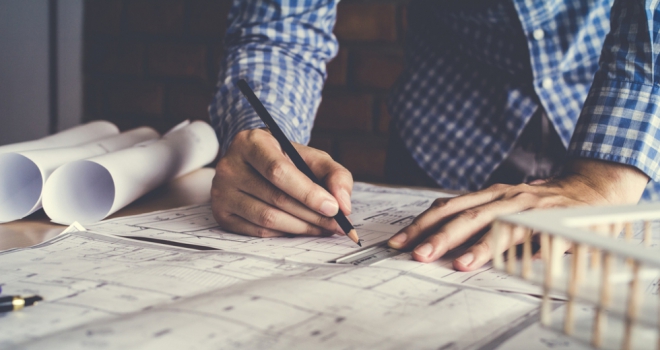 Despite the bill being extended to the whole of the UK, the majority of changes will only apply to England.
Red tape has been cut to significantly reduce the average time of five years for a "standard housing development" to go through the system.
Housing secretary Robert Jenrick proposed reforms that mean land designated for new homes, hospitals, and schools will get automatic permission to be developed as they will fall under the "for growth" category. Under the new rules, it would become more difficult for existing homeowners to block new housing schemes.
Planning goes digital
Also announced were changes that include a move from the traditional, document-based planning system, to a digital service that aims to encourage residents to be more engaged in local developments. Presently, it is estimated that just 3% of locals engage with planning applications.
Local plans are to change too, providing more certainty over the design of permitted development, include reforms for locally-led development corporations ensuring their areas have access to support for growth and generation.
Small and medium-sized businesses are to be encouraged to build a substantial chunk of the 300,000 properties due for construction each year. According to research, during 1990 they put up 40% of homes in the UK. However, this number has currently fallen to 12%.
As you would expect, the industry was quick to react to the news. Here's what they're saying:
Ritchie Clapson CEng MIStructE, co-founder of propertyCEO, says: "We're a nation of entrepreneurs; we have many individuals who are willing, able and committed to get started in business and who can make a difference. And we also have a housing crisis in this country for one key reason; because over the years, we just haven't built enough homes.
"So, let's put politics to one side for a moment and consider what the people in this country really need; the answer, quite simply, is more new homes.
"Over the last year, we've seen the government take huge strides towards making the delivery of new homes not only easier but substantially quicker, with the introduction of new permitted development rights. Not only have these been focused on recycling our redundant brownfield sites, but they have also enabled many entrepreneurs to transition into small scale property development and start to deliver some of these much-needed homes.
"The government's commitment to easing the planning rules and bureaucracy that have frustrated the delivery of new homes historically can only be positive.
"Let's cut out the red tape that's slowed us in the past. Let's build a dynamic and flexible planning system that embraces technology while ensuring our local planning authorities have the resources and scope to prevent a development free-for-all.
"And then let's get out there and build, build, build!"
Lynda Clark, CEO of First Time Buyer, comments: "We are seeing yet again the delivery of genuinely affordable new homes for first-time buyers in their local area compromised due to rapid house price growth. Whilst the stamp duty exemption may have lit a fire under the market, we're now seeing these savings being overshadowed by rapidly climbing prices month on month. This is pushing the dream of homeownership further out of people's grasp. And for those that are taking the plunge, many are forced out of their local area due to staggeringly high values, with no option but to put down roots in an unfamiliar area simply because the property prices are lower. With the clock ticking on Help to Buy's departure, the government needs to ensure long-term measures are put in place to support first-time buyers and ensure the property market does not grind to a halt due to an affordability crisis.
"I am pleased that we will now see the long-awaited pilot of the First Homes scheme in Bolsover, which will undoubtedly assist the local first-time buyer market, and hope to see the scheme work alongside existing government support such as shared ownership, Help to Buy and the new 95% mortgage guarantee scheme. It is reassuring to hear that homes under the scheme will always remain within the affordable homes sphere even if they are sold, which will work to ensure future generations of homeowners are supported, however, it is imperative that the scheme does not eat into the existing affordable housing supply but rather complements it. The government also needs to move quickly to roll out the scheme across England to ensure as many first time buyers benefit as possible."
Melanie Leech, Chief Executive, British Property Federation comments: "This year's Queen's Speech was one of the most significant in recent history for the property sector. With the Government focused on 'levelling up' the UK and bringing forward new legislation to modernise the planning system to achieve this, the property sector will undoubtedly play a fundamental role in supporting communicates across the country to build back better.
"The Government's intention is to create a seismic shift in how local authorities plan for and deliver new housing, simplifying the process to put an end to inefficiencies and delays. The planning system's failures have long been a barrier to new investment and growth in places and communities, but this transition will put significant pressure on local authorities to produce up-to-date, fit-for-purpose local plans. One of the biggest contradictions in government policy since 2010 is that spending on the English planning system has been cut by 55% – the greatest fall across all council activities – meanwhile housing targets over the same period have increased by 50% to 300,000. Reforms to local plans will only be as good as the resource put behind them.
"One of the major flaws in the Government's approach is its linear vision and singular focus on housing. Two words were missing from the Government's Planning White Paper – commercial property. To support new jobs, more prosperous communities and vibrant town centres, we need more than just new houses. We need offices to inspire innovation, shopping environments that reflect fast-changing consumer behaviours, and warehouses to support digital growth, among others. The new planning system must equally work for employment land and commercial property development, and it currently fails to provide these areas with enough attention and guide local authorities on how to plan new housing delivery alongside these vital elements to successful urban centres.
"Levies on the property sector already make a significant contribution towards affordable housing and other local and regional infrastructure – the combined annual value of monies committed by the property sector to the Community Infrastructure Levy and Section 106 is currently around £6bn. The property sector absolutely accepts that new infrastructure is vital to creating sustainable communities, but it is difficult to see how the same levy can work for housing developers and developers of commercial and other social property. History tells us the Government will have its work cut out to design something that is simple, but also works for all forms of development.
"We broadly support the Government's zoning approach, although we believe that there should be an additional zone that focuses on major long-term regeneration projects. For protected areas, it will be important that the new system is clear why land is being protected locally and still allows for some flexibility. There could be a risk that large parts of districts or boroughs are designated as areas of protection, and this is interpreted as set in stone forevermore without consideration of what the community needs."
Mark Hayward, Chief Policy Advisor, Propertymark, comments: "A greater supply of homes will serve to correct the imbalance between supply and demand which has been intensified by the stamp duty holiday. The government has made a number of announcements in the past on simplifying the planning process, however, this will only work if it really reflects local needs and demands. We hope the Planning Bill outlined today encourages the development of housing in more affordable areas, as at the moment, most of the development taking place is in areas that are unaffordable to first-time and lower-income buyers."
Alex Wrottesley, managing director, Landmark Information (Geodata), comments: "In exploring the Planning reform proposals for digitised, web-based local plans, we welcome the aims to increase the use of digital technology within and across the whole system, ensuring Planning can become more accessible and streamlined to everyone. We believe however that for digitalisation to succeed, it needs to be part of a wider strategy for technology to be used to improve the speed and quality of planning decisions, based on comprehensive, relevant, up-to-date, consistent and above all accurate data.
"Digital technology in the planning system has been used for twenty or more years but important legacy data is not interactive and currently sits on separate platforms, preventing cross-referencing. There is now a significant opportunity to modernise planning services by integrating and combining the data available on these individual systems. Further, the use of interactive geospatial technology, real-time information, high-quality virtual simulation and standardising digital data offers the chance to enable a major positive shift in the speed and quality of decision making.
"We believe ambitions for a digitally interactive system will require significant and specific funding for the service, plus the need for wide-spread staff training to address skill shortages, particularly for geospatial users. In addition, to ensure implementation and the reforms are to be met, we believe a statutory requirement will need to be introduced and overseen.
"We fully applaud the digital ambitions: Making local plans digitally interactive across the nation would standardise processes, offer greater accessibility, collaboration and community engagement in planning applications and decisions. However, we also appreciate the challenges will require significant commitment and innovation from both the public and private sectors to overhaul the system.
"At Landmark, we recognise that the more significant the proposed changes are, the more critical it is that the underlying data for decision making is authoritative, accurate and subject to scrutiny. We will play a key role in ensuring a level playing field where developers, planners and communities are all making representations based on a shared view of the environmental, social and financial impacts."
Claire Dutch, partner and co-head of planning and environment at law firm Ashurst, commented: "The government, like practically all governments before it in recent times, continues with its eternal quest for a utopian planning system. A modern and efficient planning system continues to be seen as the panacea to cure the housing crisis, kick start the economy and promote levelling up. Whether a fundamental restructuring of the planning system will achieve all that is debatable."
"Despite receiving 44,000 responses to its controversial Planning White Paper, it seems keen to push ahead with a major restructuring of the planning system."
Steve Collins, CEO of affordable housing provider Rentplus, said: "With the introduction of the 95% deposit mortgage scheme and the stamp duty holiday, house prices have soared to unprecedented levels. Without a sufficient system of ensuring supply can keep up with demand, the current rapid inflation will further lock out those on low to middle incomes from getting a foot on the property ladder.
"Currently, out of date local plans mean councils are not accepting new applications for privately-funded affordable housing schemes. We welcome the requirement for all local authorities to have up to date local plans. In order to tackle the affordability gap, it is imperative that local authorities capitalise on the opportunity to ensure more affordable housing tenures are included, including those funded privately.
"These schemes continue to play a significant role in boosting the overall number of homes particularly for first-time buyers on lower incomes, helping reduce demand for social housing by removing aspirant homeowners from waiting lists. Increasing investment from the private sector in affordable housing will be a key means by which the government can deliver on its promise to help more people to own their home."
Jeremy Leaf, north London estate agent and a former RICS residential chairman, says: "The government seems to have finally recognised what we have noticed for many years – that is, the strong connection between homeownership and rental with political allegiance. The government seems to want to help both groups; on the one hand, advocating reform of the planning system which would speed up delivery of new homes, while on the other, helping tenants to avoid no-fault evictions and benefit from lifetime deposits, making moves between properties less expensive.
"However, with all these announcements the devil is always in the detail. We don't know yet how these reforms will be enacted so it is difficult to comment specifically until more information is to hand. In particular, we still need to see the delivery of affordable homes for rent and for sale in those areas where most people want to live, as well as protections for those who choose longer-term rental. Such measures can only benefit longer-term economic recovery."
Kathryn Hampton, senior expertise lawyer in the planning team at law firm Ashurst, added: "Parliament has opened with a strong commitment from Government to shake up the planning system. Increased homeownership; investment in new green industries; and levelling up are key objectives that have been on the Tory agenda for some time. Whilst some will relish radical planning reform, others, like me, will be keen to see which proposals from the planning white paper are actually going ahead and exactly how the new system will operate in practice.
"Will Section 106 be replaced with a tariff? Will there be less consultation and environmental protection? Will we end up with a better, faster system? Detailed answers are what we need now."
John Tonkiss, CEO McCarthy Stone, said: "We were disappointed that legislation to bring forward much-needed social care reform was absent from the Queen's Speech today. Older people were amongst those most affected by the COVID-19 pandemic, particularly those in residential care. It is therefore more vital than ever to outline a plan for wide-reaching reform to protect them against future pandemics. COVID-19 has shown the urgent need to enact long-term policy solutions to how we can support the UK's ageing population and to stimulate a national conversation around how best to provide dignity and independence in later life. One part of this answer must be the creation of more accessible living environments to help keep those in need independent and at home for longer.
"We hope to see the Government unveil its long-awaited plan for social care reform soon, to rebuild a sector hit so hard by the pandemic."
Tracy Burtwell, Sales Director, SearchFlow, says: "The planning reforms are the largest shake-up of the planning system for many years. A large aspect of the proposals that were published in the Government's consultation whitepaper last year focused on increasing the use of digital technology and data to make planning more accessible to all. This will be a major step forward in not only modernising planning but in standardising processes to make it easier and faster for stakeholders from across the wider property industry to access the latest information on planning applications and local plans – an imperative for property lawyers and conveyancers. We are interested in hearing the specifics of the reforms and the timescales for change, in due course."
Naveen Jaspal, COO of online estate agent Emoov, comments: "The neighbourhood planning system in England will be a great thing for the property market. In order to build more housing, which as a country, we desperately need, it currently takes a long time, and a lot of that time is taken up by waiting for planning. In some areas, you can be waiting 3-6 months to hear back from planning councils as they are running so far behind on processing the applications. It will speed up the process which has been one of the biggest issues in the marketplace at the moment.
I fully support the idea of the zoning systems as opposed to the slow case by case way it is done now. It will definitely be the way to move forward and a better way to invest in the infrastructure of communities. As long as it is administered in an effective way, it would really bring a lot of value to local communities, especially where there is space and need for housing."