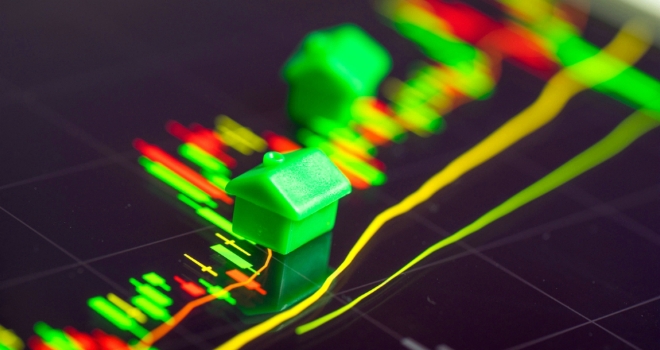 The latest figures released from Nationwide have revealed that across the UK, annual house price growth has slowed to its weakest pace since February 2013.
According to this morning's report, prices fell 0.7% in the month of December, after taking account of seasonal factors with outer Metropolitan and London regions both recording small house price declines during 2018. The average price of a home in the Uk now stands at £212,281.
Robert Gardner, Nationwide's Chief Economist, commented on the figures: "UK house price growth slowed noticeably as 2018 drew to a close, with prices just 0.5% higher than December 2017.
This marks a noticeable slowdown from previous months, where prices had been rising at a c2% pace. However, it is broadly in line with our expectations (since the start of the year we had been anticipating a price rise of c1% in 2018).
Indicators of housing market activity, such as the number of property transactions and the number of mortgages approved for house purchases, have remained broadly stable in recent months, but forward-looking indicators had suggested some softening was likely.
In particular, measures of consumer confidence weakened in December and surveyors reported a further fall in new buyer enquiries towards the end of the year. While the number of properties coming onto the market also slowed, this doesn't appear to have been enough to prevent a modest shift in the balance of demand and supply in favour of buyers.
Uncertainty exerting a drag on the market
It is likely that the recent slowdown is attributable to the impact of the uncertain economic outlook on buyer sentiment, given that it has occurred against a backdrop of solid employment growth, stronger wage growth and continued low borrowing costs.
Near term prospects will be heavily dependent on how quickly this uncertainty lifts, but ultimately the outlook for the housing market and house prices will be determined by the performance of the wider economy – especially the labour market.
The economic outlook is unusually uncertain. However, if the economy continues to grow at a modest pace, with the unemployment rate and borrowing costs remaining close to current levels, we would expect UK house prices to rise at a low single-digit pace in 2019.
Mixed picture across the regions
Amongst the home nations Northern Ireland recorded the strongest growth in 2018, with prices up 5.8%, though Wales also recorded a respectable 4% gain. By contrast, Scotland saw a more modest 0.9% increase, while England saw the smallest rise of just 0.7% over the year.
One of the more prominent regional trends in 2018 was the further narrowing of the north-south house price divide in England. Price growth in the south (London, Outer Metropolitan, Outer South East, East Anglia, South West) moderated throughout the year, while in the northern regions (the North, North West, East and West Midlands, and Yorkshire & Humberside), price growth remained broadly stable in the 3% to 4% range.
This trend was not entirely unexpected, however, as it followed several years of sustained outperformance by the south (especially London and Outer Metropolitan) which left affordability more stretched in these areas.
Indeed, even though house prices have been rising more quickly in the north of England since Q2 2017, price levels are still significantly higher in the south. The price of a typical home in the south of England (£329,240) is still almost double that in the north (£166,642)."
Mark Readings, Founder and Managing Director of online estate agency, House Network, had this to say: "Faced with a no-deal Brexit scenario, we have ended up with a no-deal housing market.
The disappointing house price growth is no surprise, as the majority of buyers and sellers begin to wind down for the festive season, with the majority on the fence whilst Brexit negotiations continue."
As we move into 2019, with political instability fears around Brexit still playing a huge part in the lack of certainty amongst both buyers and sellers, we expect to see this confidence slowly regained once the government's plans to leave the EU are finalised. " - Says Mark Readings.
Despite slow house price growth, mainly pulled down by the capital, the UK's property market fundamentals are attractive, with interest rates historically low and 'help to buy' schemes extended, indicating a potentially more positive start for the year ahead." - Mr Readings concluded.
Jeremy Leaf, north London estate agent and a former RICS residential chairman, says: "The Nationwide numbers are one of the most comprehensive and well-established reports of housing market activity so command respect. Unfortunately, they are confirming a bit of a wake-up call for the housing market in that after steady progress, without much change one way or the other, prices have experienced a nasty bump.
While it is never a good idea to judge one month's figures in isolation, there is a substantial fall in price growth on an annual basis, as well as the monthly drop in prices, and reflects a time of particular political turmoil as we came towards the end of the year when the Brexit debate was reaching its height.
Looking forward, this is always a fairly quiet time anyway for the market so the reasonable start we have had to business won't be seen in the figures for at least the next month or so.'
Mark Harris, chief executive of mortgage broker SPF Private Clients, says: "Despite the political challenges in 2018, the housing market held up pretty well with low mortgage rates supporting activity. As we move closer to a Brexit resolution one way or another, there is still more uncertainty on the horizon but lenders remain keen to lend and mortgage deals competitive.
As long as borrowers can meet affordability criteria, whether they are taking out a new mortgage or switching to another deal, there will be plenty to attract them for a while yet."