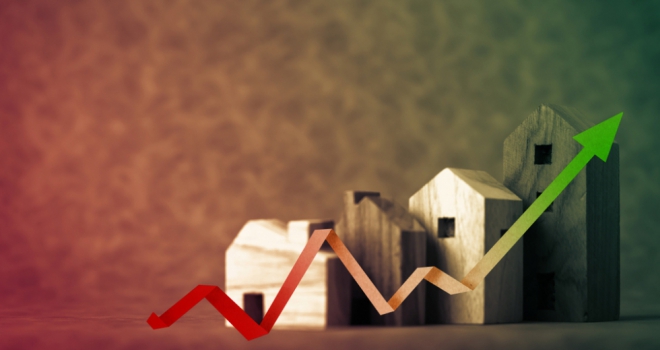 The latest data and analysis of the UK housing market from Halifax has revealed that during the three months to August this year, average house prices increased by 3.7% when compared to the same period a year earlier.
Halifax reports that the average house price saw little change from last month and now stands at £229,958. When looking at the monthly figures, prices remained steady. There was a small rise of 0.1% in August, while in the latest quarter (June-August) prices were 1.9% higher than in the preceding three months (March-May 2018)
Russell Galley, Managing Director, Halifax, said: "House prices picked up in August, with the annual rate of growth rising from 3.3% in July to 3.7%. With the average house price now £229,958 prices in the three months to August were also 1.9% higher than in the previous quarter.
While the pace of employment growth has recently slowed, a low unemployment rate and a gradual pickup in wage growth are helping to support household finances. This has been accompanied by interest rates still remaining at a historically low rate and a stable, yet constrained, supply of new homes onto the market further supporting house prices."
As ever, the property industry was quick to react. Here's what they're saying...
Russell Quirk, founder and CEO of Emoov.co.uk, had this to say: "The UK property market has certainly been enigmatic over the last year, but it now looks as if a large degree of stability is returning as we start to turn onto the home straight for 2018.
We've seen prices maintain an upward trend since May now and although only marginal in August, this is widely expected and actually quite impressive for what is usually a very slow time of year for property transactions.
These latest figures suggest that the market is yet to lose its resolve and in fact, we should see market activity pick up significantly from now until Christmas bringing prices with it."
Jeremy Leaf, north London estate agent and a former RICS residential chairman, says: "This well-established snapshot of housing market performance from the country's largest lender is sending a mixed message. Prices are rising more slowly on a monthly basis but accelerating when annualised. What we are finding on the ground is a market largely stuck in neutral - shortage of stock is supporting modest price increases, particularly outside London.
There is an opportunity now for serious sellers to take advantage of increased buyer activity, which we have already encountered, as many return from holidays keen to make decisions about property and move before Christmas if possible. But both buyers and sellers need to come to terms with new market realities. Those who do will take advantage; otherwise, nothing much is likely to change."
Andy Soloman, Yomdel CEO said: "The UK housing market seems to be going from strength to strength with a fourth consecutive monthly increase in price growth, despite August often bringing a lull as school holidays take priority over a house sale. A continued increase in this seasonally quite time and in tougher market conditions provides very encouraging signs for the months ahead. It's unclear if this positive sentiment is spreading across the economy as a whole but should now persist until the end of the year.
While the road ahead may contain a number of economic and political stumbling blocks for both the UK property market, it seems as if the nation's home buyers and sellers are finally starting to venture out from their Brexit bomb shelters having realised there is little to deter them from transacting in the short term."
Ross Boyd, founder of mortgage platform, Dashly.com, commented: "Lots of plus signs across the August house price index but they're all being driven by a minus — insufficient homes on the market and the broader lack of supply.
With the likelihood of a no-deal Brexit rising, finances under pressure and rates edging up, many households have shelved the idea of moving home altogether. In such an uncertain climate, both political and economic, people are sitting tight and getting their finances shipshape, and remortgaging, rather than risk overexposing themselves.
Those people that are buying are driving a hard bagain with sellers, but equally many sellers are playing hardball, too. With borrowing rates still so low, vendors aren't under immense pressure to sell and the result is a classic Mexican stand-off with buyers.
Low supply supporting prices: the major house price indices have been sounding like a scratched record for some time."
Mike Scott, chief property analyst at Yopa, said: "The Halifax confirms a slight upturn in the UK housing market. While prices only increased by 0.1 per cent in August, this means the previous month's big rise of 1.2 per cent was not a one-off blip in the data. The lender is now reporting that prices have increased by 3.7 per cent over the past 12 months, which is the highest annual rate of growth for nearly a year. It now seems clear that the slowdown in the spring, with a reported 3.1 pre cent drop for the month of April, has not been sustained and the market returned to growth over the late spring and summer.
The Halifax also reports an encouraging trend in the number of first-time buyers, which was up by 3 per cent in the first half of 2018 compared to the same period in 2017. The number of first-time buyers has more than doubled since its low-point in 2009, and is now approaching the level seen during the boom in 2006. Since first-time buyers underpin the whole housing market, this suggests that the market will continue to perform into 2019, and may even improve further."
Sam Mitchell, CEO of online estate agents Housesimple.com, comments: "The end of summer report is that the property market is in better health than the doomongers have led us to believe.
A persistent supply shortage and low interest rates may be helping to support property prices, but we don't have one foot over the abyss just yet. The danger of constantly talking down the property market is that we will talk the market into a crash, particularly if we focus too much on what's happening in London.
We shouldn't lose sight of the fact that house prices in the capital have had an astonishing run, and it's perfectly reasonable and necessary for price growth to slow.
And what we're seeing in the capital is not the case across the country in regional property markets, many of which have seen stagnant growth for years since the financial crash in 2008, and are now starting to pick up. Investment in the regions is paying dividends. The strength of local economies, with thriving business hubs attracting talent to the areas, is having a positive effect on property prices.
And whereas in London, affordability has been a recurring problem, in regions such as the North West, there is still plenty of room for house prices to grow before affordability becomes an issue."
Alan Collett, fund manager of the TM home investor fund, said: "Our experience agrees with the Halifax data, with independent valuations of our properties showing house prices across the UK remain stable.
However, there are regional variations. The current economic and political uncertainty having less of an impact in areas where house prices have kept in line with wages and we have already seen increases in the value of some of our recently acquired properties in the Midlands and East of England. Even in London, which has shown low and even negative house price growth over the past few months, the picture is mixed across the capital, with our properties in the Wembley Park regeneration area maintaining their value and two recently selling at or above the independent valuation figure.
With continued strong demand for well-managed rental homes nationwide, we are confident the outlook for long-term investors in residential property remains positive."
Ewen Bunting, head of sales at independent estate agents James Pendleton, had this to say: "Robust annual growth is a sure sign the housing market's iron lung of low supply is at play here.
The number of homes for sale just can't muster the strength to get off the pavement and into the lobby, let alone the lifts. It doesn't matter that affordability for most is pushing the limits of common sense, when borrowing is dirt cheap, people still need to move and are still climbing over each other to do so in some instances.
That's most true of first-time buyers, whose activity is not far off it's pre-crisis peak. It's the government's artificial demand-side stimulants, namely the Help To Buy Scheme and Stamp Duty relief for first-time buyers, that are causing the annual growth rate to power on at this level.
In a world that made sense, more people would talk about the housing crisis and the can being kicked down the road, particularly in the face of Brexit jitters. There was a spasm in the market around the time of the referendum but we're increasingly seeing a return of that reluctance to transact as we get closer to leaving, so we'd expect the volume on that to dial up before the end of the year.
But with so much cheap lending and vote-winning schemes making the dream of home ownership a reality, it's almost too dangerous for politicians to take the patient off the machine and they know it."
James Newbery, Investment Manager at property investment platform British Pearl, comments: "Despite the looming shadow of a no-deal Brexit, a fourth consecutive month of growth shows that Britain's housing market is still on relatively robust ground.
There'll be no fireworks in the property market for some time but the market hasn't fallen off a cliff as many had predicted. Annual growth continues to tick over reassuringly and we are still to see a price-slashing correction — flying in the face of headlines forecasting doom and gloom.
These figures prove that the market is far from teetering on the edge and continues to weather the storm of pre-Brexit uncertainty, as the number of first-time buyers more than doubles since a record low in the first half of 2009. Investors are holding steadfast and are taking advantage of a market underpinned by a lack of stock, growing household incomes and a solid labour market.
And despite the Government's tightening grip on buy-to-let and painfully low transaction levels, we are still to see a sudden rise in stock availability due to landlords abandoning their portfolios.
The future direction of the market remains an unknown, but this latest data from the Halifax shows there is no immediate reason to abandon ship."