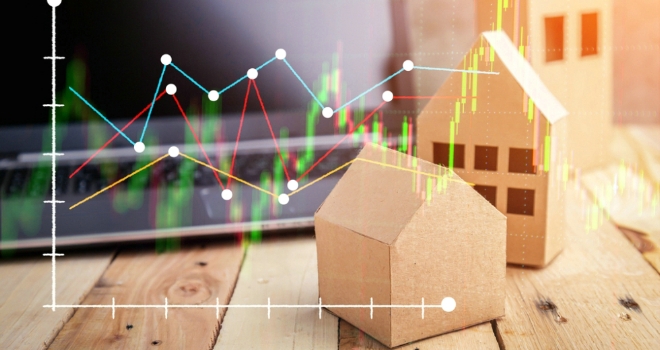 The latest data and analysis from Halifax has shown that house prices in the last three months to April were 2.2% higher than when compared to the same period a year earlier. This was a down slightly from the 2.7% annual growth recorded in March.
According to the data, house prices in the latest quarter were 0.1% lower than in the preceding three months (November-January), the third consecutive decline on this measure. On a monthly basis, prices fell by 3.1% in April, following a 1.6% rise in March, reflecting the volatility in the short term monthly measure
Russell Galley, Managing Director, Halifax, said: "We've seen annual house price growth ease from 2.7% in March to 2.2% in April. House prices in the three months to April were 0.1% lower than the previous three months. Both the quarterly and annual rates have fallen since reaching a recent peak last autumn, with these measures providing a more stable indication of the underlying trend than the monthly change.
Housing demand has softened in the early months of 2018, with both mortgage approvals and completed home sales edging down. Housing supply – as measured by the stock of homes for sale and new instructions – is also still very low. However, the UK labour market is performing strongly with unemployment continuing to fall and wage growth finally picking up. These factors should help to ease pressure on household finances and as a result we expect annual price growth will remain in our forecast range 0-3% this year."
Jeff Knight, Director of Marketing at Foundation Home Loans, commented: "Recognising the fact 2018 is already a record year for house price cuts in the market, partially due to over ambitious sellers and cautious buyers, uncertainty remains an area of concern for both sides. With the latest Cabinet reshuffle and appointment of James Brokenshire adding to political wariness for some, it's clear that solutions laid out in the housing white paper need proper address to resolve any anxieties.
That said, there continues to be no shortage of demand from property hunters maintaining high levels of activity, so making sure ample choice and high-quality homes are available to those looking to rent or buy is key as we edge closer to the summer season."
Jeremy Leaf, north London estate agent and a former RICS residential chairman, had this to say: "Although a little historic, these figures are disappointing as there is a market of sluggish growth and transactions, despite still showing modest price rises. And yet we are entering what is supposed to be the busy spring buying season, which tends to set the tone for the rest of the year.
More recently, activity and listings have picked up but we are finding the market still quite sensitive and only those prepared to negotiate hard are moving on.
Now that interest rates are unlikely to go up this month, hopefully there will be more interest, and particularly from first-time buyers, to take advantage of competitive mortgage deals and realistic prices."
Mark Harris, chief executive of mortgage broker SPF Private Clients, says: "All eyes are on the Monetary Policy Committee this week as they announce the latest movement in interest rates, with many predicting that they will rise. However, Governor Mark Carney poured water on those rumours recently so it may not happen - this time. What we have seen is a number of lenders raise mortgage rates in recent weeks on the back of higher Swap rates but they are still very reasonably-priced as lenders compete for business in a fairly subdued market."
Russell Quirk, founder and CEO of Emoov.co.uk, commented: "The continued lack of variety in the current UK housing stock is resulting in some fairly erratic movements where monthly price growth is concerned. We are seeing waves of buyer demand ebb and flow and in a market with restricted stock, the result is inconsistent movements in house price growth.
Yet another new appointment to the Secretary of State for Housing, Communities and Local Government will do little to inspire confidence in the market, however, the rather predictable shortfall of affordable housing being built by the Government should continue to stimulate property prices in the medium to long-term.
Looking beyond the monthly measurement, the market has certainly stabilised and while it isn't quite firing on all cylinders, it has certainly turned a corner and should continue to do so as the year plays out."
Mike Scott, chief property analyst at Yopa, the low fixed-fee estate agent, says: "The Halifax reports a significant slowdown in house price growth with the annual rate of increase falling from 2.7 to 2.2 per cent. But we should avoid putting too much weight on a single month's data as the 3.1 per cent fall in prices between March and April was partly the reversion of a big increase (1.6 per cent) the previous month. The quarterly change - a fall of just 0.1 per cent - is probably a fairer reflection of the current state of the market.
The Halifax numbers confirm other reports of a more general slowdown in market activity, with fewer homes being sold, fewer houses being put on the market, and a decline in consumer confidence. If this slowdown continues for the rest of the year, 2018 will turn out to be the least active year for the housing market since 2013.
However, this would be unlikely to lead to a big fall in house prices, since mortgage rates remain low, mortgages remain available and supply is still tight. Subsequently, the Halifax is sticking with its forecast of prices rising between 0 and 3 per cent for the whole of 2018, and this is still the most likely outcome."
Jonathan Samuels, CEO of Octane Capital, commented: "We may well have just had the hottest early May Bank Holiday weekend on record, but the forecast for the UK property market in 2018 is tepid at best. The quarterly and annual growth rate, and not April's sharp drop-off, paint a far more accurate picture of the UK's property market.
The property market is a mirror of the economy, lacking any real momentum and simply idling along. While inflation has fallen and wages have been edging up, this will take time to filter through so it's no surprise transaction levels remain low. In recent years many households have taken on a lot of cheap debt and, despite the weak Q1 GDP data, remain wary of rising interest rates and the fast-approaching reality of Brexit.
As ever, low stock levels and continued cheap borrowing rates are acting as a glass floor under prices."