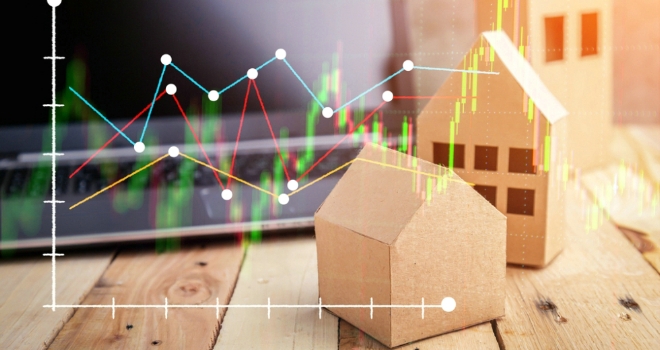 According to the latest data released by Halifax, during November house prices recorded the lowest rate of growth since December 2012.
Halifax revealed that prices between September and November were 1.1% lower than in the preceding three months and when looked at on a month-by-month basis fell by 1.4%, making three monthly falls out of the last four.
The average price of a home in the UK according to the lender is now £224,578.
Russell Galley, Managing Director, Halifax, commented on this morning's figures: "House price growth has slowed as we approach the end of the year, falling from 1.5% in October to 0.3% in November, with the average cost of a home now £224,578. While this is the lowest rate of growth in six years, it remains within our forecast range of 0% to 3% for 2018.
High employment, wage growth and historically low mortgage rates continue to make home ownership more affordable for many, though the need to raise a significant deposit still acts as something of a restraint on the market. This is largely offset by relatively limited supply of new and existing properties for sale, which continues to sustain house prices nationally."
Mark Readings, Founder and Managing Director of online estate agency, House Network, had this to say: "Faced with a no-deal Brexit scenario, we have ended up with a no-deal housing market.
We have seen steady house price growth across the UK, mainly helped by the low supply of new homes and existing properties. Increase in prices are continued to be pulled down by London and the Southeast, as both buyers and sellers are waiting for the Brexit outcome, particularly in the capital."
Although political uncertainty continues to be the driving force behind a high majority of serious buyers and sellers remaining on the fence, the economic fundamentals for first-time buyers are strong as help-to-buy and low mortgage rates contribute to providing affordability outside of the capital. - Mr Readings continued.
As we move into 2019, we expect to see a slow but positive shift in the market, as supply and demand increases and confidence is regained both nationally and internationally in the UK property market."
Mark Harris, chief executive of mortgage broker SPF Private Clients, says: "Lenders remain incredibly keen to lend and that is a consistent message we are getting from all of them - they want to do more. Some are doing this by topping the 'best buy' tables with some very competitive rates, such as five-year fixes from less than 2 per cent.
But not all can compete on rate, depending on how they are funded, so others are looking at increased innovation - taking one year's accounts for self-employed borrowers, tweaking loan-to-values or becoming more competitive when it comes to lending at 95 per cent loan-to-value. This is all good news for borrowers.
This year has been remarkably consistent for the market when you consider the uncertainty around Brexit, with interest rates remaining fairly flat - a trend we expect to continue into next year."
Gary Barker, CEO of proptech company Reapit, says: "Halifax's latest figures showing dramatically reduced house price growth come as no surprise in the context of a sluggish market and Brexit uncertainty. The fall from 1.5 percent growth to only 0.3 percent correlates with our data showing that withdrawals are outpacing sales for the first time since May 2016, as we expect to see when prices are weak.
As we head into 2019, we predict a continuation of this subdued performance, as long as the economic and political status quo remains unchanged. Transactions have been flat for the past 3 years, and caution is likely to remain whilst Brexit remains unfinished. Furthermore, if Brexit stalls, or more significant uncertainty over the Government develops, it will be a painful road ahead.
However, there is room for optimism in this scenario – we are seeing house price reduction in some areas, which could make property more affordable and also boost the economy by increasing spending power and buying capacity.
If the Brexit deal passes through parliament, we could potentially see a much more confident market, resulting in more transactions, fewer withdrawals, and increased prices.
However, if the Bank of England's forecast of a 30% drop in house prices comes to fruition following a no-deal Brexit, the balance of the market will shift dramatically. Although transactions may reduce significantly, with depressed prices discouraging sellers from listing their properties, low prices will put buyers back in control. First-time buyers, in particular, could benefit from slashed prices, giving them a leg-up onto the property ladder."
Jeremy Leaf, north London estate agent and a former RICS residential chairman, says: "These figures come on the back of recent encouraging housing transaction and mortgage approvals. However, they do continue the trend from last month of a softening, not correcting, market.
Looking forward, we don't expect activity to change much bearing in mind seasonal and political distractions. On the ground, lethargy is replacing energy as the market seeks direction in the early new year."
Dilpreet Bhagrath, Mortgage Expert at online mortgage broker, Trussle, commented: "House price growth is still slow due to a lack of activity in the market and we expect this to continue throughout the winter, until there's more clarity around Brexit and we're all on firmer footing. There's also a huge amount of discussion about a looming interest rate rise, which will be putting upsizers off moving as they'll be more wary of taking on more debt.
This period of slowdown does offer a window for aspiring first-time buyers who already have a deposit saved up. House price growth is the lowest it's been for several years and since the recent Budget, more can now take advantage of stamp duty allowances for shared ownership homes. Anyone in this position must make sure they get the best possible mortgage deal based on its true cost rather than just the cheapest headline interest rate."